EasyHits4U is a traffic exchange website that lets website owners visit websites and in return receive visits to their website.
EasyHits4U is not like some other traffic exchanges where members can join and get paid to visit websites. The only way you can exchange the credits you receive is by sending visitors to your site.
Today I'd like to cover if EasyHits4U is a scam or if it's worth using. I'll also recommend a way that you can get free, targeted traffic to your website, which converts much better than a traffic exchange.
Please understand that EasyHits4U will never send you visitors that are interested in your content. If you're serious about making a full-time income online, check out My #1 Recommendation, it's how I made over $13,000 online last month!
---
EasyHits4U Review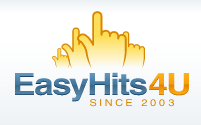 Site: EasyHits4U
Type: Traffic Exchange
Verdict: Not Recommended
In this EasyHits4U review, I marked them as not recommended. I can't say it's a complete scam, because they do what they say, send traffic to your website in exchange for you earning or buying credits.
With that being said the traffic is low quality and isn't going to lead to conversions or making money.
If you're a website owner, don't waste your time on traffic exchanges, learn how to get tons of free traffic from Google at Wealthy Affiliate!
You won't pay anything, and it sends high-quality, targeted traffic to your promotions that will convert!
---
How Does EasyHits4U Work?
EasyHits4U lets you join as a free member or a paid member. Either option allows you to earn/buy credits to send traffic to your website. But both memberships only send low-quality traffic!
Free Membership
Anyone with a website can join as a free member. It's a pretty simple concept. You visit sites for 20 seconds to earn credits. You'll use your credits to send traffic to your website.
To earn credits, visit a site and stay on it for 20 seconds, at the end you'll need to enter a Captcha to make sure you're not a bot. Continue to repeat the process to earn credits.
Once you have credits, you can spend them on traffic to any page of your website.
Paid Membership
There're a few levels of paid memberships available. Before I cover them, I do not recommend paying for a membership based on reasons I cover later on in this review.
Paid Memberships let you buy credits instead of earning them by visiting others websites. The cheaper monthly plans start around $9 and can send around 1,200 visitors to your site a month.
The most expensive membership can cost nearly $60 a month and can send a guarantee of 5,500 visitors to your website a month.
Again, I do not recommend paying for traffic exchange traffic. I'll cover exactly why next!
---
EasyHits4U Complaints
Low-Quality Traffic
The whole point of this site is for bloggers/website owners to receive cheap traffic to their website, which is great, but the quality of the traffic is the issue.
Think about it, if you're using the free membership all you're doing is visit websites for the required time, and then clicking the captcha to earn credits to send traffic back to your site. Most of us won't even acknowledge that a web page is being shown, we just want to earn credits so we can get traffic!
Guess what, the people EasyHits4U sends to your website (whether you earned credits or bought them) are doing the same thing! They just want to earn credits for their website and have no interest in what you have to say or what you're promoting.
That's the huge issue with EasyHits4U and other traffic exchange sites. Yes, you receive traffic, but it's not the traffic that cares about what you say or what you're promoting! Meaning you don't make money!
Learn how to get free, targeted traffic that converts at Wealthy Affiliate!
---
Get Real Traffic To Your Website
If you don't want to waste your time getting untargeted traffic that's not interested in what you're promoting I would not join EasyHits4U. The most targeted traffic isn't that hard to get, but you have to know what to do.
To learn more about getting free traffic from Google, I recommend checking out Wealthy Affiliate. It's the course I joined a few years back, and now I receive over 3,000 visitors a day for free from Google!
Make sure to check out Wealthy Affiliate and learn how you can get started for free!
Thank you for taking the time to read my EasyHits4U review. It's not a site I recommend, and there's no way to make money without a website. Here're some helpful links to other great legitimate ways to make money:
How I Made Over $13,000 Online Last Month
Do you think EasyHits4U is a scam or a legitimate source of website traffic? I'd love to hear your thoughts in the comments below!
Summary
Reviewer
Review Date
Reviewed Item
Author Rating