I recently reviewed quite a few apps that pay you to complete easy and short tasks at stores in your local city. Well today I have another app called Easy Shift.
The Easy Shift App will pay you to "shop, eat, and explore your city". For example, you may be asked to check prices at a store or making sure an items displayed correctly.
I decided to write this review and answer is this app a scam because there's some mixed feedback about the EasyShift App.
Please understand that Easy Shift won't be a big income, it can turn into a terrible hourly rate. If you're interested in making a full-time income online, check out My #1 Recommendation, it's how I made over $13,000 online last month!
Within this Easy Shift app review, I'll cover how it works, how much you get paid, and answer is this app a legit way to make money or a complete scam!
---
How Does Easy Shift Work?
1) Download App And Sign Up

The Easy Shift is available on Apple and Android mobile devices. Just go to your mobile app store and download the app to get started. Then easily sign up inside the app on your device.
2) Find Jobs Near You
Once you've joined you'll need to share you location so the app can bring up all the jobs near you. Jobs will be shown on a map or in a list. You can easily see how much it pays, where it's at, and exactly what you need to do!
3) Complete The Job
When you find a job you'd like to complete you can accept it on the app. You have 24 hours to complete the job. Go to the store, restaurant, etc. and complete the job laid out for you. Submit your work through the app once you're done.
4) Get Paid
Once you complete the job, your work will be approved by Easy Shift. You can except payment with 48 hours after completion, but it's usually much sooner!
---
Easy Shift App Review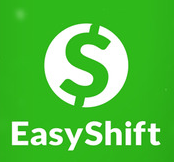 App: Easy Shift
Price: Free
Verdict: Legit, Not Recommended
Several People Have Had Negative Experiences With The App Please Check Comments Before Joining!
I gave the Easy Shift App a good score and marked it legit in this Review. Really there are other apps very similar to this, it's really just which one you like best, and how many jobs are available in your area.
If you live in a large town or city there are most likely tons of jobs to complete. If you'd like to get paid to complete small and quick tasks, the Easy Shift App is a good option.
---
What Type Of Jobs Are Available?
Just to give you an idea, here are some examples of the jobs that are available on Easy Shift.
It seems that most jobs have to do with taking a picture of how items are displayed with your phone, checking prices at a store, or even asking for help from an employee.
Now not all jobs will be this exactly, but they are all super easy and usually just take a few minutes once you visit the store!
---
How Much And How Do You Get Paid?
Jobs range in the $2-$20 range depending on how much work it requires, but most range in the $2-$5 range, a few will pay more.
Once you complete a job and your work has been approved, your earnings will be added to your account.
You can cash out at any time via PayPal. Payments will be in your account within 48 hours, but usually much sooner!
---
Easy Shift Concerns and Complaints
Location Based
This is a major concern for me but makes since when you think about it. To complete jobs you need to go to local stores, restaurants, etc.
If you live in a small town, like I do, there are not many jobs available. I downloaded the app and I currently have one job available that pays $2.
Obviously, I could complete that job, get paid, and wait for more jobs in the future, but the lack of jobs if you don't live in a larger city, makes it not worth doing in my opinion.
But if you live in a large city you should be good to go!
Just Extra Income
Just like other quick task apps, this isn't going to make you rich or let you quit your job. If you complete most of the tasks available this could be an extra $50 or less each month.
As long as you know this is just an "extra income" app you should be pretty happy completing easy tasks with Easy Shift.
---
Is the Easy Shift App A Scam?
The Easy Shift App is not a scam, I've reviewed many similar apps and they all seem to be legit. The feedback that I can find is basically all positive. Looks like they had a few problems before with a version of the app, but now it's all squared away.
As long as you know this isn't a huge income, you should be pretty happy completing jobs for Easy Shift. I like that they pay via PayPal in just a few hours, but unfortunately, these easy tasks apps aren't for everyone.
Depending on your location, Easy Shift may not be worth your time.
But if the Easy Shift App sounds like a cool way to earn some cash you can learn more at Easy Shift or just download the app on your mobile device.
Easy Shift not for you? Here are some other apps that can earn you money. You can also see all the ways I recommend to make some extra cash online here.
If a small extra income isn't for you, check out My #1 Recommendation, it's how I made over $13,000 online last month!
Do you think the Easy Shift App is a scam? Let me hear your thoughts on this Easy Shift Review in the comments below!
Summary
Reviewer
Review Date
Reviewed Item
Author Rating