Product: Copy Paste Income
Owner: Ewen Chia
Price: $39.91
Score: 5 Out Of 100
Verdict:
SCAM!
If you have spent any time trying to make money online, you have seen the sales page that says put in a few hours of work and start seeing 1,000s of dollars in your account everyday. I am afraid this is exactly what Copy Paste Income promises and that theory is not true and does not work.
I have done a few other reviews on Ewen Chia products and he actually does have one decent product, but it seems that he is starting to produce a lot of crap and is notorious for misleading sale pages and giving unrealistic expectations on earnings.
Copy Paste Income by Ewen Chia is one of the worst products I have seen from him and there are too many things wrong with this product to even consider buying it, even if it is cheap. In this review I will be telling you more about the product and why it's a waste of your time and money to buy.
---
What Is Copy Paste Income
Copy Paste Income is a training program by Ewen Chia that is supposed to teach you how to make $500+ a day online by doing nothing but a few hours of work one day. The method is supposed to be as easy as copying and pasting, but turns out that this program won't work for you and the sales page is extremely misleading.
This program teaches you how to create an E-Book that you add affiliate links to. The whole system is about creating a Viral E-Book. If you are familiar with Viral Videos you know that it's not an easy thing to do! Just like Viral Videos, E-books rarely go viral and there is no guarantee of anyone even paying attention to your E-Book.
This program only has 5 videos of training. The rest of the members area is basically sales pitches to get you to buy his other products. This is by far the worst Ewen Chia Product I have ever seen and this system will not earn you any money online!
---
What You Get?
I was wondering why this product only costs $39 and once I got inside the members area I figured it out pretty quickly. The only thing you receive is 5 different videos that walk you through the system he teaches. That is it. The rest of the members area is filled with links to all of his other products that he promotes and wants you to buy to learn more about making money online. Basically he created a new product just to have a new name, but he still teaches the same BS system that doesn't work and makes you buy other products to learn more.
---
What I Hate About Copy Paste Income
System Doesn't Work
The whole E-Book idea really is a great idea. E-Books work great for promoting products and solving problems. Problem is you need a great way to promote your E-Book and get it in the hands of people who are interested in your niche. The best way to do this is through your own website, but Copy Paste Income does not cover this method.
The approach that Copy Paste Income takes on promoting your E-Book is social. Now don't get me wrong promoting your products on social media is a great way to add some extra sales, but in my experiences promoting products only on social media doesn't work well and won't get you the results promised on the sales page of this product.
I have found that having a website is the best way to promote any products and that social media may acquire a few sales out of 100 that I make. Obviously that is not a good ratio to hear if you will only be promoting on social media, and that brings up an even bigger problem. You need to have a huge active following to make any sales at all!
Sales Page
The second thing I hated about this product is the unrealistic expectations the sales page and video gives you. Below is a screenshot of the first text you see on the sales page.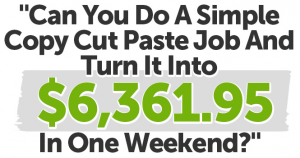 There are two major problems with this idea of making that much money in one weekend. First off a system of copy and pasting won't lead to anything that major. It takes a lot of hard work to make money online. Second you can't expect to make money online in your first weekend. It could take years before you reach a $6,000 monthly income. Having that much money come in your first couple days is just unheard of and is false information.
I have included another screen shot right off the sales page. This picture shows income proof and says that he applied his system, waited 24 hours, and this is what he saw!
Once again this is extremely unrealistic. Making money online does not work like this and most likely you will see $0 come in within the first 24 hours or even the first week.
I have included one last screenshot off the sales page and this picture shows all the things you don't need to make money with this system.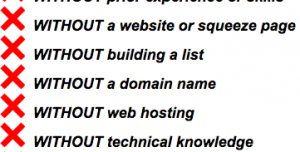 The list is a bit bigger, but you get the point. All the things Ewen says you don't need to make money online are all things that I have found you do need. I know that I am just one person, but check with 95% of people making money online today and they will agree that everything on this page is a must to build a legitimate full-time online income.
Up Sells
First off I hate programs that have Up Sells. If I'm paying for a product why not just increase the price and give me everything I need to know in one product. Ewen has taken a very different approach then my liking and has created a ton of products that would need to be joined together to really learn everything you need to know. But don't buy them because 99% of them all suck.
The up sell within Copy Paste Income is called Copy Paste Traffic the program originally cost $67 and teaches you how to drive traffic to a website. This product is actually better than Copy Paste Income, but I still don't recommend purchasing it.
Also when you decline the up sell you get offered it again, but for now for $20 off at $47. I think it's pretty funny when people do this. It's extremely desperate and just shows they will take any money you will give them.
Buy My Other Product
The last thing I really hated about this product was 95% of the members area are links and sales pages to other Ewen Chia Products. Like I mentioned before this guy has a ton of different products, and he promotes the crap out of his others within Copy Paste Income.
The thing that really sucks about it is he doesn't just say you should buy this product, but limits the training he gives you within Copy Paste Income and basically says you need to buy more of my products just to learn the full system that I am teaching within this product.
---
Final Verdict
I highly recommend not purchasing Copy Paste Income By Ewen Chia. This product is a complete scam and was created just to get you to buy his other products. There were a lot of things I hated about this program which is why I gave it a 5 out of 100.
The sales page was extremely misleading and it seems if you go into it with the wrong expectations it will never work for you. The system he teaches really won't work for you and you will be wasting a lot of your time promoting something that does not work.
My Final verdict is to stay far away from this product and I know you will be happy you did!
Now I have talked a lot about having a website and promoting products to make money on it throughout this review. This is how I make money online and it's been proven that this is the best way to do so.
If you would like to learn how I make money online visit How To Start My Own Online Business. 
Thank you for reading this Copy Paste Income by Ewen Chia Review. I hope you enjoyed your time on my site and if you have had any experience with this program or any other scams I'd love to hear about it in the comment section below!
Summary
Reviewer
Review Date
Reviewed Item
Author Rating