I am not a huge into betting, but I really wanted to find out if FanDuel is A Scam. So I signed up, put some money in my account, and saw if I could make money playing fantasy sports. The short answer I have terrible luck so of course I didn't win any money, but that doesn't mean you can't.
FanDuel is not a scam, it's a completely honest company that lets you bet on one day fantasy sport leagues and I will tell you exactly how FanDuel Works in this review.
---
 What Is FanDuel & Is FanDuel A Scam?
FanDuel Is a Fantasy Sports Betting Website where you can bet on 1 day/1 week fantasy sports. FanDuel offers leagues in the NFL, NBA, MLB, NHL, College Football, and College Basketball. They offer thousands of league each day within the six major sports categories, with $1,000 to $1 buy ins.
FanDuel is not a scam, it's completely legit. Now this doesn't mean that you are going to win any of your leagues and actually make money. It just means if you do win FanDuel is going to pay you your earnings.
---
How FanDuel Works
Step #1: Sign Up For FanDuel
Step #2: Choose A Sport
FanDuel Offers leagues within the 6 Major sports. NFL, NBA, MLB, NHL, College Football, College Basketball
Step #3: Choose a League
FanDuel offers over 1000 leagues a day within each sport. There are plenty of leagues to choose from within each buy in amount and they also offer some special leagues like tournaments, 50/50, and Head to Head.
Step #4 Select Your Team
FanDuel will give you all the available players to choose from. You must pick a player for each position and stay under your salary cap.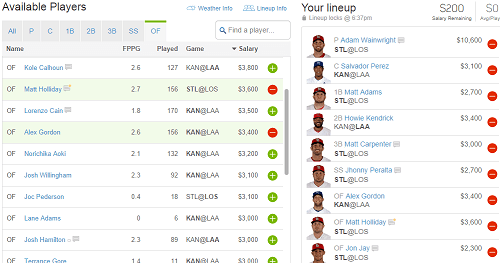 Step #5:  Scoring
Now of course each sport has a different scoring system, but FanDuel makes it easy and shows you exactly how the score will be kept in every single league.

Step #6: Winning & Getting Paid
When you win a league you will be notified by email from FanDuel. Your winnings will be placed in your FanDuel Account and earnings can be Withdrawn at anytime by PayPal. Payments are usually instant, but can take up to 48 hours.
---
FanDuel Review
Website: FanDuel.com
Score: 97 Out Of 100
Verdict: LEGIT!
I gave FanDuel a 97 Out Of 100 because this site is completely legit and will pay you for your earnings. The only reason I did not give this site a higher score is because it's betting which I am not a huge fan of, but if you are this site will be great for you.
---
What I Liked
Free Leagues
One awesome thing about FanDuel is when you are starting out or if you're like me and don't like to bet they offer free leagues. This is great for beginners that want to get their feet wet before jumping in to paid leagues where if you are not familiar with how it works can lose you money.
Tons Of Leagues To Choose From
You know that FanDuel has leagues within the 6 major sport categories, but within each sport there are 1000s of leagues each day. They also have some special leagues that are listed below.
1) Head To Head: Basically in this league you go against one other person all you have to do is beat the other person and you win all the buy in money minus the FanDuel Fee.
2) 50/50: basically in this league there might be 20 people with a $2 buy in if you place in the top 20 you will get $4. This is a great league to start out in because the chances of losing money are lower.
Training
There is a portion of FanDuel.com that is dedicated for teaching its new users. Basically in this part of the site you will be taught how FanDuel works and some techniques to use to get started! This is great because if you're a newbie you won't understand all the terms on the site.
---
What I didn't Like
 Well I don't like to bet
Personally I don't like betting on anything or gambling because I have found I don't win, EVER! I have terrible luck, but even if you're like me FanDuel does offer Free Leagues every day where you can just play for the fun of playing!
---
Final Verdict
I highly recommend FanDuel it's completely legit and there are people with a bit of luck and strategy that are making some good money with this site. If you are looking to get into Fantasy Sports and don't want to wait all season to see if you won, this site is perfect for you most leagues are one day and for Football they have weekly leagues.
---
What To Do Now?
If betting on sports is your thing FanDuel is the way to go. You can join now and they will match your first deposit up to $200 bucks. If you're not really into the betting thing no worries. I have plenty of other ways you can make money online.
To see all the jobs that I have claimed Scam Free visit my All Scam Free Jobs Page.
If you would like to learn how I make 95% of my online income check out my Start Your Own Online Business.
Thanks for reading my FanDuel Review. We have figured out that FanDuel is not a scam and that it's a safe company to join to participate in one day fantasy Sport Leagues. If you have used this company I'd love to hear your experiences in the comments section below!
Summary
Reviewer
Review Date
Reviewed Item
Author Rating