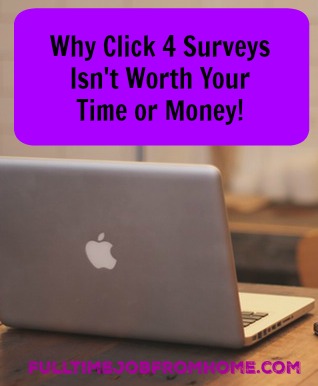 Luckily this Scam Closed. Check out the Legitimate Sites that pay me each month!
Lately, I been coming across tons of website just like Click 4 Surveys. One thing I have found out is all the websites similar to this are all scams. Click 4 Surveys is not different it's a scam. I will go into full detail in this Click 4 Surveys Review.
Basically these sites are making you pay for free information. I have found nothing that will make you earn more through surveys within the members areas of theses sites. You might as well just join sites on your own and I guarantee you will make the same amount of money!
If you don't feel like reading this full Review, just no that Click 4 Surveys is a scam and you can find all the information they give you for free right here.
Read on to learn more about the Click 4 Surveys Scam and to find out exactly why in this review.
Luckily this Scam Closed. Check out the Legitimate Sites that pay me each month!
---
What Is Click 4 Surveys?
Click 4 Surveys is a company that promises you more income while taking surveys. The company's owner has the same story as most of the similar sites I review like this. At one time they were in debt. They figured out a secret way to make more with surveys and know they're financially free!
They promise to teach you how to make more with surveys and to give you the best survey websites to make you successful.
---
How Does Click 4 Surveys Work?
Click 4 Surveys works a lot different from most people think. Click 4 Surveys will actually never send you surveys or pay you for your surveys. All they do is provide you with survey sites to join. You will only receive surveys and be paid by the individual survey sites that you join.
Click 4 Surveys is killing on this deal because not only do you pay for access to the members area, but they're receiving commissions on all the earnings you make on the survey sites you join.
---
What You Get When Buying?
When you purchase Click 4 Surveys you will receive everything listed below for $34 after the coupon code that they give you.
Training
Survey List
1 Bonus E-Book
Click 4 Surveys also has an elite group which is an up sell I would stay away from that if you do purchase this product.
---
Click 4 Surveys Review
Website: Click4Surveys.com
Price: $34 after coupon
Rating: 15 out of 100
Verdict: SCAM!
I gave Click 4 Surveys a 15 out of 100 because I feel like it's a scam. I feel like the landing page gives you false hopes on how much you can make with surveys. The Up Sells that this system includes are just a waste of your money, the training or secret to making more money with surveys is non-existent. The list of surveys is not bad, but still you can find that anywhere on the internet for free.
---
Landing Page
The Landing/Sales page for Click 4 Surveys features a very convincing video with testimonials and an explanation of what this company has done for a handful of people. But one of the first things that jumps out of me is pictured below. They know the secret to making a large amount of money with survey sites.
The Landing Page then goes into a story about how the owner was in debt and was able to crawl their way out with the money made taking surveys and now their financially free! Of course I am sure this story is not true or if it is it took 5-10 years which is highly unlikely and not what this sales page is promising.
The next big thing that bothers me is picture below. It says that surveys range from $5-$75 which if you know anything about surveys $5 is usually on the high-end of payment scale.

As you can see the landing page for Click 4 Surveys is full of misleading information, just to get you to buy their product.
---
Up Sells
With Click 4 Surveys there is one Up Sell and it's called the Elite Inner Circle. Basically it's suppose to be support from the creators of the system. The people making all the big bucks. It includes some more training and you can also have email support with the big guns whoever they are.
This Elite Inner Circle will cost you $197 for 12 weeks of access. I would suggest not spending your money on this doesn't seem necessary or worth the money.
---
Survey Training
Not to my surprise the only training that Click 4 Surveys offers is to set up a brand new separate email to keep all your survey emails in. You remember that picture above about the secret to earning $3,000 a month with surveys. Well there is nothing on that unless all it requires is a new email?
---
Survey List
Click 4 Surveys has put together a list of about 100 survey sites. They do a good job telling you the name, a bit about the company, what countries it's available in, and if there's a sign up bonus.

But still you should not be paying for this list you can get a free list right here!
---
Free Bonuses
When you purchase Click 4 Surveys you will receive one free bonus E-Book. The E-book has to do with making money on twitter and is pretty poor from what I know about making money on social media, but hey it's a bonus.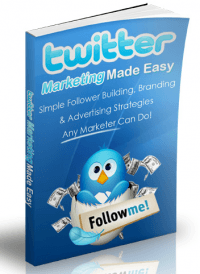 ---
Advantages & Disadvantages
 Advantages
The List of Surveys has Highly Trusted Survey Sites
Disadvantages
Paying for a list of Survey Sites
Training is poor
Landing Page is misleading
Bonuses can be found anywhere online
Up Sells are worthless
---
Final Verdict
Luckily this Scam Closed. Check out the Legitimate Sites that pay me each month!
I would not recommend buying Click 4 Surveys because I feel like this program is a Scam. All they are doing is making you pay for information that can be found for free anywhere on the internet.  I feel like the company gives you unrealistic expectations of how much you can really make with surveys. I also feel like Click 4 Surveys is taking advantage of its customers by making you pay for the membership and also earning commissions off your earnings.
See how Click 4 Surveys compares to My #1 Recommendation:

---
What To Do Now?
I don't want you to get the wrong idea I have no problem with paid surveys. I actually make money on survey sites each and every month. But sites like Click 4 Surveys are not worth your money. You can find a list of great surveys sites for free here.
Despite my negative review if you would still like to purchase Click 4 Surveys you can do so here or through the link below.
If you don't think you can make enough money taking surveys, you can learn more about Starting Your Own Online Business Here.  The way I make 97% of my online income.
Summary
Reviewer
Review Date
Reviewed Item
Author Rating