New Edge Surveys is one of those companies that are taking advantage of inexperienced members of the online money-making community. I have run a lot of different websites in the past few months that are doing the exact same thing as New Edge Surveys and I am not very happy about it.
Basically these companies are leading you to believe that there is a way to make more with paid survey sites and that there's hidden survey sites out there that pay way more for each survey. To be honest none of this is true. That is why I have decided to write this New Edge Surveys Review.
I am here to help you guys make money online, when I see companies like New Edge Surveys I have to write a detail review to tell you exactly why you need to stay away!
In this New Edge Surveys Review I will tell you more about New Edge Surveys and how it works, what you get when buying New Edge Surveys, and exactly why this product is a scam that you should avoid!
---
What Is New Edge Surveys?
New Edge Surveys is a company that promises you the secret to making more money with paid online surveys. They promise to show you how to make more and lead you to the sites that pay the highest for each survey.
What I have found is none of their promises are met, but I will let you judge that for yourself.
---
How Does New Edge Surveys Work?
New Edge Surveys works a lot differently than most people assume. New Edge Surveys will actually never send you a survey or pay you for taking surveys. All New Edge Surveys does is take your money and give you a list of all the survey sites they recommend.
All surveys and payments will come from the individual companies that you sign up for on their list. For example if you sign up for Cash Crate on their list. You will only take surveys from Cash Crate and only be paid by Cash Crate. New Edge Surveys has nothing to do with the transactions other than they referred you to the Survey Site.
---
What Do You Get When You Buy?
When you purchase New Edge Surveys for $49.95, a high price compared to most of the companies similar to them, you will receive all of the things listed below.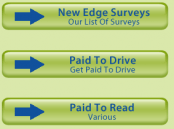 One Page Of Training
A List of Survey Sites
5 Bonuses
To me even if this was a good product the price of $49.05 seems a bit high especially compared to most of the sites similar to New Edge Surveys which are in the $20 range.
---
New Edge Surveys Review
Website: NewEdgeSurveys.com
Price: $49.95
Rating: 10 out of 100
Verdict: SCAM!
I gave New Edge Surveys a 10 out of 100 and claimed it to be a SCAM for several different reasons. I found that they mislead you to believe that they have the secret to making more with paid survey sites, which is not true at all. The training they have for surveys is very poor. The list of survey sites have some reputable companies, but they are charging you for something that should be free. The bonuses are just more opportunities that can be found for free all over the internet.
The only reason I gave New Edge Surveys a 10 is because their list of survey sites does have some good companies on it that I actually recommend. Some of the companies that I recommend include PaidViewpoint, Swagbucks, FusionCash.
---
Survey Training
The training from New Edge Surveys is really poor. I was expecting to see some secrets about making more or at least some tips I had never heard before on making more, but this section really fell short. You can see the different tips they give you in a list below!
1) Set Up A New Email
2) Download Robo Form (actually a handy little piece of software
3) Make Sure To Collect Your Money. lol
Really tips 1 and 2 will actually help you keep everything straight when signing up for a lot of survey sites, but still I was expecting more. There was nothing in the training that you could classify as the secret to making more money with survey sites. Hmm probably because there is no secret, but that's just my hunch.
---
Survey List
I found that the survey list on New Edge Surveys is pretty good. It seems that they do have a lot of reputable companies on the list. But of course, I do not like you have to pay for that information, which is why I put together the list of 30 best survey sites that pay. 
I really did not like the layout of the survey sites on the page. I mean if you're going to scam people at least put the survey sites in a table instead of a list.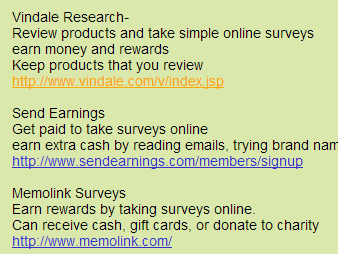 Another thing I noticed with the list is that they did not put the survey sites in order of best to worst, but they did put them in order to which ones have the best commissions on referral earnings, which means they are making more off your earnings.
---
Bonuses
When purchasing New Edge Surveys you will receive 5 bonuses. You can find these listed below!
1) Paid To Drive: This is a list of companies that will pay you for putting advertisements on your vehicle.
2) Paid To Read: This is a list of companies that pay you for reading emails. I like Inbox Dollars.
3) Paid To Shop: This is a list of companies that pay you for shopping basically cashback. I like SwagBucks
4) Paid to Visit: This is a list of companies that pay you for visiting websites I would suggest ySense
5) Home Jobs: This is basically an outside company that gives you a list of random jobs you have to pay for this though
---
Advantages & Disadvantages
Advantages
 List has some reputable Survey Sites
Easy To Get A Refund
Disadvantages
Poor Training
Paying For A List Of Survey Sites
Bonuses are worthless
---
Final Verdict
I would not recommend buying New Edge Surveys. I find that this company is scamming people into paying for a list of survey sites with hopes that they have a secret system to making more money with survey sites.
After fully reviewing this product I found nothing special about the training or bonuses that are provided in this membership.
I don't think you should join New Edge Surveys, but you can see a comparison below to a company I think you should join.

---
What To Do Now
I highly recommend not joining New Edge Surveys there is no secret to making more with online surveys and this company is just screwing you over.
Don't get the wrong idea. I am not against survey sites at all. I actually get paid by a few each and every month. But I don't believe in paying for a list of survey sites. If you would like to join some survey sites check out this list of the 3o best survey sites that actually pay. 
You won't make a ton of money with survey sites. If you're looking to make more money online I would suggest Affiliate Marketing. It's how I make 95% of my online income and I would love to show you how to get started. Learn how to turn your hobby into a thriving online business here!
Thank you for reading my New Edge Survey Review. Take a look at the links above to find a scam free way to make money online.
Summary
Reviewer
Review Date
Reviewed Item
Author Rating