BzzAgent Review: Is It A Scam? Some BzzAgent Complaints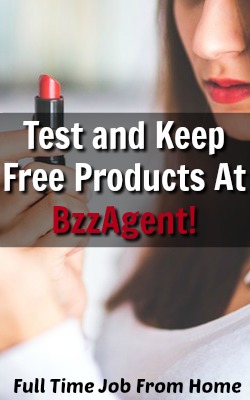 BzzAgent is a website where you can share your opinion of products and try out products for free in exchange for a short shout out review.
BzzAgent is not a scam, but there's no guarantee that you'll ever receive any free products. It's similar to survey sites where you have to qualify to get free products.
With that being said, most of the complaints you'll hear about BzzAgent have to do with not ever receiving free products; again there's no guarantee.
If you'd like to learn more about receiving free products to keep, here's an awesome e-book to check out!
In this BzzAgent Review, I'll cover how the site works and why BzzAgent is not a scam!
---
BzzAgent Review

Site: BzzAgent
Type: Product Testing
Verdict: Legitimate
In this BzzAgent Review, I marked it legitimate because this site does send you free products to test and you do get to keep the product. There's nothing about this site that makes it a scam, other than some members getting frustrated when they're not selected to try a product.
Last Month I Made

$13,841 Online
I Bet You're Tired Of Making Pennies Online. No More BS. If You're Serious About Making A Full-Time Income Online You Need To See The TRUTH. Stop Wasting Your Time With The Next Big Thing When There's Already A Proven Method That Works!
As long as you know, there's no guarantee you should be satisfied with this product testing site. Most of the products are pretty high end, and it doesn't take much time on your part, so to me, it's a pretty good deal if you get selected.
You won't make any money testing products, so if you're looking to make money online check out the Extra Income Sites I Recommend.
---
How Does BzzAgent Work?
When you sign up for BzzAgent, you'll have to fill out a bit of information about yourself. After you join the first step, you should take is connecting your social media profiles and filling out all the profile surveys that are available.
Once you're done with your profile, sit back and wait for campaigns (product tests) to come in. If you're not interested in the product, you can decline the campaign.
If you decide to accept the campaign, BzzAgent will mail you the product; it usually arrives within three weeks. You should use the product and get a good understand of how it works, what you liked, and what you didn't.
After, you'll need to share what you thought on the BzzAgent website. Each campaign differs, but some require you to share on social media (Facebook & Twitter), create a blog post on BzzAgent or your personal blog, or sharing by word of mouth.
Your review should be detailed and give an accurate description of your opinion, including pros and cons of the product. In exchange for the shout outs and review, you'll get to keep the product!
---
BzzAgent Complaints
No Guarantee You'll Test Products
I know I've already mentioned it many times in this review, but the only major complaint about BzzAgent is that you have to be selected to test products.
Sometimes you're just not what companies are looking for, but there are a few things you can do to increase your chances of being selected.
Make sure to fill out your profile completely, link your social media accounts, and do your best to raise your BzzScore by being active in the community.
---
Is BzzAgent A Scam?
BzzAgent is not a scam, but you need to understand you won't be paid for testing products and there's no guarantee you'll ever qualify to test a product.
As long as you know that going in, you should be pretty happy with BzzAgent; it's pretty easy to sign up and doesn't take much time in exchange for a free product.
If you'd like to learn more or to join, visit BzzAgent.com to get started! For more information and ways to get free products to keep, check out this product testing e-book!
BzzAgent won't pay you to test products. If you're looking to make money online, visit the Extra Income Sites I Recommend.
If extra income isn't for you, learn how to make a larger online income with My #1 Recommendation. You can even work with me directly for free building your first profitable online business.
Already a BzzAgent Member? Think BzzAgent is a scam? Let me hear your thoughts on this review in the comments section below!
Summary
Reviewer
Review Date
Reviewed Item
Author Rating