BSG VoiceLog Review: Is Working for BSG VoiceLog a Scam?

VoiceLog is the #1 provider of third-party verification services in the US. They are looking for English, Spanish, and bi-lingual operators to receive live verification calls. VoiceLog guarantees a minimum of $8.50 per hour and a flexible schedule that you can work from home.
Make sure to check out all of the work from home companies hiring now!
In this review I will look at their work from home opportunity and decide if it is a scam or legit.
---
BSG VoiceLog Requirements
Here are the minimum requirements to work for VoiceLog:
Quiet, distraction-free work space
 PC running Windows 7 or newer, or MAC OS 10.8 Mountain Lion or newer
Minimum 4 GB of RAM (DDR3/4) is required, however 8 GB of RAM (DDR3/4) is preferred
CPU (processor) Intel Core I3 or AMD Bulldozer, or newer
Internet Explorer Version 10.0 or higher, Google Chrome, or Microsoft Edge
Microsoft Word, Excel and PowerPoint
Working printer
E-mail provider that allows enough space to receive fairly large documents
Cable High-Speed Internet access or reliable DSL internet access with a minimum speed of 40 Mbps (dial-up and satellite are not acceptable)
Current anti-virus software and Ad-Ware software
Skype Instant Messenger
A second phone line (already installed) dedicated to accepting inbound calls, with no features (no VOIP, no digital phone, no call waiting, voicemail etc.)
At least 1 year of customer service experience (inbound or outbound call center)
Able to work at least 20 hours per week
---
BSG VoiceLog Application Process
If you want to apply, click here to get started. Scroll down and click Apply Today. Fill in the required information, which includes:
Name and basic contact info
Verify you are 18 or older and able to work in the US
Acknowledge that all info you provide may be verified
Agree to allow a criminal background check if requested
Phone numbers and best time to be contacted
Verify your technical requirements such as internet, computer, and phone line
They want to know if you have pets such as a dog that might bark in the background
Same with children
Highest level of education
Previous call center experience
What times are you available to work, minimum of 4 hours
What is your language and level of proficiency
VoiceLog asks that you don't contact them to follow up on your application. If they need new contractors and you meet all of the requirements, a representative from VoiceLog will call you to conduct a phone screening and to verify aspects of your application. This phone call is important as they will also be paying attention to your language competency.
---
How Much Does BSG VoiceLog Pay?
VoiceLog pays live operators $8.50 per hour. This is an independent contractor position, so you will be responsible for your income taxes and all expenses related to your business.
There is a 2 to 3 day training period, typically on Monday and Tuesday between 9 AM and 3 PM CST. It is not indicated if training is paid.
---
When Does BSG VoiceLog Pay?
They pay via direct deposit on the 8th and 22nd of each month. Work completed from the 1st through the 15th is paid on the 22nd, and work completed from the 16th through the end of the month is paid on the 8th of the following month. You will need a checking or savings to receive your paycheck.
---
BSG VoiceLog Schedule
You need to be available to work at least 20 hours per week. But you can work more if the hours you can work match the needs of their clients.
Last Month I Made

$13,841 Online
I Bet You're Tired Of Making Pennies Online. No More BS. If You're Serious About Making A Full-Time Income Online You Need To See The TRUTH. Stop Wasting Your Time With The Next Big Thing When There's Already A Proven Method That Works!
When filling out the application, you are asked to indicate when you are available to work. This is 7 days a week, morning, afternoon, and evening. They want you to be available to work 4 hours or more at a time.
The actual work times are between the hours of 2 PM and 11 PM Central time, Monday through Friday. You can choose to work 2, 3, 4, 5, or 6-hour shifts.
Schedules are posted Thursday afternoons for the following week.
---
BSG VoiceLog Feedback
I found reviews on Glassdoor. It seemed like there was a number of complaints about poor management. Here is a summary of the pros and cons.
Pros:
Friendly co-workers
Great to make your own schedule
Easy job
No sales
Read a script, so you don't have to know what to say
Cons:
Very low pay, not enough by itself
Shortage of hours at times
You must choose your hours quickly or there won't be any hours left
Management is rude and dishonest
No pay increases
Inconsistency in call feedback
Disorganized management
Sometimes the client reps are rude and VoiceLog won't address it for fear of losing the client
Most of the reviews are a few years old now, so it's hard to say if these are current practices. But the website is current.
---
Is Working for BSG VoiceLog a Scam?
Based on my research, working for VoiceLog is not a scam. It sounds like an easy job regardless of the low hours and pay. If you need a side gig, check it out! Here's the link to start the application.
If this job doesn't interest you, check out these helpful links for some other ideas: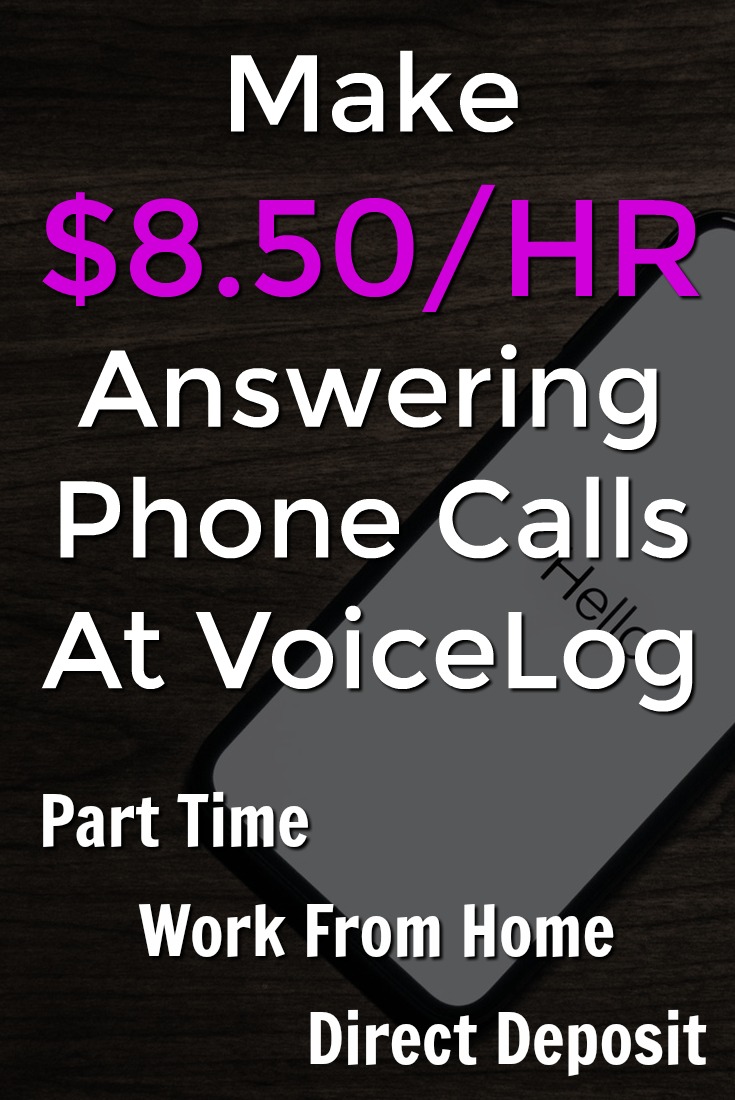 Summary
Reviewer
Review Date
Reviewed Item
Author Rating