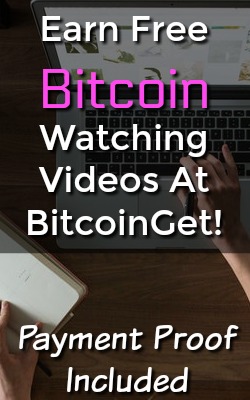 Today I'd like to review a new site called BitCoinGet to see if it's a scam or legitimate way to earn Bitcoin.
Before we get started, BitcoinGet won't make you rich. It's similar to other reward sites; it just happens to pay out via Bitcoin.
If you see other sites that promise a huge Bitcoin income, make sure to be careful, it's most likely a scam.
To sign up for BitcoinGet, you'll need a wallet ID. If you don't have one, they recommend CoinBase.com. I use them, and they seem to be very legitimate.
Please understand that BitcoinGet and other reward sites will never make you rich! They are just extra income sites that pay you a few bucks each month. If you're interested in making a full-time income online, check out My #1 Recommendation, it's how I made over $13,000 online last month!
Let's get started, in this BitcoinGet review, I'll cover the ways to earn, how you get paid, complaints, and make sure this isn't a Bitcoin scam!
---
BitCoinGet Review
Site: BitCoinGet
Type: Reward Sites
Verdict: Legitimate
In this BitCoinGet review, I marked them legitimate, but it's not really a site I highly recommend unless you just really want to get paid in BitCoin. There're much better rewards sites out there that have great rewards to choose from.
One thing I like about the site is they do pay rather quickly, but overall, nothing special about this site other than getting paid via Bitcoin.
---
How To Earn AT BitCoinGet?
Surveys
BitCoinGet has surveys from a few leading survey providers. Most surveys pay 50-1000 bit, tell you what the study is about, and about how long it will take you to complete them.
Tasks
They call them Jobs on their website, but most of us know of it as tasks on Crowdflower. These tasks only take a few seconds to complete but only pay 1 bit each.
Offers
BitCoinGet has offers from a few providers. Most offers require you to sign up for a free site or mailing list. They occasionally have paid free trials that pay more. Most offers pay 250-1500 bit.
Shopping
After further research the shopping tab just suggests you check out their sister site CoinRebate.com. It's a cashback portal that pays via PayPal. If you're set on earning as much Bitcoin as possible, it might be worth checking out.
Videos
BitCoinGet has several types of videos you can watch to earn. From cooking videos to popular viral videos, just click a playlist and start watching. You'll make 1 bit per 3 videos you watch.
These videos automatically continue to play so you can open the video and let it play to earn all day. The main catch is if you view a different tab the video stops playing and you stop earning.
Referrals
BitCoinGet does have a referral program that can help you earn more, but it is limited. Most sites have a percentage you can make on all of your referrals earnings. But with BitCoinGet you'll earn 10% on survey income and 5% on tasks and offers. At this time you can't earn cash back on shopping or videos.
---
How Does BitCoinGet Pay?
The whole point of BitCoinGet is to earn Bitcoin. To get paid and to sign up you'll need a Bitcoin wallet account. They recommend using CoinBase.com. It's who I have an account with and haven't had any issues.
Once you earn 1,000 bit, you should expect to see payment within 24 hours. Occasionally some offers take longer to approve so it could take a little bit longer.
They do have a support team you can contact if you feel like you should get paid and haven't yet.
---
Proof Bitcoin Get Pays!
As mentioned, this is just a small extra income, but the site does pay and I've included payment proof below. The first screenshot is from my BitCoinGet account showing they paid and the second screenshot is the Bitcoin showing up in my account!

---
BitCoinGet Complaints
Small Income
BitCoinGet is basically a reward site that offers several ways to earn, but none of them pay a lot. You'll receive a small income for completing the different ways to earn.
So don't expect this site to make you rich, it's just a small side income. If you're looking for a full-time income, check out My #1 Recommendation, it's how I made over $13,000 online last month!
Limited Referral Program
I'll be honest, most of my earnings from reward sites come from referrals. So sites with great referral programs are more enticing to me. With the referral program, you'll only earn on some methods, and the percentage you earn differs.
With that being said, I'm glad to see they have a referral program because it's an easy way for you to make some extra money!
---
Is BitCoinGet A Scam?
BitCoinGet is not a scam; it's a legitimate reward site that pays you your Bitcoin once you reach the cashout amount. With that being said, it's not a site I highly recommend unless you just really want to get paid via Bitcoin.
If you're set on getting paid via Bitcoin, BitCoinGet seems to be a decent option.
To sign up, you'll already need a Bitcoin account; they recommend signing up with CoinBase.com.
Once you sign up for an account, you can visit BitCoinGet.com and enter your wallet ID to sign up!
Please keep in mind that BitcoinGet is a tiny small online income, if you're looking for a large online income, check out My #1 Recommendation, it's how I made over $13,000 online last month!
I hope you enjoyed this BitcoinGet Review. If you have any questions, feel free to leave comments below. If you're not interested in BitcoinGet, feel free to check out these helpful links:
How I Made Over $13,000 Online Last Month
Summary
Reviewer
Review Date
Reviewed Item
Author Rating