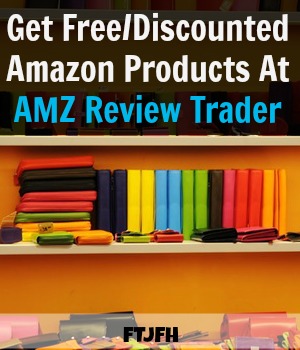 Lately, I've been coming across a lot of sites that exchange Amazon Reviews for free products, or at least discounted products. One site that I like is called AMZ Review Trader.
Out of all the "free Amazon products" sites, AMZ seems to have the widest variety and high ticket items at a significant discount. If you'd like to learn more about receiving free products to keep, here's an awesome e-book to check out!
I decided to write a quick review and show you that AMZ Review Trader is completely legit and scam free. In this review I'll show you how AMZ works, what products are available, and the complaints I have with this site.
---
AMZ Review Trader Review
Site: AMZ Review Trader

Price: Free To Join
Score: 85 Out Of 100
Verdict: Legit
In this review, I gave AMZ Review Trader a good score and marked it legit. I've reviewed a few other similar sites and I have to say this site has the most variety of items and the most high ticket items. The discount might not always be the biggest, but there's many more products on AMZ Review Trader then other sites.
I'm not a huge fan of needing to be approved for a coupon code before you can order the product, but I guess it's a way to regulate the codes better.
AMZ Review Trader is a great option to get discounted Amazon products and will give you the widest selections of all sites!
---
How Does AMZ Review Trader Work?
1) Find Products You Like
Once you sign up you'll see a full list of Amazon products available. AMZ Review Trader has a wide variety of products from electronics, clothing, culinary items, and much more.
2) Request The Discount Coupon
Once you find a coupon you like, click the "review now" button to request a coupon code. The seller will have to approve your coupon. They take a look at your Amazon account and see all the reviews you've left before (more on this later). You can request 20 items at a time. Once the seller approves, you'll have access to the code.
3) Purchase Product Add Code
Once the seller has approved your review request, visit Amazon and purchase the product. During the check out process add the coupon code to lower the price. After that the check out process is the same as a normal Amazon order. Some items might require you to pay a shipping charge if you're not an Amazon Prime Member.
4) Receive and Use Product
Once you receive the product you should actually use it. They're looking for detailed reviews, so use the product and have a good understanding of it before moving forward.
5) Leave A Detailed Review
After you use the product make sure to leave a detailed review of the product. They are not looking for a positive review in exchange for a discount. Leave an honest review listing the positives and negatives of the product as you see it.
---
How To Get More Deal Approvals
The key to getting products at a discount is getting approved to use coupon codes. They do give some advice on how to get your first code and more codes in the future. It all has to do with reviews.
You'll have to link your Amazon profile when you join so they can confirm your reviews. So what should you do when you join?
Make sure to go back and review some of the products you bought in the past. This gives a company an understanding of how you write reviews and that you know what you're doing.
Companies are much more likely to approve your coupon if you have past reviews that can be viewed as examples of your work.
---
AMZ Review Trader Complaints
Approved For Coupons
Most of the other similar sites don't require this. It seems if you have left reviews on Amazon before you'll be able to get approved, but there's no guarantee.
It just kind of sucks because it slows down the process. I've also experienced requesting a coupon code and never hearing back if I was accepted or not.
Higher Priced Items Then Other Sites
One complaint is that the discounts on some products aren't as big as some other similar sites, but AMZ Review Trader does have more high ticket items.
There's still many Free-$2 products, but you'll see some higher items over $10 which I've not seen on any other sites.
---
Is AMZ Review Trader A Scam?
AMZ Review Trader is not a scam. I received a pretty significant discount on a dog collar that was usually $30. I ended up paying $6.
The process was pretty simple once I was approved, so I have nothing but good things to say about this site, in my personal experience.
I'd recommended checking it out and seeing if you're interested in any of the products available. If you'd like to learn more or to join visit AMZ Review Trader. For more information and ways to get free products to keep, check out this product testing e-book!
This is a great way to get discounted Amazon products, but what about extra income from shopping. I love using Ebates and Ibotta to earn cash back on my shopping. Make sure to check them out.
If extra income isn't enough, here's how you can make a full-time online income with My #1 Recommendation.
Have you used AMZ Review Trader Before? 
Summary
Reviewer
Review Date
Reviewed Item
Author Rating