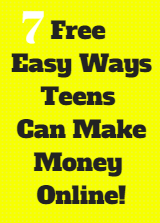 Today I'd like to cover 7 of the best ways for teenagers to make money online. I started trying to make money online back in high school and ran into so many scams and ways that didn't work. I've been making money online now for over three years and know the best ways for teens to get started making money online.
On this list, you'll find some ways to make quick cash and also a few ways that might not make you much now, but can be a huge income a few years down the road. I know it's hard to pass a $20 income now, but take a hard look at the first option on the list. It may not make you the money you're looking for now, but can be a full-time income if you stick with it.
I'll quit lecturing now, here's some awesome easy ways for teens to make money online.
---
7 Easy Ways For Teens To Make Money Online
Start A Blog
I started blogging in 2013 and wish I'd started much sooner. I'm only 22, but I wish I'd started back in high school. I can't even imagine where my site would be if it were 5+ years old. It's ideal to get started as soon as possible because it does take time to build up traffic and an income.
I recommend this method first for a few reasons. Mainly because if you start a website/blog now, dedicate a few hours a week, and stick with it. In 2-3 years you could have a huge online income. It's not the best option for "Fast Cash," but it's a great option due to the financial capabilities long term.
You should build a blog about something you're interested in, in other words, "a niche."
With your blog you can make money different ways through ads, affiliate sales, private advertising and much more.
I know this list is about free ways, but I'd recommend buying your own domain name and hosting. Free platforms don't seem to get the same results, and you don't own the site. You can usually get started for around $10.
If it sounds confusing to you, don't worry. Creating a website and learning how to make money with a blog is easier than ever. Check out my Wealthy Affiliate review; it's a great option to find out how it all works for completely free.
Start A YouTube Channel
My next favorite option is starting a YouTube channel. This is another option that does take some time to build up a following and an income. Really until your channel is very popular the only way to monetize your channel is through ads.
This won't be a big income at first because you'll need a lot of views to make good money, but here's what I've done. I've posted one video a week for the last 16 months. I'm now making $100 or so a month just by people watching ads and my videos.
Again it takes time to build up, which is why it's a great option for teens. Start a channel now, spend an hour or two a week uploading videos, and you can have a decent income in a few years.
If you do decide to start a YouTube channel, I'd recommend making videos that interest you. That will make it easier to get started and stick with it.
Sell On eBay
To sell on eBay, you'll need a PayPal and eBay account. Both require you to be 18, but you can create both with your parent's permission.
I ran an eBay store for about a year and was able to make $800-$1,000 a month by selling old stuff, buying things from buy and sell shops, and by going to storage auctions.
It does require some work since you have to ship each item, but it can be profitable if you have some good things laying around the house. Your parents might be able to help, see if they have stuff to sell and offer to sell it for them for a cut.
If you're under 18, this might not be the best option, but with your parent's permission and help it can be a profitable way to make some extra money online.
Head over to eBay and sign up for an account to get started.
Sell On Etsy

If you have a creative side, selling on Etsy might be a great option. Again you'll need parents permission to get started, but it can be a profitable business.
Etsy is a good place to sell crafty items that you can create. I don't have any experience with Etsy, but I know that it's a good way to make some money online selling what you can make. If you're going to make creative items, it's a much better option over eBay.
If you have a cool and creative item you can make, head on over to Etsy and sign up for a selling account.
Sell On Fiverr
Fiverr is a website that lets you sell services for $5, well you get $4 because Fiverr takes $1 per sell, but it's still a great way to earn some extra cash if you have a skill.
I've used Fiverr a bit; I mainly used it to sell guest posts and advertising on my websites, but you can create a Fiverr "Gig" for almost anything.
Some of the more popular categories are web design, graphic design, voice overs, advertising, writing, and music. But almost anything can be a profitable Fiverr Gig.
If you have a skill or a unique idea, check out Fiverr and see if you can get started making some money. I recommend keeping it simple; you'll only get paid $4 so make sure it's not something that takes up too much of your time.
Take Online Surveys
One of the most popular and "go to" ways for teens to make money online is through paid online surveys. I like surveys, but you should know that they won't be a huge income.
The good thing about survey sites is, most sites allow anyone over the age of 13 to join and it's easy work.
I do recommend a few surveys sites, but to me, it's not the best way to make money online for teens. Yes, you can make $10-$25 a month, but if you take surveys each month for five years, you'll still be earning $10-$25 a month.
That's why I recommend a Blog and YouTube Channel much more. Down the road, you could have a much larger income with the same amount of time invested.
But, if you'd like to try some surveys, here are the sites I highly recommend.
Extra Income Websites
The last way to make money online as a teenager is through extra income sites. This is just like Paid Online Surveys, but there're different ways to earn.
Again these sites won't grow down the road; you'll still have to use them, and in 5 years you'd still be making the same. But these sites can pay you to do things like search the internet, watch videos, complete offers, and much more.
I won't list all the options here, just visit all of these Extra Income Sites I Recommend to learn more
---
Make Money Online As A Teenager
Hopefully, you enjoyed this list of great easy ways for teens to make money online. My personal favorite is starting a website/blog. It's what I did, and I think it gives you the best income potential. I know it can be hard to have the mindset of small income now and a significant income down the road, but I know if you make the choice you'll be very happy that you did.
Any of the other options are great too, but just know that the income potential doesn't raise over time. If you make $10 a month taking surveys now, you'll still be earning close to the same amount in a few years.
But the choice is yours; these are all scam free legitimate ways for a teen to make an online income. If you'd like to learn more about starting a website, visit My #1 Recommendation to find out how to get started for completely free.
What option do you think is best? Are you already making money online as a teenager?