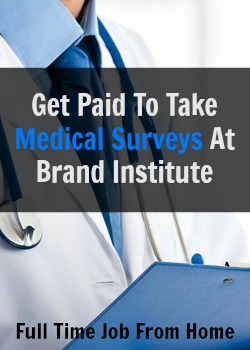 Brand Institute is a survey site that specializes in Medical Surveys but also offers normal surveys. If you're a health care professional, this is an excellent site to sign up for to take medical surveys that pay anywhere from $5-$30 plus.
There're some complaints out there saying that Brand Institute is a scam, but it's an entirely legit way to get paid to take online surveys. Even if you're not a health care professional Brand Institute can be a good source of income taking surveys.
In this Brand Institute Review, I'll cover how to get paid to take surveys, how much you'll earn, the VIP program, Referral program, and all the important details of this survey site.
---
Brand Institute Review
Site: Brand Institute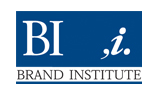 Price: Free To Join
Score: 85 Out of 100
Verdict: Legit
In this Brand Institute Surveys review I gave them a good score and marked it legitimate. This is probably the best site I've seen to take medical surveys. I like the high paying surveys that they offer.
There's a few complaints about the number of surveys and qualifying for surveys, but most survey sites have those issues as well. It makes sense because medical studies are so targeted that you won't find very many that work for you.
If you work in the healthcare industry, this is an excellent option for medical surveys.
---
Brand Institute Surveys
Brand Institute has two types of surveys, medical and non-medical. When surveys are available, you'll receive an email notifying you. You'll be able to see how long the survey is, what it's about, and how much it pays before you start the survey.
Pay amount for surveys differ based on length and qualifications, but most non-medical surveys pay from $2-$5 and medical surveys pay from $5-$50.
---
How Does Brand Institute Pay
Brand Institute Surveys does not have a minimum cash out amount. Meaning you can get paid for your survey immediately after completing the survey.
Payments are made via mailed check and PayPal.
I recommend PayPal payments because you'll have the funds in your account within a few days, checks will take much longer.
---
Brand Institute VIP Program
Once you're a member for six months, you can apply to be in the VIP program. Not all members will be accepted, but here's how to apply. You'll have to fill out a questionnaire that has demographic information on it. Next, you'll need to provide proof of some of the information you provided. Your answers will be compared to the surveys you've taken in the past with the company. If everything checks out, you'll be added to the VIP program, but the process can take up to several weeks.
Some of the advantages of the VIP program are logging on at any time and seeing all available surveys; you'll be notified of surveys by email before everyone else, and you'll have access to the referral program. The biggest advantage to me is the referral program, which I'll cover next.
---
Brand Institute Referral Program
Brand Institute does have a referral program, but you'll need to be part of the VIP program. Here's how the referral program works.
You'll get paid $5 for every non-medical survey your referrals take. You'll also be paid $10 for every medical survey your referrals take.
If you have the ability to get referrals, this could be a huge income from just referring your friends and other medical professionals.
---
Brand Institute Surveys Complaints
Not Many Surveys
One of the most frequent complaints is not many surveys. Now I don't know if this is coming from non-medical members or not, but it makes sense either way. Medical surveys drive brand Institute, so that explains why there're not many non-medical surveys. And there's probably not that many medical surveys that will be targeted directly at your field.
Hard To Qualify
Another frequent complaint is that most surveys are hard to qualify for. Again this does make sense to me; medical surveys will be very targeted. If you don't meet the exact requirements, you won't be able to take surveys and make money.
Also, most surveys are hard to qualify for, even when they're not medical. That's why one of my favorite survey sites is Paid Viewpoint; they only send you surveys you're qualified for. You'll never waste your time being turned down on a survey again.
---
Is Brand Institute Surveys A Scam?
Brand Institute is a great survey site that is scam free. I recommend it if you're in the healthcare industry. It has the highest paying and most health care surveys available.
If you're not in a medical industry, it's still a site you can make money taking surveys on, but they don't pay as much, and many people complain there're not many surveys, and they're hard to qualify for.
If you decide to Join Brand Institute, you'll be joining a great legitimate survey site.
If you're not in the health care industry, this probably isn't the best survey site for you. Here's a huge list of other extra income survey sites I highly recommend.
If extra income won't be enough, here's a great way to make more and build an online business with My #1 Recommendation.
Have you taken surveys with Brand Institute? Let me hear your experience in the comments below
Summary
Reviewer
Review Date
Reviewed Item
Author Rating