2
6 Legitimate Work At Home Test Scoring Jobs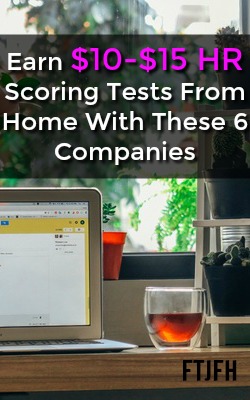 Did you know you can work at home scoring test results? It,s usually seasonal work, but below I've listed six companies that hire WAH test scorers throughout the year.
Most of these jobs do require a college degree, but teaching experience is not usually necessary. You can expect to make anywhere from $8-$15 an hour scoring tests from home.
Some advantages to scoring tests are its non-phone work, and the schedule is usually pretty flexible. You can choose how much or little you work with all of these companies.
Let's jump right in, here're the six legitimate work at home test scoring jobs!
---
6 Scam Free Test Scoring Jobs
ETS – Work is per project, and there's a training process for each project. A 4-year bachelor's degree is required, and experience in the subject is required for most projects. Pay differs per project, but the forums say most pay $10-$18 per hour.
Pearson – Hires a work at home test scoring position. Must be located in the US and have a 4-year bachelor's degree. Forums say $10-$12 an hour based on your performance.
Measurement INC – Read Review – Hires in the US only, requires 4-year bachelor degree to apply. Work is on a per project basis, and the type of scoring differs. You might grade papers one project, then math problems the next. The forums say that most scorers make $9-$12 an hour.
WriteScore – Hires work at home test scores in the US only, and requires you to at least have a 2-year college degree. They do have an unpaid training process you'll need to complete before you're hired. Work is on a per project basis; forums say $10-$15 an hour based on how fast you can score tests.
SAT Scorer – Hires a work at home position scoring SAT essays. Work is done throughout the year, and you have a flexible schedule with 4 or 8-hour shifts you can sign up for. It does say they have enough work for you to work 40 hours a week if you'd like.  You must have a 4-year bachelor degree and be able to work in the US. You must pass an ETS certification test. Pay is $15 per hour.
ACT Scorer – Hires a work at home position scoring ACT essays. Must be located in the US and have a 4-year bachelor's degree. Teaching experience and High School English Teaching experience is preferred, but not required. Pay is based on performance; they mention most scores can make $12 per hour.
Last Month I Made

$13,841 Online
Make sure to learn how you can get started for free!
---
More Work At Home Jobs
I hope you enjoyed this list of Work At Home Test Scoring Jobs. If this isn't for you, I have a long list of over 35 teaching and tutoring jobs.
You may want to check out the rest of my WAH Job Directory; I have 100s of other job leads listed there.
If you don't find what you're looking for there, I highly recommend joining Indeed.com to get up to date work at home job leads.
Do you know of any other WAH test scoring jobs? Have experience with the jobs listed above? I'd love to hear your thoughts in the comments below!