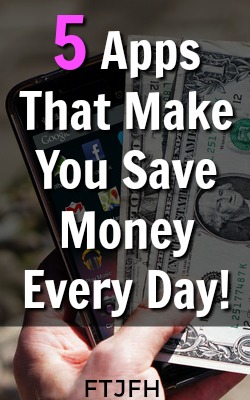 Do you want to save more money but feel like there isn't enough cash in your budget? Do you plan to save every month only to see that money sneak away to Starbucks or the movie theater?
Lucky for you, technology has your back! There are some fantastic applications available today to help you find spare change.
By operating in the background, these apps can collect small amounts you won't notice are gone until you've made a big impact on your savings. Here are our favorites!
---
Best Apps That Make You Save Money Every Day
Qapital – Built for Goal Setters – $5 Sign-Up Bonus

Are you motivated by goals big and small? Qapital may be the automatic savings bank for you! Create savings accounts based on specific goals, as many goals as you like. Then, use their tools to create automatic savings rules to help fuel those goals!
While Qapital takes a few minutes to set up for your personal preferences, it provides far more motivation by giving you set goals. We've found people save more with Qapital than other savings apps that round up your daily credit and debit card expenses.
To fuel your goals, Qapital offers four easy saving rules to choose from, as well as custom options. You can have the app round up your credit and debit card expenses, autosave a specific dollar amount at set intervals, save the difference of smarter spending, or put money away every time you make a particular expense. For example, put $10 towards your vacation fund every time you eat at a restaurant!
You need to connect a checking account to Qapital to use its services. But then the app is entirely free to use! No fees and 0.1% interest on all accounts. Is 0.1% a low return for a savings account.
Definitely, but as you aren't paying for their fantastic tools it is better than nothing!
Make note! Qapital is working on Qapital Invest, a way to invest your savings and achieve your big goals.
Rize – Build Better Habits – $5 Sign-Up Bonus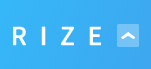 Rize, a new player in the automatic savings world, sets its sights on helping you build better budgeting habits. Going beyond only rounding up spare change, Rize helps you pay yourself first. Every time you receive a paycheck, Rize automatically moves and an amount of money set by you into your Rize savings account.
The significant part of the Rize app is that it will help you set smart goals for your circumstances. Taking into account your income level, age, location, and more it will suggest a savings rate that makes sense for you. It will also remind you to increase your savings accounts when your income changes!
Want to save even more with Rize? Activate a "Power Up" feature. Turn on "Accelerate" to increase your monthly savings 1% each month. Or, you can pad your savings with small amounts by turning on "Boost." "Boost" will find your extra change, usually up to $5, once or twice a week to add to your Rize savings account.
Rize is a savings account and offers 0.30% APY interest. You can withdraw money from your Rize account whenever you need to, as often as necessary.
Fees are unique at Rize. There is no set money cost for the app, but the creators do ask users to contribute a small amount of what they save each month – with each user determining what the app is worth to them.
Digit – Your Saving Watchdog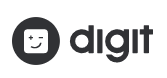 Despite their monthly fee, Digit makes our list for its beautiful simplicity. It is perfect for beginner savers who don't want to think about saving money. All you need to do is connect your bank account! Then Digit analyzes your income and spending, finding money you can afford to save. The app tries to move small amounts of money (think less than $5) from your checking account into your Digit account every few days! You even get a 1% savings bonus, paid once a quarter.
Worried about Digit making you save too much? No problem! Digit offers unlimited transactions and no account minimums. So, if the squeeze is too much or you want to use your new-found savings for that big vacation, just transfer the money from Digit back into your checking account!
Digit supports over 2,500 banks and credit unions in the U.S. today. The app also offers a no-overdraft guarantee. If your account is overdrawn by Digit auto-saving, which is highly unlikely, they will reimburse the fees.
The service is free for 100 days, then costs $2.99 per month afterward.
Acorns – For Beginner Investors – $5 Sign-Up Bonus
Want to invest in the stock market but don't have the minimums necessary to open a traditional investment account? Acorns can get you started today! Acorns rounds up your regular expenses to the nearest dollar and invests it in a basic investment portfolio. The app will automatically invest for you as you reach $5 increments in your account.
Choose from one of five portfolio options with different allocations of stocks and bonds. The service will help you decide what risk level is best for you. Just remember, this money is being invested!
Which means an unfortunate time in the market can eat away at your savings just as quickly as a boom period can help you grow your wealth. While you can withdraw your money anytime, you should always aim to invest for the long-term!
In addition to investing your extra change, you can set up automatic transfers to add to your portfolio. Plus, Acorns partners with many brands, like Walmart, Apple, and Groupon, that offer bonus cash back when you make purchases through those retailers.
Acorns costs $1 per month for accounts less than $5,000, plus ETF fees ranging from 0.05% to 0.20%.
Stash – Save or Invest – $5 Sign-Up Bonus

Not sure you want all your savings to be invested and subject to the whims of the market? Stash offers automatic savings and investment methods. Their Smart-Save program withdraws the right amount of savings for you. Your account can earn interest, or you can choose to invest that money for the long-term.
For investment options, Stash has a broader range of choices and fantastic education resources on how to invest appropriately. With over 30 different investment options, compared to Acorns five, you can choose from a variety of portfolios with different goals and risk levels. Invest just in clean energy companies or dividend stocks! Use Stash's custom advice to find what works for you.
You can start a Stash account with just $5. The first month is free, and then your investment account costs $1 per month for accounts less than $5,000.
---
Start Saving Today!
In the age of the smartphone, we are all out of excuses for not saving money. Download your favorite app today and start putting aside a little bit of cash to help you reach your goals. With a little luck, these out of sight, out of mind services may help you build a lifelong savings habit!
If saving money with apps isn't for you, here're some helpful links on other ways to earn money!
Extra Income Sites That Pay Me
Work From Home Jobs Hiring Now
How To Start A Profitable Blog
Do you use these apps or know of any other money saving apps? We'd love to hear your thoughts in the comments below!