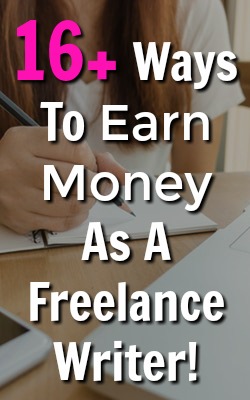 Do you want to make a living writing? Then you probably should try freelance writing from home.
A lot of people think that a writer's job is all passion, but, when you market yourself right, you will soon find out that you can actually have a lucrative job as a writer. You might even be able to replace your full-time income because of it, and finally quit that 9-to-5 job you have hated for the past few years. Plus, when you start getting yourself out there, you will soon find out that the opportunities are endless.
Just like starting out in any career, becoming a freelance writer can be overwhelming for some.
Where do you start? How do you find the clients who will pay you when you have zero experience to show?
The truth is that there are actually a lot of ways that you can earn money as a freelance writer.
Freelance writing isn't just about writing on blogs or websites – it actually comes in many forms. For example, you can write in the newspapers, films, books, radio programs, podcasts, and many more.
If you think that freelance writers will no longer be needed in the next few years, think again. There has not been a more perfect time to start a freelance writing career than now because websites and online businesses are in dire need of good copy and an excellent content marketing strategy.
If you're interested in learning how to start your own freelance writing career, visit the course at 30 Days to Freelance Writing Success. You can also claim their free e-book of 200 niche ideas for beginner freelance writers!
Are you ready to take on the challenge? Well, here are the top ways you can earn money as a freelance writer – right in the comforts of your own home.
---
16 Ways To Make Money Freelance Writing
1. Writing For Blogs
Writing for blogs and websites is among the most common ways that freelance writers earn money.
There are plenty of niches out there that you can write for, but if you have zero experience, you can always start out with something you are passionate with, something you have experience in or both.
2. Writing For Magazines
A lot of freelance writers aspire to be published in a magazine, offline or online.
Getting started writing for magazines does require a lot more work because you will have to contact publications and chat with their editors. You will usually have to wait for submission calls as magazines often have their content planned out way ahead of time compared to blogs.
3. Writing For Newspapers
This level of writing requires a bit more experience in journalistic writing.
Writing for newspapers is pretty much like writing for magazines, but it is obviously more fast-paced. For freelance writers, weekly or monthly assignments may be arranged.
4. Ghostwriting
A lot of business owners need to keep up with their content, but that can be very difficult to do as they also have to manage other parts of their business. Instead, they hire writers to create blog posts on their behalf.
Ghostwriters need to make sure that they can copy the same voice and style as that of the person they are writing for.
5. Copywriting
Websites do not just need blog posts, but they need copies for various parts of the site: Homepage, About page, Work with Me page and so on.
Writers, especially the ones who have proven to write copy that converts readers into buyers, are the types that are in-demand and make a lot of money.
6. Sales/Landing Page Writing
Another type of in-demand copywriter right now are the ones that create copy for landing or sales pages.
It takes a lot of skill to create these pages because they ask a reader to do a specific thing: provide their email in exchange of an opt-in freebie or, even better, make them buy a product or service.
7. Writing Ebooks or Guides
As more and more business owners turn into infopreneurship to grow their businesses, they also need more and more help from more experienced writers to create their content. The very top of their sales funnels usually make use of ebooks and guides, which provide shorter and more concise information compared to full-blown courses or books.
Most of the time, these are given out for free, but they can also be turned into a lower-priced product. You can do this for your clients as a freelance writer, or you can create one of your own to sell on your website.
8. Course Creation
If you plan to further expand the information you had just written in your blog posts and ebooks, then a full course is usually the next big step to that.
Courses take a lot more time and resources to create which is why business owners would often get the help of freelance writers for this project.
If you are a freelance writer planning on selling your own course, be prepared to cut back a bit of your client work. Course creation can require a huge amount of time – and sometimes, money – upfront but the reward is totally worth it in the end.
9. Writing Books
If you are an aspiring author, then this is your chance to write a book and earn money from it. Unlike in the past, becoming a published author is no longer as difficult. You can certainly still go down the traditional route and look for publishers to get your book published.
However, you can also just self-publish and do things on your own then sell it on Amazon or on your website.
10. B2B Writing
Gone are the days when companies would publish serious, corporate-y information that nobody would end up reading. They now turn into a more casual and personable – but still authoritative – form of copy.
B2B, or business-to-business writing, usually pay more than most types of freelance writing jobs because the content produced is used to inform, educate or even sell their products and services to other businesses.
11. Email Copywriting
How would you like to get paid writing emails? Cool, right?
Keep in mind though; email copywriting takes a lot of practice. While some businesses only email their subscribers with behind-the-scenes casual information, the best and highest-paying email writing jobs are the ones that convince readers to become buyers.
12. Video Script Writing
Content is changing all the time and the medium used by internet marketers changes every day, to meet the demands of their audience. So, don't be surprised to see written content repurposed into a video.
However, this doesn't mean that written content is about to see its end. Written content continues to thrive, and the need for other forms of media has created yet another type of freelance writing job: writing video scripts.
Many of these entrepreneurs fumble on video, and while casual is fun, it's usually better to follow a script, so it has flow and can bring the information that it promises.
13. Technical Writing
This type of writing is perfect for those who have a technical background. This can come in the form of writing technical manuals or reports – or you may also be writing and explaining technical things to a non-technical person.
14. Resume Writing
Putting together an excellent resume takes a lot of skill, and some professional freelance writers make bank doing this. A great resume is one that can attract headhunters and recruiters so that the person gets scheduled for an interview or, even better, hired for the job they are applying for.
15. Editing and Proofreading
Now, this isn't technically writing, but it still involves words and looking at written content.
If you think that proofreading can't earn you much, think again. Caitlyn Pyle earns a lot from this, and you can give it a shot by checking out here free webinar!
16. More Freelance Writing Jobs
Other ways you can earn extra income as a freelance writer include writing the following:
Ad copy
Sponsored content
Audio scripts
Podcast show notes and transcriptions
Biographies
Annual reports
Business letters and plans
Case studies
Children's books
Comic books
Brochures
Business reports
Contracts and other legal documents
Employee or Company manuals
Infographic content
Job or product descriptions
FAQs or knowledge base content
Grant proposals
Fliers
Novels
Pitch letters
Presentation scripts and slides
Real estate listing copy
Screenplays
SEO web content
Social media profiles and updates
Textbooks
Travel guides
And many more
You can also check out this list of writing gig reviews and start getting your experience from there.
So you see, the list is endless when it comes to earning extra money as a freelance writer.
The only thing you need to do now is get started on your hunt for your best clients. If you have no experience and would like to learn more, you can also take a freelance writing course to help jumpstart your career!
---
More Ways To Earn Money Online!
I hope you enjoyed this long list of ways to make money as a freelance writer. But it's not the only way to make money online. Check out these helpful links:
Work From Home Companies Hiring Now
How To Start A Profitable Blog
Extra Income Sites That Pay Me!
If you're interested in freelance writing, I highly recommend checking out the course 30 Days or Less To Freelance Writing Success!
Thank you for reading, do you know of any other ways freelance writers can get paid to write? I'd love to hear your thoughts in the comments below!