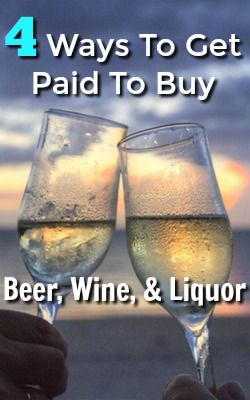 One of my favorite ways to earn money is through cash back shopping. There're tons of sites and apps that pay you cash back, but only a few that let you earn for your alcohol purchases.
Today I've put together a list of 4 ways you can earn cash back. Two are apps, and the other are for online purchases.
I highly recommend all of them and all the sites are legitimate. If you buy alcohol, you might as well try these sites and earn some money back.
If you have any questions, you can read my full review of each site or leave comments below.
---
4 Ways To Earn CashBack on Alcohol!
CashBack Apps
BevRAGE – Read Review NO LONGER AVAILABLE
BevRage is a new app that's available on IOS and Android devices. They just expanded to anywhere in the US, so most of my readers should be able to make money with BevRAGE. It's completely free to sign up, and they pay you to buy beer, wine, liquor, and even mixers.
They have specific brand offers, but also generic offers where you can buy any brand. For example, you might get paid $3 to purchase a 6-pack of Samuel Adams, but you could also earn $3 to purchase a 24-pack of any brand beer.
You can use an itemized receipt from any store and even some restaurants/bars. All you need to do is take a picture inside the app to get paid.
Payments are made via PayPal, once you earn $20.
You can join by visiting BevRAGE.com or download the app and enter the code: FTJFH, to receive an exclusive sign-up bonus!
Ibotta is very similar to BevRAGE, but the primary focus is cash back on grocery items. But they wouldn't be on this list unless they offered alcohol cash back as well. Ibotta is available on IOS and Android devices.
Most of the alcohol cash back on Ibotta is brand specific. They do pay you to buy different types of beer, wine, and liquor. As long as you have an itemized receipt, you can take a picture of it inside the app to earn.
Ibotta makes payments via PayPal or Venmo once you earn $20.
You can join by visiting Ibotta.com or installing the app and enter the code: xsolsia, to earn a $10 sign-up bonus!
Hint: You can also use the Paribus App for free. It price matches all of your purchases meaning you could save money on the alcohol you purchase. You can join by visiting Paribus.co.
CashBack Online
The way you earn cash back online for alcohol is a bit different than the apps. The two sites listed below are cashback shopping portals, which means they'll pay you a percentage of what you spend. There're a few sites available on each that lets you order beer, wine, and liquor. If you use those sites, you can sign up for either of the two options below and earn a small percentage back!
Ebates is probably the most popular online cashback portal and currently offers cash back to around ten different stores that let you purchase beer, wine, and liquor.
All you need to do is visit the specific store through the link on Ebates. You'll earn a percentage of your total purchase price (Most pay 1-10%.)
Ebates pays via PayPal or mailed check quarterly.
You can join by visiting Ebates.com. You'll earn a $10 sign-up bonus after your first purchase!
Swagbucks is another site that offers online cashback but is actually a rewards site that also pays you to take surveys, watch videos, and much more.
Similar to Ebates, Swagbucks has 5 or so alcohol-related stores that pay you to purchase beer, wine, and liquor. Swagbucks pays in points per dollar instead of a percentage. Most of the sites pay 5-25 points per dollar spent.
Once you earn 500 points, you can redeem them for $5 gift cards to hundreds of stores. They also offer $25 PayPal payments starting at 2,500 points.
You can join by visiting Swagbucks.com. They give you a $.70 sign-up bonus before you purchase anything.
---
Other Ways To Earn Online
I hope you enjoyed this list of ways to earn cash back on alcohol. My thoughts are if you're going to buy it you might as well earn cash back. The BevRAGE app is by far the best in my opinion, but Ibotta is perfect for some brand specific offers and grocery shopping. You might not buy alcohol online, but you may want to sign up for the sites because they offer cash back to over 2,000 other stores.
If earning cashback isn't for you, make sure to see all the other ways I earn an Extra Income Online.
Extra income not enough? See how I make a full-time income online by visiting How To Start A Profitable Blog!
Have you used any of these app/sites before? Know of another way to earn cash back on alcohol? I'd love to hear your thoughts in the comments section! 🙂