10
3Play Media Transcription Editing Job Review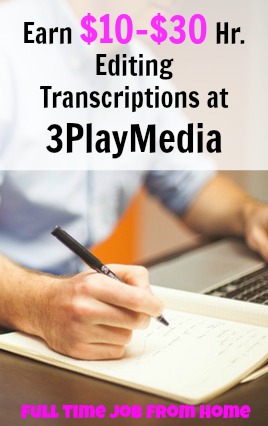 If you follow my Reviews you probably know I review a lot of Transcription Jobs, well today I have something a bit different. 3Play Media has job openings in English and Spanish Transcription Editing.
If you're familiar with transcription, most sites open up editing jobs once you reach a certain level and have proven yourself as good transcriber. So some of you might have experience in this field. Just to be clear you'll be able to do normal transcribing, but editing is the main portion of this job.
If you have any interest in transcribing from home, make sure to check out the course at TranscribeAnywhere. The course will teach you how to transcribe and how to find high-paying transcription jobs. You can also sign up for their Free 7-day course just to make sure Transcription is right for you!
In today's review of 3Play Media Transcription Editing Job, I will cover the requirements and application, how much it pays, and some other important details of the job.
---
3Play Media Requirements

3Play makes it easy and has all of their requirements clearly listed on their website. But here are some things you will need. First off they only hire people in the United States, you'll also need access to a computer (PC of Mac), and Internet access.
Some skills they'd like you to have are:
Great Communicator, Plus Great in Written English
At Least 75 WPM Typing Speed
Ability To Work Independently
Familiar with Excel and Word Processing Programs
Other then these requirements you don't need any experience to apply for this editing job.
* They recommend you have a high-quality headset and foot pedal.
---
3Play Media Job Application Process
The application for 3Play Media is pretty much industry standard. First, you'll fill out a form that includes your personal information, any experience, and a reason for wanting this job. You'll be required to transcribe a short audio file to make sure you're up to the task. Like mentioned above, you don't need any experience to get this job, but if it takes you an hour to transcribe the audio file this might not be the best fit for you.
If accepted there is some additional training you'll need to complete, and you should be able to begin working immediately after that.
Last Month I Made

$13,841 Online
I Bet You're Tired Of Making Pennies Online. No More BS. If You're Serious About Making A Full-Time Income Online You Need To See The TRUTH. Stop Wasting Your Time With The Next Big Thing When There's Already A Proven Method That Works!
---
What is Transcription Editing?
Most of you are probably familiar with transcription already, but what's transcription editing? 3 Play Media will be sending you files that have already been transcribed. It's your job as the editor to go through and fix any issues that the first transcriber may have missed.
To me, this would be easier and quicker than being the first transcriber, but you'll still need to be good at transcribing and know the format like the back of your hand.
---
How Much Does 3Play Media Pay?
On 3Play Media's website, they say that payment is per project and that each product pays a different amount based on length and difficulty. They also give a range of $10-$30 an hour. How much you can make is dependent on how efficient you can complete work. If you're new to this line of work you may even make less the $10, but as you get better a larger income is possible.
It looks like at this time, 3Play Media pays once a month via Direct Deposit. You'll be an independent contractor, so you'll be responsible for taking out taxes if you make $600 or more in a given tax year.
---
Full or Part Time?
If you're familiar with transcription sites, you already know that most are extremely flexible. 3Play Media is no different. This is one of the sites where you can log on at any time and work. It does say that they'd like you to work at least 15 hours a week, but it doesn't matter when and where these hours come from.
I will say that work isn't always abundant. I don't believe this could be a year-round full-time job, but it seems to pay an excellent rate, if you're good, you could combine this income with other transcription sites. That would help make sure you have plenty of work to keep you busy.
---
Is 3Play Media Jobs A Scam?
There's nothing about the transcription editing job at 3Play Media that makes it a scam. There is feedback that this company does pay on time. I do like that experience isn't necessarily required to apply and get hired, but know that it's going to affect your pay per hour if you struggle with this line of work.
As you get better, you should be able to make a good hourly rate, since you'll be able to complete jobs faster. Like I mentioned a lot of other transcription sites offer editing jobs once you're a member for awhile, but it looks like 3Play Media is only looking for editors at this time. If transcribing positions open up, I'll make sure to let you know.
In my opinion, it's easier to make a good hourly rate editing over transcribing, but it depends on your skills. If you'd like to learn more or to apply, visit 3Play Media Jobs.
If you're looking for other transcription jobs that actually let you transcribe, check out some of the work at home jobs I recommend. This site won't be a full-time job, to see some sites that could supplement your income visit my list of extra income sites.
Have you ever done transcription editing? Is it easier or harder than transcribing? Let me hear your feedback on transcription editing at 3Play Media in the comments below!
Summary
Reviewer
Review Date
Reviewed Item
Author Rating