Transcription Hub Transcriber Jobs Review: Is It A Scam?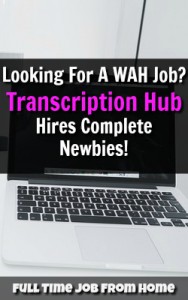 If you're looking for flexible transcription work becoming a transcriber at Transcription Hub might be perfect for you!
If you don't have any experience, don't worry, Transcription Hub does not require it.
It's not the highest paying transcription job you'll find out there, but if you don't have any experience it's pretty much industry standard.
If you'd like to learn more about transcription work, Transcribe Anywhere offers a free 7 lesson general transcription course that I highly recommend.
In this Transcription Hub job review, I'll cover the requirements, how much you're paid, what the schedule's like, and of course answer is this transcription job a scam or legit!
---
Transcription Hub Requirements
Transcription Hub does not require any experience to join, but you'll need to pass a test, and work availability will depend on how well you do.

It looks like the only thing you need is a computer with internet access. A lot of professional transcribers like to use a headset and foot pedal, but it's not a requirement at Transcription Hub. If you're interested, here is the foot pedal I highly recommend.
They do hire workers outside of the United States, so this is basically available worldwide!
---
Transcription Hub Application Process
If you meet the requirements, you can apply on their website. You'll need to provide some general personal information along with an estimate of how much you can work each week.
There is a test you'll need to take. The test determines if you're accepted and what level of transcriber you are.
I'll cover this more in detail, but your level affects how much you're paid, what type of work is available, and how much work you can claim at one time.
If all goes well on the test, you'll be hired and can begin to complete transcription work.
---
Getting Work And Levels
Once you're accepted, you'll have access to their database of transcription work. When you took your test, during the application, you're assigned a level of Bronze, Silver, or Gold based on your speed and accuracy.
The type of work available is dependent on your level. Some files can only be transcribed by Gold level transcribers.
The pay rate also depends on your level, with Bronze making the least and Gold paid the highest rate.
No matter your level you'll be able to see all the work available along with a preview of the file. You can choose to accept the work or reject it.
All work that you accept needs to be complete within 24 hours.
---
How Much Does Transcription Hub Pay?
Unfortunately, I could not find an exact amount members are getting paid. What I know is that pay is dependent on what level you're assigned during the application process and that it's per audio minute transcribed.
Most likely payments are made once a month via Direct Deposit, PayPal, or mailed check. I'm not 100% sure on this, though.
I will say that since Transcription Hub pretty much accepts everyone, there's a good chance that the rate they pay isn't that high.
Most sites that accept complete beginners pay a low rate. But you won't find a site that pays much more to a completely new transcriber.
---
Transcription Hub Schedule
The work at Transcription Hub is considered part time. Your level will determine how much work you can claim at one time.
There's usually quite a bit of work, but you can only accept so much work at once, plus all files need to be completed within 24 hours.
It is one of those log on and anytime and work sites, where as long as there's work to complete you can stay busy.
I don't think you could ever make a full-time income working as a transcriber at Transcription Hub. It's perfect for a beginner to get some experience and extra income or for a freelance transcriber to fill some extra time.
---
Is Transcription Hub Jobs A Scam?
Transcribing at Transcription Hub is completely legit and scam free. It's an easy site to get accepted to, which makes it perfect for beginners.
I'm still in the dark on exactly how much they pay, but I'm assuming it's a pretty low rate, like most sites that accept beginners.
I like that it can be used as just extra income and that the schedule is extremely flexible.
If you'd like to learn more or to apply, visit Transcription Hub Jobs to start the application process.
If you're an established Transcriber, Transcription Hub probably isn't for you. You can find a higher paying transcription job on my Free WAH Jobs Directory.
If you're looking for a full-time online income, make sure to check out My #1 Recommendation, but if part-time income is your thing, here's some extra income sites I recommend.
Do you think Transcription Hub is a Scam? Have more information about this Transcriber Job? Let me hear your thoughts on this review in the comments below!