4
Transcribe At 1-888-Type-It-Up Transcription Review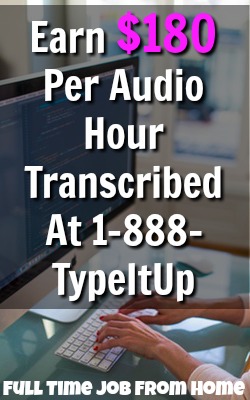 1-888 Type It Up is an online transcription company that hires work at home transcribers. Out of all the sites that accept beginners, this site has the best hourly rate.
They do have a long application, and you'll need to pass a transcription test, but if you can, you'll land yourself a great transcription job.
In this 1-888 Type It Up review I'll cover the requirements, application process, how much they pay, and the feedback from the past and current transcribers!
New to transcription? Want to improve your transcription skill? Transcribe Anywhere offers a free 7-day course that I recommend to anyone interested in transcription!
---
1-888 Type It Up Requirements
First off, they do accept beginners but prefer experience. Either way, you'll need to pass a test. Here're the requirements to transcribe at 1888 type it up:
The only requirements are based on equipment. Of course, you'll also need an internet connection and computer. If you have the equipment, you can apply.
---
1-888 Type It Up Application
1-888 Type It Up has a full application on their website. It's a pretty long form that covers just about everything from transcription experience, equipment available, typical schedule, desired pay, and typing speed.
Once you complete the application form, you can submit it. They say you should receive an email immediately with information about the test.
The next step is to take the transcription test. They say that it's short but follow the instructions very carefully. They use a "production-style table template" that may be different than what you're used to.
Once you submit the test they'll let you know if you passed or failed. If you fail you do not get another chance to re-take the test, so make sure to follow instructions and double check your work.
If you pass the test and they think it's a good fit you could get hired by the company.
---
1-888 Type It Up Pay
This is by far the best-paying transcription site that I've reviewed. They shoot for paying their transcribers $1-$2 per audio minute transcribed.
The work is done by contract, so pay does fluctuate per audio file. You'll get paid based on the amount 1-888 Type It Up is getting paid for the work.
Most transcribers report making $60-$120 per audio hour transcribed and sometimes even more.
On their site they give the number $60-$180 per audio hour transcribed based on different factors such as sound quality and turn around time.
---
When Does 1-888 Type It Up Pay?
1-888 Type It Up pays via PayPal on the 15th and last day of the month. You have to invoice them via PayPal by the 5th and 18th to get paid.
Taxes are not withheld; it's your job to report income over $600 come tax time.
---
1-888 Type It Up Schedule
From what I can see, they offer a flexible schedule, but do have a requirement of 1 hour of audio transcribed per week. Based on your skill I'd say you'd need to work 2-4 hours a week to meet that minimum requirement.
It seems that you can work on your own time, just need to meet the minimum requirement and meet any deadlines.
---
1-888 Type It Up Feedback
There's not much information on 1-888 Type It Up out there, they used to be called Verbal Fusion and had pretty good reviews at that time.
One thing to keep in mind is they use a different format for their transcriptions; there will be a learning curve if you've never used it before. I've seen a few people mention it can be frustrating at first, but eventually it becomes second nature.
With the rate, they are paying I'd have to say that it's a good company to work for. On their website, they talk about how other sites are ripping transcribers off by paying them low rates, so I have to think that they have a good outlook and value their transcribers.
---
How To Apply
1-888 Type It Up seems to be a good transcription site to work for, as long as you can pass their test. Out of all the transcription sites I've seen, that allow beginners to apply, this site pays far above the rest.
If you'd like to learn more or to apply, visit 1-888TypeItUp.com. They have a lot of information listed on their site that can give you a better idea of the application process and job.
If you're new to transcription or looking to improve your transcription skill, there's a Free 7-day course offered at Transcribe Anywhere. I highly recommend it to anyone interested in transcription. They also offer a more advanced course in general transcription and legal transcription!
Transcription is not for everyone! If transcription doesn't interest you, here's a long list of other work at home jobs in my WAH Jobs Directory.
Tired of working for others? Have you thought about Starting Your Own Profitable Blog? My #1 Recommendation will show you how for completely free!
Are you currently working for 1-888 Type It Up? Have more information about this position? I'd love to hear your thoughts in the comments below! 🙂