You-Cubez is a paid to click site that I recently came across and figured I'd write a review to see if it's a scam or legitimate opportunity. You-Cubez is available worldwide as long as you have a PayPal or Payza account to get paid, but don't join just yet. Before I get too far, I want to mention that You-Cubez has several levels of paid memberships, which I do not recommend joining. They do have benefits but based on the earnings you can make with this site, they are not worth it!
In this review, I'll cover how to earn, how to get paid, my complaints with site, and answer is it a scam or a way to make legitimate money online.
Please understand that getting paid to visit websites and clicking on ads will NEVER make you much money. You'll earn less than $.01 per site you visit, so this is going to be earning pennies for your time, literally.
If you're thinking about using You Cubez to send traffic to your offer, I won't really cover that in this review, but scroll down to my complaints to learn why it's not worth it.
If you're interested in earning a large passive income online, check out My #1 Recommendation, it's how I made over $13,000 online last month!
---
You-Cubez Review
Site: You-Cubez
Type: Paid To Visit/Click Ads
Verdict: Legitimate, Not Recommended
In this You-Cubez review, I marked them legitimate, because they do pay, but it's not a site that I recommend joining at all. Visiting websites earns you less than a cent, yes it only takes about 20 seconds a piece, but that's still a tiny income.
They do have other ways to earn, which do pay more, but when you really look at how long it takes to complete the tasks, it's still a tiny income.
Also, You-Cubez has paid membership that can help you earn more, which I highly recommend staying away from. Why would you pay to earn a few percent more when you're earning pennies, it really just doesn't make sense.
You-Cubez is legitimate, but it's a tiny income that is not worth your time, in my opinion.
---
How To Earn at You-Cubez?
There're a few main ways to earn at You-Cubez, and I've covered each below.
Visiting Websites/Clicking Ads
The main way to earn at You-Cubez is by visiting websites. When you join, there are several different ads that you can click on. When you do a new tab will open with the site. Before the timer starts, you'll need to enter a captcha:

Once you enter the captcha the timer will start. Most ads require you to visit the page for 10-15 seconds.
When the timer is done, you can click the button.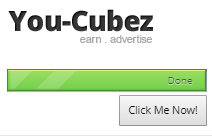 Once you click the button, you'll earn £.0005 and can close the tab and go back to view another ad.

Yes, that's right, that's three zeros before that five. As you can see, viewing ads is going to be a tiny income! Since you have to enter a captcha every time you view an ad, there's no way to just leave this running on your computer; you'll have to be there entering captchas and clicking buttons to earn.
Learn How I Made Over $13,000 Online Last Month
Offer Walls
The offer walls are just like you would see at a normal rewards site. You can get paid to watch videos, take surveys, complete offers, and much more. There is a wide variety of ways to earn, but most do not pay very much.
---
How Does You-Cubez Pay?
The minimum cash out amount with a free account is £8. You can lower this by paying for the premium memberships, but when you're earning pennies it's not worth it!
Once you reach the cashout amount and request a payment, it takes 14 days before payment is approved and arrives in your account.
Also, there's is a 5% processing fee taken out of your payment when you cash out!
---
My You-Cubez Complaints
Paid Membership Offers From The Start
I really really hate that You-Cubez offers a paid membership. Never pay for a membership on an extra income site, yes it gives you a lot of bonuses but what it really gives you is a few extra pennies. Here are a few screenshots of the paid membership options they offer to you as soon as you join.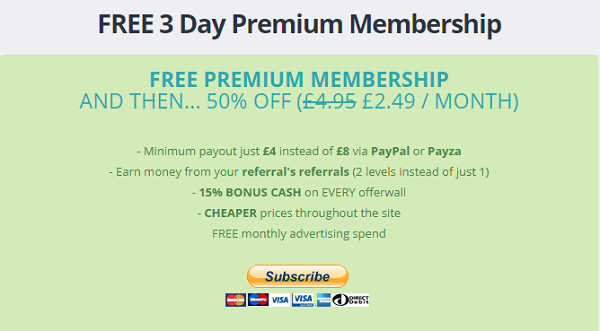 As mentioned, they do give you bonuses like a lower cash out amount, but when using a site that makes you pennies, I'd never pay to be able to reach the cashout amount!
You're literally Earning Less Than Pennies
Please keep in mind that the main way to earn at You-Cubez pays you way less than one cent per website that you view. In no way is this going to make you much money. Yes, they have ways to earn that pay more, but the most you'll ever get paid for a survey is $2.50, which could take you 30 minutes to complete, so it's a terrible waste of your time.
Sites like You-Cubez will never make you much money, if you're serious about making a full-time income online, check out My #1 Recommendation, it's how I made over $13,000 last month!
Paying For Traffic To Your Site/Offer
I haven't covered this portion of the site much because most people won't use it, but website owners can pay to have people visit their website. Most of the time they link to a similar site to try to get referrals. I know from first-hand experience that this is not a very effective method.
Think about it; people are visiting websites to earn money. That's the only reason they are visiting the website. Not to read, find any information, or to join any other sites. They just want their pennies to hopefully get paid by You-Cubez eventually.
Using the paid traffic portion of this site is not worth your time, you're much better off learning how to get Free traffic to your website/offer from Google.
---
Is You-Cubez a Scam or Legitimate?
I honestly can't tell you that YouCubez is a complete scam, because if you somehow reach the cashout amount you will get paid eventually, but please do not pay for a membership because your earnings are going to be less than pennies per task. Although it's not a scam, there's no way that I recommend you wasting your time clicking on these ads to earn less than $.01 a piece!
Really the only way to make more than pennies is by referring friends and having them earn for you, but you'd need 1,000s of active referrals to earn an okay income each month, which is not achievable for most people.
If you're interested in making an extra income online, there're some better sites out there that I recommend, but they will still be a small income. If you're looking for more than a $10 a month income online, check out My #1 Recommendation, it's how I made over $13,000 last month!
If you didn't find what you were looking for here, check out these helpful links to other ways to earn:
Work From Home Jobs Hiring Now
All The Extra Income Sites That Pay Me!
How I Made Over $13,000 Online Last Month
Do you have experience using You-Cubez? I'd love to hear your thoughts on this review in the comments below!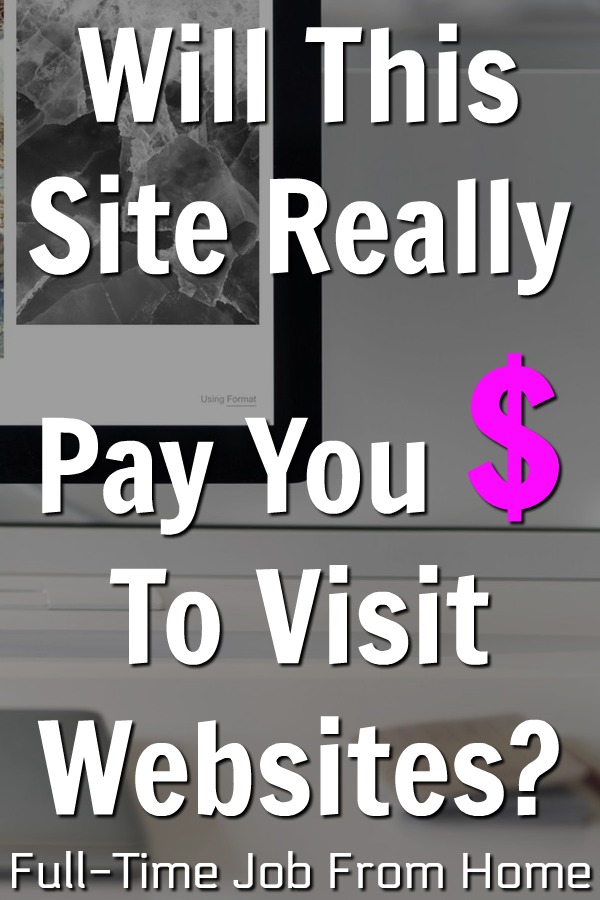 Summary
Reviewer
Review Date
Reviewed Item
Author Rating