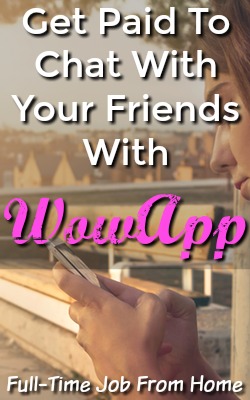 The WowApp is an app available on IOS and Android devices (can also be accessed on a computer) that share's advertising revenue you generate with you. The app offers chat, calling, and a few other ways to earn, but today I'd like to write a review and see if it's worth using.
First off, this won't be a huge income; it looks like you'll be earning pennies while using this app. If that doesn't sound worth it, check out My #1 Recommendation, it's how I made over $13,000 online last month!
This app is available worldwide.
In this WowApp review, I'll cover how to earn, how to get paid, my complaints, and if this app is a scam.
---
WowApp Review
Name: WowApp
Type: Extra Income
Verdict: Legitimate
In this WowApp review, I marked them legitimate, but it's not an app that I highly recommend. The main way to earn with this app is through shared ad revenue. To put it in perspective, while using this app I was making less than $.01 per day in ad revenue.
There're other ways to earn, but it requires you to complete offers, surveys, etc.
The whole key to this app is referring friends and having them make money for you. Unless you can refer hundreds of active members, you'll be making pennies per day. Since most of my readers don't have the ability to refer tons of people, I think most of you won't enjoy this app.
Now that you know why this app probably isn't the best make sure to check out the apps I do recommend!
---
How To Earn At WowApp
Advertise Me: AdvertiseMe is the money you make by the different ads shown while you use the app to chat. Nearly every page of the app has an ad shown so just using the app earns you a small amount of ad revenue.
Talk: You can call anyone that has a WowApp number for free and also make international calls for pretty cheap rates. You'll earn 10% of what you spend buying points to make international calls or if you purchase a WowApp number.
Games: They have 100s of games you can play, they show ads during and between games that earns you some ad revenue.
Instant Earn: This section has videos you can watch, surveys you can take, and offers you can complete to earn points.
Lock Screen Ads: Lock Screen ads are only available for Android phones, but you'll earn 50% of the ad revenue you generate from viewing ads on your lock screen.
Shop: Similar to Ebates, where you'll earn a percentage back of what you spend shopping online. I would use Ebates if you're interested in earning cash back online.
---
How Does The WowApp Pay?
The WowApp offers several ways to cash out your earnings including donations, WowCredit, Mobile Credit, Credit Card Credit, PayPal, and Direct Deposit. It seems that most of the options start at $1 or 100 points, but the credit and PayPal options charge a fee.
Direct Deposit does not start until $2.25, but there does not seem to be a fee.
WowCredit allows you to exchange points for credits that you can use to make phone calls. One thing to keep in mind is advertising revenue you earn is locked for 60 days before you can cash out.
---
WowApp Complaints
Small Income
The WowApp is going to be a low income. There's no way to earn more than pennies a day without having tons of referrals. It's pretty discouraging to see that you used the app throughout the day and earned .23 of a coin which is $.0023.
From using this app for a bit, I don't think you could stay motivated to use the app while watching your account balance go up less than a penny a day!
All About Referrals
I mentioned this already, but if you just use this app, you'll be earning less than pennies a day with the advertising, so to make good money you need others earning for you. Of course, most of you can get a few friends to join, but that's still not much of a daily income.
In my opinion, this site is not worth it unless you can refer 1,000s of people that earn you ad revenue too. Since most of my readers don't have the ability to do this, I don't think it's worth joining.
---
Is WowApp A Scam?
After using and investigating the WowApp I have to say it's not a scam, I've seen several screenshots of payments from the company, with that being said I don't see how it worth it unless you'd like to take advantage of the international calling. For someone just looking to make money, I don't see the advertising revenue you can earn to be worth it.
My recommendation is to skip out on this app unless you find one of the features useful.
If you'd like to learn more or to join, you can visit WowApp.com to join for free.
I hope you enjoyed this WowApp review if you agree it's not worth the small income, make sure to check out some of the other sites I do recommend.
As I mentioned, this app is going to be a tiny online income, if you're looking for a full-time online income, check out My #1 Recommendation, it's how I made over $13,000 online last month!
Do you think the WowApp is a scam? I'd love to hear your thoughts on this review in the comments below.