Working Solutions was started in 1996 to connect clients with qualified independent contractors. They provide the #1 work at home opportunity as ranked by Glassdoor.
If you want a work from home job, Working Solutions is one of the best options out there, but I prefer to make a much more passive income online, check out My #1 Recommendation, it's how I made over $13,000 online last month!
In this review, I will look at the work at home opportunity they offer and decide if it is a scam or legit.
---
Working Solutions Requirements
You'll need a quiet, distraction-free workspace during working hours. In addition to that, your system, phone, and computer requirements are listed below.
The primary operating system requirements are as follows:
Windows 7 or higher
MacOS has limited support; Some programs do fully support MacOS, but your primary support will be on Windows (they will support a Mac user if running Bootcamp into Windows or running Parallels)
Web browser requirements:
Mozilla Firefox
Google Chrome
Internet Explorer 11
Process Requirements:
Intel Core i3 / i5 / i7 / i9 (1st Generation or Higher) running at 1.5 GHz or higher base processor speed
Intel Xeon running at 1.5 GHz or higher base processor speed
AMD A-Series APU (A4 / A6 / A8 / A9 / A10) running at 1.5 GHz or higher base processor speed
AMD Ryzen 3 / 5 / 7 / Threadripper running at 1.5 GHz or higher base processor speed
Process classes which are NOT supported:

Intel: Celeron, Pentium, Core, Core 2, Atom
AMD: Duron, Sempron, Athlon, Turion, Phenom, E-Series APU
Random Access Memory (RAM) requirements:
Minimum of 4 GB
8 GB RAM or higher recommended
Audio requirements:
VoIP Programs: Wired USB Headset (no wireless headsets)
Standard Telephone Programs:

Conventional telephone line or terrestrial digital telephone line with no added features
Phone service requirements:
Preferred is a traditional landline service provided by a phone carrier
Digital is also accepted; landline service provided by a cable or fiber optic carrier
Phone must be free from voicemail, call waiting, and call blocking
NOT ACCEPTED: Cellular/wireless service, VoIP such as Vonage and MagicJack or Skype
These are the general requirements, but each job will have a list of requirements. An ISP connection speed test is part of the application process. If your download speed fails, you can connect your ISP (internet service provider) to see if you can get an upgrade.
---
Working Solutions Application Process
To start your job search, click here. Change the location to "remote – work from home" in the drop-down menu and click search. Find the job that best matches your skills. Only apply for 1 job. You'll have access to all jobs once you have applied for one of them.
All jobs have the same basic steps to apply:
Join the Working Solutions talent community. This will take you about 2 minutes, and you can even join from your phone or tablet. Join the community here.
Review job posts and create your profile. This step will take about 5 minutes and can also be done from any device.
Apply to be an agent by completing the assessment. This step will take about 45 minutes. You can start and stop, and return to finish at any time, also from any device.
Once you've applied, they will determine if you will be a good fit. If you are determined to be a good fit, you will hear from them within about a week. At that point, you will complete your profile, do a system check and basic background check. Then you can view and match with available client programs.
---
Working Solutions Work From Home Jobs
The work from home opportunities can change daily. These are the work at home jobs they have listed at the time of writing this post:
Senior Living Customer Care
Sales & Customer Service
Event Ticketing & Sales
Customer Service Travel Agent
Customer Service Agent
Corporate Travel Agent
---
How Much Does Working Solutions Pay?
Agents at Working Solutions earn anywhere from $9 to $30 per hour. The pay will vary depending on the program you are working, your performance, as well as how much work is available and how much time you devote to work.
Working Solutions also offers a $100 referral bonus for qualified referrals.
---
When Does Working Solutions Pay?
Working Solutions pays twice a month by direct deposit or check.
---
Working Solutions Schedule
You will be able to set your own schedule. Once you set your hours, you will be responsible for working them. Agents who are consistent, have good attendance, and perform well will be given priority when scheduling.
Once you have completed 50 hours on a program, you will be eligible to apply for additional programs. Agents can usually work 2 programs at the same time once they have proven themselves.
Agents work anywhere from 15 to 40 hours or more per week. And the hours can ramp up certain times of the year, as well as down. It is important to look at the average when determining how much you will make in general.
---
Working Solutions Feedback
I filtered my search on Glassdoor by contract positions and found that 81% would recommend to a friend, and 96% approve of the CEO. These are really good stats!
I learned that they have jobs that don't require a hardwired phone connection. Here are some other things I learned:
Training is paid
Picking up hours every week can be hectic until you get used to how it works
There are opportunities throughout the week to adjust your schedule and pick up more hours if needed
Supportive management and training people
Pay is per minute talking
Minimum of 20 hours is required
Lots of weekends and late night hours available
Pay on time
Customer Service agents average $12-$13 per hour
There are 484 reviews on Glassdoor, and the CMO at Working Solutions responded to every single review in a very professional manner. They even offered their contact info if anyone wanted to discuss the details of their review.
---
Is Working for Working Solutions a Scam?
Based on my research, the work at home opportunity for Working Solutions is totally Legit! I think this is my favorite opportunity of all that I have reviewed. If you're into customer service, this sounds like a good opportunity with a respectful company. Click here if you want to start the application process.
If this isn't for you, check out these helpful links for some other ideas:
How I Made Over $13,000 Online Last Month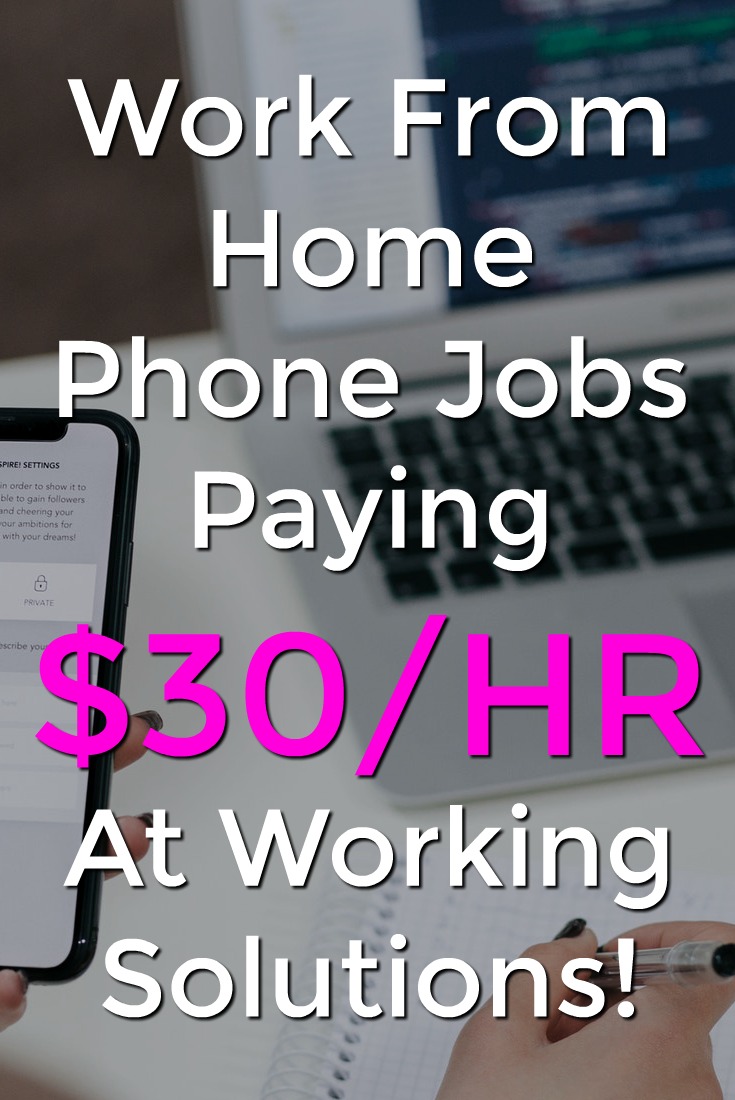 Summary
Reviewer
Review Date
Reviewed Item
Author Rating