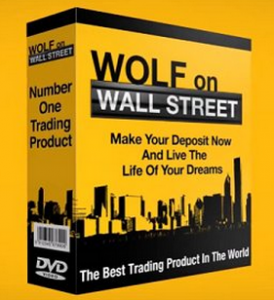 Today I have another Binary Scam For you. Wolf On Wall Street, which has no relation to the new movie Wolf Of Wall Street, is a complete scam.
Wolf On Wall Street is another secret trading system that promises you a large income with low risk all because of their system that has found the secret to beating the system.
The Wolf On Wall Street is a complete scam and only set up to convert well and take your money.
In this Wolf On Wall Street Scam Review I will be showing you exactly why this product is a scam and why you should stay away from getting involved with these type of products.
---
Wolf On Wall Street Scam Review
Website: WolfOnWallStreet.com
Price: Free + $250 minimum Deposit
Score: 5 Out Of 100
Verdict: SCAM!
Wolf On Wall Street is a scam. I gave it a very low score because there is nothing about this product that will help you make any money with binary options.
This system is set up to make you join the system and get you to deposit money into your account.
They use a lot of false advertising on their sales page to get you to buy, they have no concern for you actually making money. They're just looking to get you to join!
I don't recommend Wolf On Wall Street and you can see why next.
---
Why is Wolf On Wall Street a Scam
Sales Page
Wolf On Wall Street's sales page is very similar to the other binary scams out there. It features some bold claims in big text along with a long and boring sales video that shows you nice cars, big income, and mostly unrealistic expectations of the product and what you will receive.
Here is a screenshot of the first thing that jumped out to me:
There are two lies right away with this picture. First off it's not free to access this product, I will show you why later on.
Second they are promising a huge income from a system that simply does not work.
The sales video is filled with other crazy claims like this, but the most outrageous claim I will cover next.
Low Risk "Automatic Money"
WHY? WHY? WHY?… do these products advertise themselves as low risk, automatic money, or guaranteed money. Wolf On Wall Street says it right in their sales video (no text, just the voice says it so no screenshot.)
If you know anything about trading or investing you know that there is always risk. There is actually always the risk of you being left with $0 from a trade.
Binary Options are one of the more Risky ways to trade because these trades have very high fees and there is a 50/50 chance of you winning the trade.
Just know that all of these binary option products, including this one, all have risk and most actually increase the risk of you losing all of your money!
It's Not FREE
All of these binary option scams are all marketed as free. The truth is none of them are actually free because they all require you to make a minimum deposit, in this case $250.
The reason they market themselves as free is to get your email address and make you feel like your getting a great deal, but in all realty you're getting a product that doesn't work and you're about to get scammed!
An Affiliates View
I've mentioned that this product is just to get you deposit money into your account. Let me explain to you why this is. I am an affiliate marketer and I want you to know why people create products like this and promote them.
The first step in Wolf on Wall Streets sales funnel is to get you to join their product which is as advertised Free.
Before you can fully access their secret trading system, you will need to place a deposit, $250 minimum, in your third-party trading account.
Once you deposit cash into your account Wolf ON Wall Street makes a commission on your deposit. Your money is not refundable do to terms with the brokerage house you just put money in.
This means that Wolf On Wall Street has already got their commission on your deposit, and you can't get it back even if you tried.
My point is this product doesn't have to earn you money when trading, which it doesn't. They have already scammed you right when you put money into your account.
---
Will Wolf On Wall Street Make Me Money?
Wolf On Wall Street will not help you make money. This system and sales funnel is just set up to get you to deposit money into your account. Other than wanting your commission Wolf On Wall Street does nothing else.
This system WILL NOT help you make money online and if you decide to trade with this system you will probably end up with a $0 balance very quickly.
Please understand that Binary Options is a legit way to trade, although risky, if you find a legit brokerage firm you can trade binary options without being scammed.
What I am calling a scam is products like this that show you big incomes, promise you their system makes you "automatic money," and is giving you the system for Free.
---
Low Risk Ways To Make Money Online
Now that you know that Wolf On Wall Street is a complete scam along with other binary option systems, let's talk about what I know best, Helping People Make Money Online!
First, if you're still interested in Binary Options, then go for it, consult a legitimate brokerage firm and see how you can get started. I am not recommending Binary Options because I'm not an expert on trading, but I do no that they are high risk with high fees, if that sounds like what you want by all means give it go.
If you're looking for a low risk way to make money online, listen here. Check out Start Your Own Online Business. 
This is how I make money online and it cost me under $100 a year to run my business. I will show you exactly how I learned to start my business and exactly how you can too.
The best thing is this can built up over time into a huge online income and requires very low start-up money.
If you don't want to spend any money, don't worry check out some of my free opportunities at All Scam Free Jobs
Thank you for reading this post. I covered a lot of information about the Wolf On Wall Street Scam. I hope that you listen to my recommendation on staying away from this product and find a lower risk source of income online. Like always please share with your friends and leave your thoughts below!
Summary
Reviewer
Review Date
Reviewed Item
Author Rating