If you're wondering what is the Six Figure Mentors course then you're in the right place. Today I've compiled some information about this product and going to show you exactly what you're getting involved in.
This product seems to have a lot of information inside, but it also comes with a pretty big price tag attached. Don't worry I will give you some information and you can decide whether you think the price is worth the product.
I will be telling you if this product is a scam or if it's legit and I recommend buying it, but first let's cover what exactly Six Figure Mentors is.
---
What Is The Six Figure Mentors?
Six Figure Mentors is a course that is suppose to teach you how to work from home and be successful. The product was started by Stu & Jay who both built start up online business and now teach people how to do the same.
Six Figure mentors claims that this system and training is perfect for anyone, no matter what you're experience level.
Stu and Jay do a good job of convincing you this is the right product for you and that the high price is worth it, but is it really?
---
Six Figure Mentors Review
Website: TheSixFigureMentors.com
Price: $29 a month-$97 a month plus sign up fees
Score: 50 Out of 100
Verdict: Okay Training Not Recommended
In this The Six Figure Mentors Review I gave them an okay score and marked it not recommended because I think there are better places to find this kind of information for a cheaper price. There is no doubt that the training is pretty darn good, but why pay so much for it.
I also don't like that they have different levels of membership. The basic membership isn't to high, but the highest that includes being able to promote the product is $2000 a year plus monthly fees. To me it isn't worth the money.
You can learn the exact same information for a much lower price at my #1 recommendation.
---
Six Figure Mentors Memberships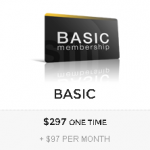 Above you can see a wide range of prices for the different memberships at Six Figure Mentors. That is because they have 4 different memberships, that have different content available within each. There is a free to try option called "Digital Lifestyle Video Series" which is basically a set of 5 sales videos that has some more information about what you will be getting and does a pretty darn good job of convincing you to upgrade.
But here are the three paid versions of this site:
Introductory Membership: $29.95 Application Fee $25 Per Month
In this membership you're not going to get much information. This basically gives you access to one course that Six Figure Mentors offers. In this course you basically find out more information of how you can make money online and touch on the basics a few important topics. You do get a few extra bonuses such as weekly webinars and support, but if you're going to join you might as well jump to the basic membership.
Basic Membership: $297 Application Fee $97 Per Month
The Basic Membership gives you access to a lot more information. You will get access to the introductory course plus all the training available at Six Figure Mentors. You will also get access to the weekly webinars and some support. This is the membership most people will be interested in because it gives you the most training.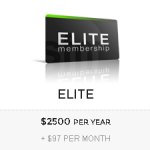 Elite Membership: $2,500 A Year $97 Per Month
The Elite Membership is basically the same as the basic except for you get access to the Six Figure Mentors affiliate program that pays some very large commissions. Along with access to the affiliate program you get better support and some extra training only available to elite members.
---
Six Figure Mentors Training
Within the Basic Membership you will get access to a lot of training. I'm not going to go into detail on each course, but I will list them all below and touch on a few. Overall the training is pretty good. The videos are very high quality and easily organized.
There really isn't anything wrong with the training. They teach a lot of great techniques that I agree with, the only issue is the price you pay, but let's take a look at what kind of training you will receive.
Blogging Basics
Google Adwords
Amazon Seller
Online Marketing
SEO Basics
Video SEO
WordPress Mastery
WordPress SEO
YouTube Basics
Facebook Basics & Ads
Twitter Basics & Ads
Linkedin Basics & Ads
Plus some important application training
As you can see you will get a ton of training with this system. Each course has 5+ videos and text that explains the training very well. To me the most important parts of the training are the blogging, online marketing, and SEO sections.
That's the way I make money online and they do a good job of explaining the techniques needed to be successful, but I don't think it's worth the big price tag. My #1 recommendation teaches the same things just as well for a cheaper price.
---
Six Figure Mentors Concerns
Application Fee
I'm not really sure why they charge an application fee, but I guess to make it feel like this is a special group that you need to be qualified to join. Honestly I think it just makes more people shy away, but they do it anyways.
They aren't going to reject you, they are running a business. If you want to join and become a member you can they aren't going to turn down your money.
$2,500 Is Too Much
To me all the the different memberships are too expensive. I already mentioned the introductory lesson is basically worthless and I think it should be the free portion, but paying $30 for it isn't worth it. The basic membership gives you access to a lot more information, but an upfront fee of $250 and a monthly fee of $97 is way to expensive for what you're getting. I won't even talk about the Elite membership because obviously over two grand is way to expensive and you're basically just paying to access the affiliate program.
I think that this program could be pretty good if it was more reasonable priced, but what they are charging now is ridiculous. My #1 recommendation is free to start and over 50% cheaper then Six Figure Mentors and has better training.
Extra Expenses
To make this all work you're going to need a website, but that is not included with the Six Figure Mentors program. Not only will you be paying a huge price for the training, but you also pay for a domain name and hosting which just makes it harder to break even and start making money.
My #1 recommendation is cheaper and lets you build a website for free included in the membership costs!
Pay For Affiliate Program
I make money online with affiliate marketing and every program that I'm involved in is completely free. I don't recommend paying to be a member of an affiliate program ever. Especially when it's $2,500 a year plus monthly fees.
Although the commissions are pretty big on sales it's not worth spending the money because at the beginning you will not be making sales and losing a lot of money upfront and with monthly fees.
Become Elite Or Else
Although you get access to the training with the basic membership this program is basically set up to make you upgrade to the Elite Membership. Some of the training does leave out information just so they can say it's available within the Elite Membership and you should upgrade.
The members area is filled with all kinds of up sells promoting the Elite Membership.
Even if you're not looking to promote this product to complete the training you will need to upgrade to elite.
---
Is Six Figure Mentors Legit Or Scam?
From my research for this review I'd say Six Figure Mentors is legit and not a scam, but it's not a product I recommend getting involved in. Although the training is pretty good the price of this program is too high, especially when it's set up to make you purchase the elite program to finish the training.
Can Six Figure Mentors help you make money online? Yes, I think that if you worked through all the training and put in the work you could be successful online, but why purchase when there are similar better products at a much lower price.
My recommendation is to forget about Six Figure Mentors because it's going to break your bank and make it hard to ever break even and profit online.
I've mentioned multiple times that my #1 recommendation is better and cheaper. It's where I learned how to make money online and I recommend it over Six Figure Mentors. To learn more and see how I make money online with the site visit Start Your Own Online Business.
Thank you for reading this review hopefully I answered what is The Six Figure Mentors program for you. Have you been a member? Have an experience to share? I'd love to hear your thoughts and experiences in the comments section below!
Summary
Reviewer
Review Date
Reviewed Item
Author Rating