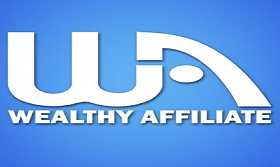 As an affiliate marketer, I am always looking for great affiliate programs to take advantage of. If you have been on my site before you may have seen my review about Wealthy Affiliate. If not I would suggest checking it out. I am a big fan of Wealthy Affiliate and promote it as the number one way to make money online. I am even a bigger fan of the Wealthy Affiliate Referral Program.
I find that affiliate marketing is the only legit way to make long-term residual income online and there is no better place to learn about it than at Wealthy Affiliate. Here is the best thing about Wealthy Affiliate. Not only do they teach you about how to make money with affiliate programs, but they also have one of their own. Not to mention it is one of the most lucrative referral programs out there with huge commissions.
If you have already joined Wealthy Affiliate and are not a premium don't worry. Anyone with a free account can take advantage of this great referral program. Read on to learn more about Wealthy Affiliate's referral Program.
---
Wealthy Affiliate's Referral Program
If you're familiar with affiliate marketing nothing new here, but a few things with this program are enticing. Basically, when you join Wealthy Affiliate as a Free or Premium member you will receive a referral URL. When someone joins Wealthy Affiliate through your link you get paid, easy as that.
As an Affiliate, you will get paid when someone signs up for a free account, monthly premium account, or yearly premium account. One of the things that stands out about this referral program is the lifetime cookie. If someone signs up for a Free account through your link and upgrades to premium 5 years later you still get the commission!
---
Wealthy Affiliate Referral Tools
One of the best parts about the Wealthy Affiliate Referral Program is they set you up to succeed. You will be given a vast variety of referral tools to help you maximize your earnings. You will find all the Tools Below.
1) Training
I get more into this in the next section, but just know that Wealthy Affiliate provides you with a 6 part training boot camp to teach you exactly how to be successful with their referral program.
2) Banners
Wealthy Affiliate will give you custom banners that you can place on your website. They have over 30 banners to choose from in all different sizes. You can see an example below.
3) Share Anything And Get Referrals
With every training, question, or blog post that is created on Wealthy Affiliate your affiliate link is built in when you share the content. If someone clicks on your shared content and signs up for an account, you will earn a commission. You can see an example by visiting the affiliate bootcamp.
4) Custom Sign Ups
This is the best tool that Wealthy Affiliate provides for you. Instead of linking directly to the homepage, you can create custom sign up pages to go along with what your promoting!
You can see an example of the regular sign up!
Here is an example of a custom sign up!
---
Training
Becoming A Wealthy Affiliate member also comes with tons of training to help you promote WA. To be exact there is a complete 6 part course on promoting Wealthy Affiliate.
Not only will you have access to the course, but there is a classroom (forum) where you can ask questions and get answers quick from other members and the owners.

---
How Much Do I Get Paid?
There are two different pricing structures for referrals to Wealthy Affiliate depending on your membership status. The referral rates are higher for premium members and you also get paid a $1 each time you refer someone for a free membership! These add up fast and it only takes 2 premium sales a month to pay for itself!
One of the best things about it is if you sell a premium membership the referral rate continues each month the customer stays with WA. Meaning if a customer stays for 10 months you get paid the rate 10 times!
---
When and How Can I get Paid?
Commissions at WA get paid out each month. There is a minimum cash out amount of $20, but money earned rolls over each month. It won't take you long to reach the $20 minimum, making one sale puts you over the minimum cash out amount. You can get paid either by a personal check or PayPal. If you have a PayPal account I would recommend this method because money gets deposited faster!
---
Payment Proof
Here are some of the commissions I've received from Wealthy Affiliate's Referral Program. Paid to me through PayPal a day after the payment period ending!
 
---
How Do I Start?
If you have not already you need to sign up for a free Wealthy Affiliate Account. Then complete your profile and get started under the affiliate boot camp. It is completely Free to sign up with no credit card required.