Vindale Research is marketed as a market research site that has surveys that pay anywhere from $5-$75 a piece. How the heck are the offering surveys that pay as much as 10 times as much as their competitors?
Well I'm going to answer that question within this Vindale Research Review. Let me first start by saying that Vindale is not a complete scam, but is not a site that I recommend.
There is a lot of things about this company that are a little bit fishy and once I explain to you what they are doing I think you will agree this is a site you should stay away from.
Let's go ahead and get started with this Vindale Research Scam Review and see why this company isn't legit.
---
Vindale Research Review
Website: VindaleResearch.com 
Price: Free 
Score: 30 Out Of 100
Verdict: Not Recommended!
I gave Vindale Research a very bad score and marked it as not recommend, because they have some misleading information on their sales page, they actually aren't really a survey site, and this site will most likely end up costing you money.
Is it possible to make money with Vindale Research? The honest answer is yes, but they have a lot of misleading information.
Read on to learn more about the Vindale Research Scam.
---
Vindale Research Scam
Big Earning Claims
One of the first things you notice when visiting this site is the promise of surveys that pay anywhere from $5-$75. You can see an example below.

Truth is that a 55 minute survey would maybe pay you $5 if you find a very high paying one. If you're familiar with paid survey sites, most surveys pay from $.50-$3. It's rare to find one that pays $5 and unheard of to find one that pays $75.
This is the first thing that threw me off and lead me to look into this scam!
How It Actually Works
Here is the big kicker, Vindale Research is actually not even a paid survey site all they do is refer you to other sites that give you surveys to take. Vindale will not actually be the one that pays you for the surveys all they are doing is giving you links to the other sites, which will be the people handling the money and paying you to take surveys.
Wants You To Join Other Panels
Now that I have told you how it works you know that other sites are going to be providing you surveys. Well for this to happen Vindale wants you to join some other survey sites. You can see this below.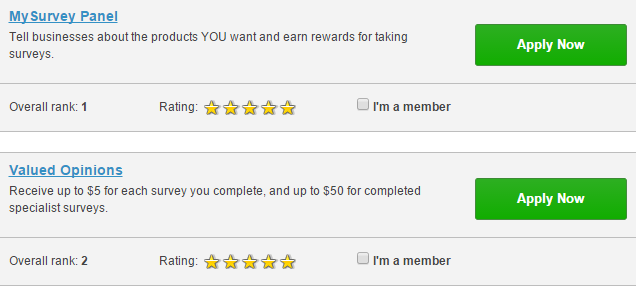 This is a major disadvantage for you for a few reasons.
First, each one of the sites you join are going to send you surveys and each one of these sites has a minimum cash out amount of at least $10.
That means to cash out any money, you need to at least have $10 in one of the panels you're taking surveys with.
When you join multiple sites your earnings get spread out over all these panels. Which usually means you may have $20 in earnings, but it's spread out and you can't cash out any of it.
This really isn't a disadvantage, but I wanted to explain that when you sign up for these other panels you become Vindale's referral. This means when you earn income through these other panels you're actually making Vindale Research money as well.
Not a big issue, but I don't like to earn people money who are not honest.
Lots Of Misleading Reviews
One major thing I want to mention about Vindale Research is they have a great referral program that pays $5 for referring a friend.
That has lead to a lot of not honest people writing fantastic reviews about this site, just so they can earn some good money referring friends.
Luckily for you, I'm here to earn your trust and give you honest and correct information.
---
My thoughts On This Vindale Scam
My thoughts on this site are it's not a complete scam, but it's not a site I recommend joining. They have some misleading information on their sales page and the site ends up being something different then you think.
The only way I would recommend this site is if they had surveys that paid more then $5, but I am a member to this site and on the list of surveys they have the highest price is $1.40…….
Yes if you join Vindale Research you can make money with this site, but there are much better survey sites out there that are honest, pay better, have a lower cash out amount, and have a great payment schedule.
---
Should I Join Vindale Research?
In my opinion I don't think Vindale Research is a site that you should join. There are better survey sites out there then Vindale and I don't trust this company from the false claims on their sales page.
I recommend staying away from this company and I think you will be happy you did.
Not all survey sites are scams, if you would like to see all the survey sites I recommend visit All Scam Free Jobs.
To see how I make a full-time income online from this website visit start your own online business. This is my #1 recommendation for making money online.
I hope you enjoyed this Vindale Research Scam Review. Vindale is a scam in my book and I don't recommend you joining. I hope you take advantage of my recommendations above and make sure to share with your friends and leave comments if you have thoughts!
Summary
Reviewer
Review Date
Reviewed Item
Author Rating