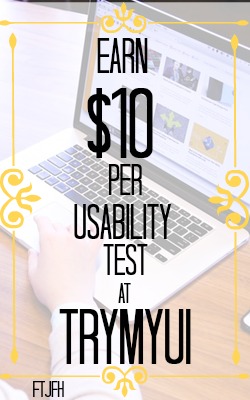 As most of you know I've recently put out a list of 11 website usability testing jobs. One site on that list is TryMyUi so I decided to put out a more detailed review of this site. As you can see from the title this site pays right around the industry standard of $10 per test.
If you're not familiar with usability testing, basically you'll be taking a look at company websites and providing feedback on a list of tasks they provide you. Don't worry it's an extremely easy process and it's pretty good money for the time it takes to complete a test.
With that being said, there are not enough tests to make this a full-time income. If you're interested in making a large online income, check out My #1 Recommendation, it's how I made over $13,000 online last month!
One of the great things about TryMyUi is they don't require you to record yourself on all tests, which can be a hesitation for some people.
Let's get started with this TryMyUi Review and learn more about this website usability testing job.
---
TryMyUI Requirements
Just like most usability testing sites, there really isn't any requirements to join. You'll need to be 18 and fluent in English. It's required that you have a computer and if you'd like to complete recorded tests you'll need a webcam and microphone. If you don't have a webcam, I highly recommend this one on Amazon.
Other then these requirements they're looking for normal consumers just like you and me. You don't need any special skills or to be a computer wiz to apply and get accepted.
---
TryMyUI Application Process
The TryMyUI application process is pretty simple. First, you'll fill out a pretty standard form that has basic demographic information on it. Kinda like signing up for a survey site, but seems to be much easier and not as many questions.
After you complete the form you'll need to submit a sample test. You'll need to record a sample test video along with a written test response. Both are very simple, they provide you with what they expect and how to kill both tests.
Whether you did good or not they will provide feedback on the test. If you've passed you can begin to take tests, if not you'll need to improve before getting accepted. The whole application process should take you less then a hour and 24 hours for them to get back with you!
---
A Typical TryMyUI Test
After you're accepted, you'll begin to receive invites to tests to your email. One thing to keep in mind is these tests are first come first serve, so if you want to complete a test and get paid you need to act pretty quickly.
Once you open the link you'll find all the documentation about the test. You'll see the website and what tasks they've laid out for you to complete.
If you're not familiar with usability testing, here's an example. Some tests may ask you to add items to your shopping cart, some may ask you to navigate to a certain page of the site, and some may have you use a special feature of the website.
No matter what they ask you to do, you'll complete the tasks and provide feedback while completing each task. Basically they'll want to hear what you liked, what was difficult or confusing to you, and any improvements you might have.
After you complete the test, usually takes 15-20 minutes, you'll submit your test. Your test will then be reviewed and approved. That brings us to the payment portion of TryMyUI.
---
How Much Does TryMyUI Pay?
TryMyUi pays $10 per test. From what I can see written tests pay the same as recorded tests, but I'm not 100% sure on that. TryMyUI pays with PayPal only. Once your test is approved, usually within 24 hours, funds will be added to your account.
On their website, they say they pay twice a week, usually. No exact answer on this, but if you complete a test on Tuesday you should have funds in your PayPal account by the end of the week!
---
How Much Can You Really Make?
This is a very important part of the review that I wanted to make clear. Website Usability Testing sites are not to be considered a full-time income. There are a limited number of tests and you'll have to meet the demographics to have a chance to take the test.
Website testing should be extra income that can be combined with other extra income jobs or as some extra spending money each month.
From what I can see most members receive 1-4 test each month, depending on demographics.
If usability testing is something you're interested in you should sign up for multiple site. This will give you more tests and a chance at a larger income each month!
---
Is TryMyUI A Scam?
There is nothing about TryMyUI that makes this company a scam. There is proof that they're paying their testers the $10 they promised per test. Overall I think this is a pretty good site to join. I really like that some tests are written, which eliminates a lot of concerns from some that aren't comfortable with being recorded.
I can't find any real alarming negative feedback about this company. I'd say as long as you know this won't be a full-time income you should be pretty happy testing for this company.
To learn more or to join visit Become a TryMyUI Tester.
As mentioned this should be combined with other incomes to make a decent online income. I'd check out some of my other work at home jobs and extra income sites to build a larger income.
Usability testing is a great way to make an extra income, but if you want to make a large online income, check out My #1 Recommendation, it's how I made over $13,000 online last month!
Hopefully you enjoyed this TryMyUI Review! Have you worked for this company? Interested in $10 for 20 minutes of your time testing websites? Let me hear your thoughts in the comments below!
Summary
Reviewer
Review Date
Reviewed Item
Author Rating