1
TruVision Health Reviews Just Another MLM Company
TruVision Health Reviews
Company: TruVision Health
Owners: Travis, Derek, Shawn
Price: $35+ Product Costs
Score: 60 Out Of 100
Verdict: Legit (not recommended)
If you're looking for TruVision Health Reviews you have come to the right place. Today we are going to be looking at the TruvVision Health MLM program.
TruVision Health is a start-up health and nutrition company that creates high quality nutrition and weight loss products. They rely heavily on their associates, or people who promote and sell their products, which is why they have set up this MLM program.
Let me say from the beginning that I am not a huge fan of MLM systems, but most are not Scams. These systems can make you money, but they are not get rich quick schemes and require a ton of hard work from you to be successful. I will also say if you don't like promoting your self and talking about what your promoting to people you will never make it in a MLM system.
Within these TruVision Health Reviews we will take a look at exactly what you will be promoting, how you will be compensated,  and answer the age-old question of will this help me make money online!
---
TruVision Products
So what the heck will you be promoting. TruVision offers a few different products that you will need to promote to maximize your earnings. All of these products have to do with health and wellness and I will cover each below!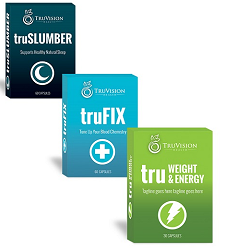 TruFix: Is a product made from Natural Plant Extracts that is designed to lower blood sugar and cholesterol which improves healthy liver function.
TruWeight & Energy:  Is a product designed to help you lose weight and increase energy without giving you those jitters.
Heart&Hydration: Is a no sugar low-calorie drinks that keeps you hydrated and promotes heart health.
TruFuel: Is a super wholes food that is loaded with protein, fibers, and omega to give you a good balanced meal
TruSlumber: Is a product that gives you a good and comfortable nights rest. This product increases energy and has no harmful side effects.
Last Month I Made

$13,841 Online
I Bet You're Tired Of Making Pennies Online. No More BS. If You're Serious About Making A Full-Time Income Online You Need To See The TRUTH. Stop Wasting Your Time With The Next Big Thing When There's Already A Proven Method That Works!
Simply Clean: This product differs from the rest and is actually all-purpose, no toxic, biodegradable household cleaner.
---
TruVision Associates Compensation
The TruVision Associates Program has a few different ways that they pay their associates here is a table that shows the Fast Start Payments and the UniLevel Payments. I will explain them both below!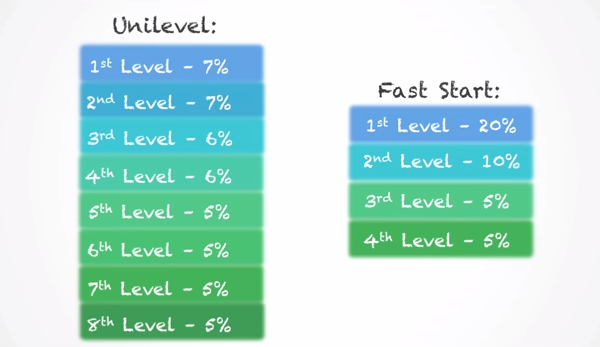 1) Fast Start
The fast start program is a cool payment structure that is meant to increase your earnings at the beginning of your stay with TruVision. Basically the Fast Start program is 4 levels deep and pays you a higher percentage of earnings on your referrals first initial order. So when you refer someone and they order a $300 starter pack you earn $60 for that order. After their initial order, all other orders will be processed in the Unilevel payment structure.
The Fast Start Program pays you 20% of your 1st level referrals, 10% on 2nd level, and 5% on 3rd and 4th level initial orders.
For most the Fast Start Program is going to be the bulk of your earnings while getting started, until you can build a large down line that makes you money each month.
2) Unilevel
This unilevel payment structure is 8 levels deep. This includes the people you refer, plus all the people they refer for 8 levels. The big thing that differs from the Fast Start program is Unilevel pays you for every order your referral makes after their initial order. No matter if it's their 2nd order or 100th you get paid.
The unvilevel payment structure works like this. For first and second level referrals you're paid 7% of their orders. For 3rd and 4th level referrals you earn 6% and for 5th through 8th level you earn 5% of all orders.
Unilevel payments take time to build up so most income will come from the Fast Start portion to begin with, but if your down line grows rapidly Unilevel payments will catch up over time.
---
TruVision Positives
Fast Start Program
One cool thing about the TruVision associates program is they offer a Fast Start Program that is designed to help you earn the money you spend to join back as fast as possible. All of the Fast Start earnings are going to come from bringing people into the organization. So basically the Fast Start Program pays you a higher percentage of your referrals first order.
This is a great way to start making more money at the beginning, but eventually as you grow your down line the big earnings will come from the 2nd, 3rd, and 100th order from your referral.
New Company
One good thing about the TruVision associates program is it is a newer company that is growing. This can also be a risk, because it's not an established company that may eventually go under, you never know. But from the MLM side of things getting involved in a company that is new is a great way to start at the top of the pyramid and if you stick with and the company succeeds you could be involved at the top of a huge business.
Matching Bonus
You already earn 20% of your referrals first order and 7% of their orders after that, but you will also get a matching bonus that will work like this. Let's say one of your referrals made $500 from referring other members. The matching bonus will give you 10% of that $500.
This is just another way to earn more each month, but the problem is you're relying on others to make you money which is never guaranteed.
---
TruVision Concerns
Rely On Others To Increase Rank
One big problem for me with MLM and TruVision is you rely heavily on others to increase rank and increase earnings. I run this website and basically I control all of my earnings based on how many affiliate sales I make. I have done MLM before and have found that most of the people you sign up never make any money and end of quitting. That means no money for me either!
With the TruVision Associates Program there are multiple levels of rank and these ranks unlock other bonuses that are not available at lower ranks. This means more earning potential for you. Problem is the levels of rank require a huge number of Level 2 and beyond down line. You only have control of your first level, or the people you directly refer. That means to increase rank you must have at least a few very successful referrals that can also refer a lot of people.
You may not have a problem with this, but I've learned to keep my earnings potential in my control, not other people.
Have To Purchase Products For Your Self
To continue to get paid by TruVision you need to be active. Sad part about this is to maintain an active status you need to be purchasing products for yourself. That means that you have a monthly expense of products that you have to buy. Now this may not be a problem if you love the products and will be purchasing them anyways, but I'm not a fan of having that extra expense.
It's Not That Easy
One problem most people see when getting into MLM and online marketing in general is it's not a get rich scheme and it's not easy to do. It's not as simple as tell 10 people and you have 10 referrals. Most people won't be interested and will never sign up.
Another problem I see is people think they can create this huge down line just by telling their friends. Some may be able to get a few referrals from family and friends, but what happens when you have asked everyone you know. You have run out of prospects and won't get any more referrals.
Really the only long-term solution to this is running a website and having a lot of traffic to it. As you probably guessed this is not easy either. It takes a ton of hard work and there is no guarantee your site will be successful.
---
Can You Make Money With TruVision
The honest answer is yes you can make money with the associates program. TruVision is not a scam and will pay you your earnings, but I do not like MLM programs and know there are much better ways to build an online business.
In comparison to other MLM companies TruVision is an average program. They do have a few things going for them like the fast start program and that they are a newer growing company, but there are still a lot of things I don't like about the program. Most of the concerns are concerns that I have with all MLM companies. Which is why I advise staying away from MLM all together. If you are still interested in trying the program and want to put your earning potential into other people's hands you can visit TruVisionhealth.com to learn more.
---
What To Do Now?
I have told you that MLM is not the best way to make money online long-term, but what is? The way I make money online is through building websites, driving traffic to my site, and using affiliate marketing to make sales and earn money.
If you would like to learn more I suggest checking out Affiliate Marketing 101 or you can see exactly how I built my online business and how you can do the same at Start Your Own Online Business.
This really is the best way to make money online and I will show you a company that will teach you how for completely FREE!
Thank you for reading these TruVision Health Reviews. This product is not one I suggest because I have seen so many people try and fail at MLM. There are better ways to earn a full-time income online so I hope  you take advantage of the links above. If you have had experiences with this company I'd love to hear about them in the comments section below!
Summary
Reviewer
Review Date
Reviewed Item
Author Rating