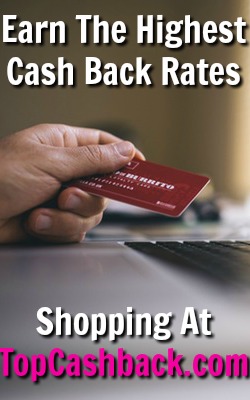 TopCashBack is a cash back website similar to Ebates that offers high cash back rates and an excellent payment system.
There's quite a few cash back portals out there, but not all are created equal. From what I've seen, TopCashBack seems to be one of the best cash back portals available.
In this TopCashBack Review, I'll cover how the site works, what stores are available, the payment system, the complaints, and if this cash back portal is a scam!
---
TopCashBack Review
Site: TopCashBack
Type: Cash Back Shopping
Verdict: Check Comments For Bad Experiences Recommend Ebates
In this TopCashBack Review, I marked it legitimate. I've used a few different cash back portals in the past, and they're honestly all pretty good. The differences to look at is cash back rate and payment system.
From what I've seen, TopCashBack seems to be one of my favorite cash back portals. They might not have the most stores, but the rates are high, and they offer many ways to get your money.
If you're looking for a cash back shopping portal, TopCashBack is a good option. To learn more or to join, visit TopCashBack.com.
---
How Does TopCashBack Work?
If you're familiar with any other online cash back portal it's a similar process:
1) Sign Up
The first step to earning cash back at TopCashback is joining. It's completely free to join and only takes a few minutes to get started.
You can join by visiting TopCashback.com.
2) Find You Favorite Stores
TopCashBack offers cash back to over 1,000 stores, and they pay some of the highest rates in the industry. I won't list them all here, but luckily they do let you browse stores before joining. You can see a full list of stores here.
Once you join, find your favorite store. It will show you the cash back percentage, any restrictions, any coupons available, and how to earn cash back.
3) Visit Store Through Site
Once you find your favorite store, all you need to do is visit the site through the link on TopCashBack. A new tab will open, and you'll be taken to the store of your choice.
4) Shop Normally
Once you reach the store, you can shop normally. Feel free to visit multiple pages of the website and add items to your cart. Once you're done shopping, check out as normal.
5) Earn Cash Back
Once you've completed an online purchase, it can take up to 48 hours for pending earnings to show up. Within 30 days of purchase, your earnings become available to cash out!
---
What Stores Are Available?
If I listed stores I'd be here all day, but it does look like you can browse the shops before joining. Just head over to TopCashBack.com to browse.
You'll see stores in all categories, really the rule of thumb is any store that has an affiliate program is usually included on cash back portals.
The one everyone's looking for is Amazon. Amazon is available on TopCashBack, but it's only in select categories that change throughout the year. I will say that they offer a higher rate to Amazon than most sites.
---
TopCashBack Payment System
The best part of TopCashBack is the payment system. They do not have a minimum cash out amount. Once you earn any cash back, you can cash out anytime.
You can choose to get paid via PayPal, Checking Account ACH, Amazon Gift Card, or American Express Reward Card.
If you decide to get paid via Amazon Gift Card or American Express Rewards Card, you'll earn a small 3% bonus.
---
TopCashBack Referral Program
TopCashBack does have a Tell-A-Friend program that can help you make more. You'll receive $10 for every friend that joins and makes a purchase.
They give you your own referral link, a way to send a direct email, and easy share social media buttons.
The referral program is incredibly easy to use and can make you some extra money.
---
TopCashBack Complaints
No Cash Back Received
You'll see this with any cashback portal. Sometimes there's a mess up with the cookies (what tracks your purchase), and you don't receive credit for an online purchase. Let me say that TopCashBack wants you to receive cash back for your purchase because that's how they make money.
If you for some reason don't receive credit for a purchase, they do have a missing cashback form that you can fill out. From what I've seen, they do a good job getting your credit and solving the issue right away.
---
Is TopCashBack A Scam?
TopCashBack is not a scam; it's a completely legitimate cash back portal that seems to have one of the highest rates in the industry.
If you're not currently receiving cash back on your online purchases, TopCashBack is a good place to start. Even if you're a member of other sites, TopCashBack is worth checking out because they might pay a higher rate at stores you shop at frequently.
I highly recommend checking out this site; you can learn more or join at TopCashBack.com.
Earning cash back on your online purchase is great, but did you know you could make cash back on your grocery shopping? Make sure to check out Ibotta. I usually make $20-$50 a month just by grocery shopping!
Cashback isn't the only way to make money online, make sure to check out the other ways I make an Extra Income Online.
Extra Income not enough? Learn how you start a Profitable Blog, if you start today you could have a full-time income by next year!
Used TopCashback before? Think this site's a scam? I'd love to hear your thoughts on this review in the comments below!
Summary
Reviewer
Review Date
Reviewed Item
Author Rating