Talent Inc is the world's leading resume writing company. They help job seekers write resumes, CVs, cover letters, and LinkedIn profiles that will stand out from the competition.
Talent Inc is looking for virtual resume-writing experts to join their team. In this review, I will give you details and determine if it's a scam or not.
If you're interested in working at home as a freelance writer, we highly recommend checking out the course at 30 Days or Less To Freelance Writing Success. Feel free to grab their freebie to see if Freelance writing is right for you!
---
Talent Inc Requirements
If you want to be a resume writer for Talent Inc, you'll need to meet the following characteristics:
You'll need to have strong customer service skills
You should have great attention to detail
You'll benefit from having solid work history or knowledge of various industries
You should have a good understanding of a variety of job functions
While working from home, you'll need excellent time management skills
You need to be able to work quickly and meet deadlines
You should have advanced proficiency in Microsoft Word
Also, Talent Inc will be excited to see your application if you have the following skills:

Any of these certifications: CPRW, CMRW, ACRW, NCRW, MRW, CEIP
3 or more years of experience as a professional resume writer
Knowledge or familiarity of applicant tracking systems
Recruitment and career counseling experience
If you meet the qualifications above, here are the responsibilities of the resume-writing job:
You'll need to connect with job seekers by phone or email to understand their career history and objectives
You'll write outstanding resumes with the help of Talent Inc.'s framework and writer support services
You will need to promptly respond to job seekers with edits and revisions of their documents
You must communicate project statuses to job seekers, and meet deadlines
---
Talent Inc Application Process
If you want to apply to write resumes through Talent Inc, click here and scroll down to start your application. Here's what you'll find on the application:
Name
Email
Phone number
Website
Attach your resume
Attach a cover letter
That's it! Submit! I submitted without a website or cover letter, and my application was accepted. It appears that the resume was required.
The response I received after submitting is that they will review my information and get back to me as soon as possible.
---
How Much Does Talent Inc Pay?
They don't appear to have a published pay scale. But according to a couple of reviews, both from 2016, it sounds like they are paying $20 per resume. An updated review in May 2018 said that they are now paying $30 per resume. This includes writing a first draft, plus format changes and editing.
According to another review from a current contractor, the hourly rate is low when you're getting started because it takes time to get used to what you need to do. As you become more familiar with what is required, you will get faster. Ultimately, how much you earn per hour is up to you. How much you earn in total will depend on how much you want to work and how much time you have to devote to it.
---
When Does Talent Inc Pay?
I'm not sure how often they pay, but according to a review on Glassdoor, they made many changes in 2016, one of which included paying more frequently.
---
Talent Inc Schedule
You will enjoy a flexible work-from-anywhere schedule with Talent Inc. You can decide how many projects you work on and also which projects. You can even set your preferences for the industries and time frame that you can work.
---
Talent Inc Feedback
I found many reviews on Glassdoor. In case you aren't familiar with Glassdoor, it's a job and employer review site which I find to be very reliable because they don't allow bad reviews to be removed!
So here's what I found on Glassdoor:
Pros:
Choose projects and hours of availability
Very flexible work
Receive pay incentives
$30 per project (as of a May 2018 review) including resume and cover letter
Feel supported by supervisor and support staff when clients are unreasonable
Steady work
Opportunity to learn about other industries
Project deadlines range from 24 to 72 hours
Can receive $3 to $5 bonuses if the client likes your work
$5 to $7 bonus for taking rush orders
A good place to get in some writing experience, or as a side gig
Completely independent work after the on-boarding process
Cons:
Robotic and impersonal feedback
They'll find flaws in your work in order to pay you less
You don't make more for being there longer (everyone earns the same)
Technical resumes can be up to 10 pages, and the pay is the same
No actual training
They have a resume format that has sections that shouldn't be used; then QA will deduct points because the format wasn't followed properly
---
Is Writing for Talent Inc a Scam?
Based on my research, writing resumes for Talent Inc is not a scam. The pay might be low, but it sounds like it's fairly easy to get started. So if writing is something you want to do, it wouldn't hurt to give it a try. Go here to fill out the application.
If you're interested in writing from home and making a large income, we highly recommend checking out the course at 30 Days or Less To Freelance Writing Success! Make sure to check it out!
If you're not interested in this opportunity, check out these helpful links for some other work at home ideas: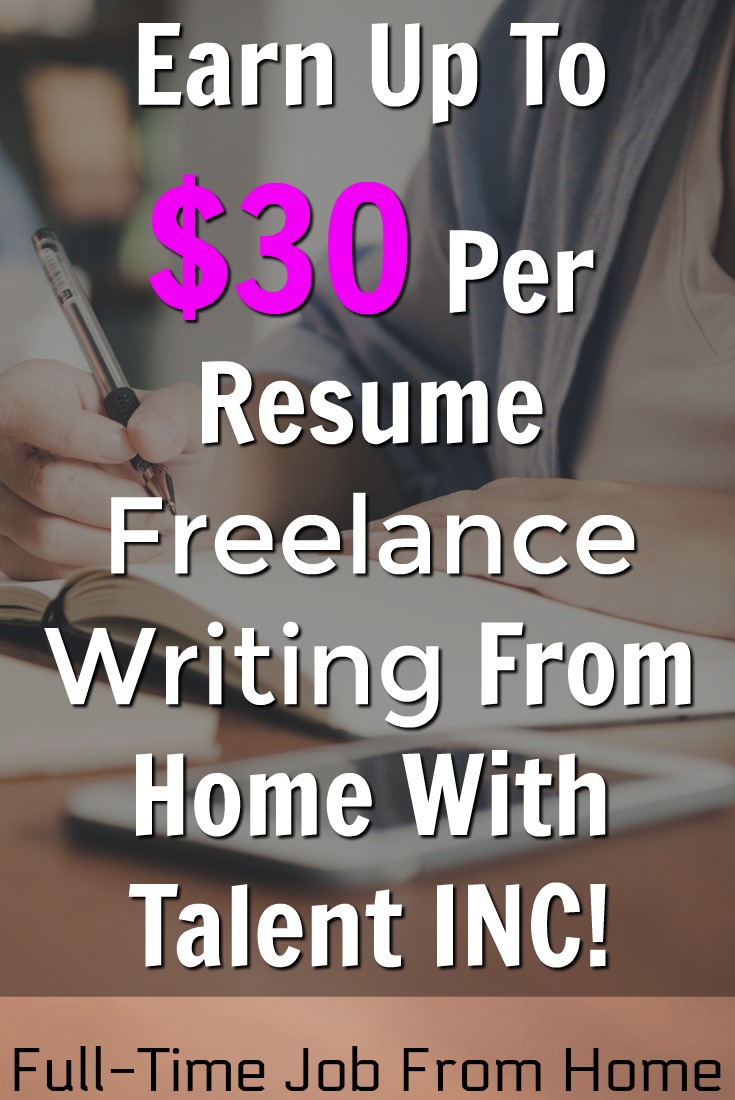 Summary
Reviewer
Review Date
Reviewed Item
Author Rating