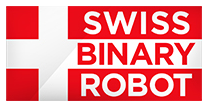 We have another Binary Options Scam on our hands and todays review is on Swiss Binary Robot. Today I will be answering the question is Swiss Binary Robot a scam?
Let's start off by saying that I've reviewed a few of these sites and so far every single one has been a scam.
Swiss Binary Robot is no different. This product is a complete scam that will help you Lose money will trading Binary Options.
In this Swiss Binary Options Review I will show you exactly why this company is a scam and the major problems with these Binary Option Systems.
---
Swiss Binary Robot Review
Website: SwissBinaryRobot.com
Price: $250 minimum deposit
Score: 5 Out Of 100
Verdict: Scam
In this Swiss Binary Robot Review I gave the verdict of a scam and gave a terrible score. This product is set up to play on your emotions, make big promises, and then scam you out of your money.
There really is no positives about this product. Everything about it is to make sales and scam you. In the next section I will be covering exactly why Swiss Binary Robot's a scam.
---
Why Swiss Binary Robot Is A Scam
Sales Page
Like most of these scams, Swiss Binary Robot has a lot of false claims on their sales page. The sales page features a bit of text with a long sales video.
This video tells you that you're getting let in on a huge secret. Access to a system that no one knows about.
This system is fail proof and will make you tons of money in a short period of time.

You can see from the screenshot above that they are claiming some big earnings using some technique called SWATT.
The funny thing is, other than this text in the picture above SWATT is never mentioned in the sales video or anywhere within the system's members area….sounds like a scam to me.
Low Risk
All of the Binary Option Products advertise as being low risk or no risk because of their "fail proof" system.
If you know anything about Binary Options or trading in general there is always risk. Binary Options happens to be a high risk form of trading.
Even with stocks there is always a chance of loosing money and even a chance that you will lose all of your money.
The fact that Swiss Binary Robot promotes it's self as low risk makes this product a complete scam.
It's Not Free Plus High Fees
Once you enter your email on the sales page and claim your free copy of the Swiss Binary Robot you need to make a deposit before using the system.
You're taken to a third-party brokerage house where you're required to make a minimum of $250 deposit. Once you make the deposit you're free to use this system.
So all that hype about this product being free is already out the window. You must spend money to use this product.
Also once you begin trading within your new account you're going to be hit with some huge fees. From what I've seen these fees can be up to 20% of the transaction.
That means you need to win more than 50% of your trades just to break even. Which is not going to happen with this scam automated system.
An Affiliate Point Of View
I am an affiliate marketer. So I wanted to give you a perspective of what I see when I view this product.
Basically this product is a very good converting sales funnel that offers no refund to people who purchase this product. That is why there are so many of these products popping up, dishonest affiliates are cashing in!
Swiss Binary Robot is playing on your emotions telling you they have a system that can make you a ton of money quickly and offering you this for completely free.
The next step is getting you to put money into your account, $250 minimum deposit. Swiss Binary Robot does not have anything to do with your deposit. A third-party is the one taking your deposit and making the trades.
Since you Swiss Binary Robot brought you to the brokerage website where you made you deposit they are earning a commission.
Once you make a deposit it doesn't matter what the heck system they give you because they already have your money and it's not refundable.
If you're a scam artist affiliate marketer this is a perfect product for you to promote, but if you honest or someone interested in this product stay far away!
---
Should I Join Swiss Binary Robot
I highly recommend not joining Swiss Binary Robot. This system is a complete scam just to get you to deposit money into a trading account where they will earn a big commission off you.
This product is solely designed to convert highly and make a lot of money scamming you!
Do yourself a favor and stay far away from Swiss Binary Robot and other Binary Option systems that promise you a risk free, automated system to making a huge income.
With that being said I do want to make one thing clear. Although Binary Options is a very high risk way to trade, it is a legit method of trading. If you're interested in this, find yourself an established brokerage house and trade away.
But please stay away from products like this that will lie to you just for a commission!
---
A Risk Free Way To Make Money Online
Now that you know Swiss Binary Robot is a scam, let's talk about what I'm an expert on, helping people make money online.
The first risk free way to make money online is with supplemental opportunities. These sites can make you a couple hundred extra bucks a month if you work at them. To see all of these sites visit All Scam Free Online Jobs. 
The second way to make money online is by starting your own online business. Now this may cost you a few bucks to get started, usually under $100. But the return on investment is a whole lot bigger. To see how I turn websites into a full-time income visit Start Your Own Online Business. 
Thank you for reading this Swiss Binary Robot Review. This product is a complete scam and will make your money disappear. Stay away from this product and as always please share with your friends and leave your thoughts below.
Summary
Reviewer
Review Date
Reviewed Item
Author Rating