SweatCoin is a new app that pays you to be active. Once you download the app, you'll earn Sweatcoins for every step you take. You can exchange Sweatcoins for awesome fitness related products and services. Today I'd like to write a review of the SweatCoin app to make sure it's not a scam.
If you're looking to lose weight, make sure to check out these other ways to get paid to lose weight or the extra income sites I use to make money!
If a small extra income is not for you, check out My #1 Recommendation, it's how I made over $13,000 last month online!
In this SweatCoin App review, I'll cover how it works, how you can earn, how to get paid, and make sure this is a legitimate way to make money!
Available in the US, UK, and IE.
---
SweatCoin App Review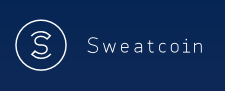 App: SweatCoin
Type: Paid To Lose Weight
Verdict: Legitimate
In this SweatCoin app review, I marked it legitimate, but you need to know this won't earn you much. This is just an extra income app that rewards you for being active and walking.
I wish that it didn't take so long to earn enough coins to exchange for the awesome products, but they do have cheaper rewards available most of the time. I really wish you could just exchange coins for gift cards, but at this time, it's not an option.
Overall, SweatCoin is a decent app that is legitimate. It won't earn you much but can be an easy way to earn some free products just for walking.
---
How Does SweatCoin Work?
1) Join For Free and Fill Out Your Profile
The SweatCoin app is free to join, and you can do so by visiting SweatCoin.in.
Once you have the app, fill out your profile, it should only take a few minutes to get signed up.
2) Start Walking!
Once you're signed up, you'll earn what they call SweatCoins for every step you take. You'll earn .95 sweatcoins per 1,000 steps you take.
*Most rewards cost 30-300 sweatcoins, so it's going to take awhile to make enough for most of the sought after rewards.
3) Exchange Points for Rewards!
Once you have some coins, it's time to exchange them for rewards. I'll go into more detail in the next section, but most of the rewards are fitness-related products or services. Even the cheapest rewards will take you a few weeks to earn enough coins.
One good thing is the rewards are always changing so if you don't have enough coins or aren't interested in any rewards available, new ones will be available shortly!
---
SweatCoin App Rewards
As mentioned you'll earn .95 Sweatcoins for every 1,000 steps you take. As you build up sweatcoins, you can redeem them for fitness-related products and services. I'm going to talk about what's available now, but it seems that rewards frequently change so different rewards might be available when you join.
At this time they have things like a pair of Nike Running Shoes, a few Healthy food alternatives, Fitbit's, and a few other workout related products.
Most of the products range from 75-300 sweatcoins based on how expensive the product is.
At this time the only way to earn a gift card is by inviting five friends to the app. If you do, you'll earn a $5 Amazon gift card.
It says when you redeem a reward, you'll get a code that you can use during the checkout process to discount the product.
UPDATE 10/12/2017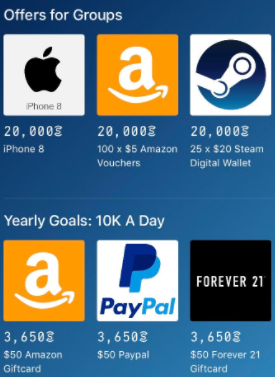 Okay, so I just opened the Sweatcoin app this morning and found some new reward options. As you can see from the screenshot above they have a few group reward options and $50 gift cards available.
I guess there's a feature inside the Sweatcoin app that allows you to send other members coins. The idea behind group rewards is a bunch of people send their coins to one person that can purchase several gift cards in one purchase and then can distribute them to everyone that gave them coins. Which is stupid in my opinion.
Luckily they also added $50 gift cards. As you can see it's going to cost 3,650 sweat coins so it's not a reward you will reach quickly, but it's a step in the right direction.
Hopefully, we will continue to see improvements and see $5 or $10 gift cards available soon!
If any new rewards become available I'll make sure to update the review immediately.
---
Does SweatCoin Pay?
I'm still waiting for a reward that I'm genuinely interested in, but I have received a $5 Amazon gift card from Sweatcoin which you can see below. I redeemed inside the app, they sent me an email with the code, and I applied it to my Amazon account. When I redeem for a fitness related reward I'll make sure to update this section!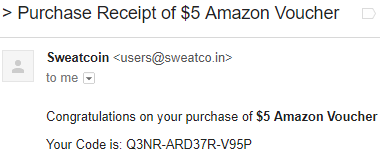 UPDATE 1/22/18
I was finally able to earn enough to cash out a $50 PayPal payment. You can see proof that I was paid below: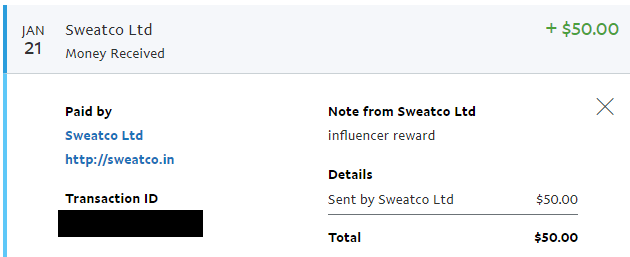 ---
SweatCoin App Complaints
No Gift Card Rewards
Unfortunately, at this time, the only way to get a gift card reward is by referring your friends.
I hope this changes, but at least you can get rewarded for walking.
App Stays Running
For the app to track your steps, you need to keep it running, or it won't count all of your steps. Luckily it does have a battery saving mode, where it tracks your steps, but isn't communicating unless you open the app directly.
From having the app on my phone I haven't seen much of a difference, but of course, keeping an app open all the time will use more battery!
---
Is the SweatCoin App A Scam?
The SweatCoin app is not a scam, but it's not going to make you much. I like that the rewards frequently change so you can save up coins until an item comes up you'd like. With that being said, it's going to take awhile to earn enough coins for most of the products available. Hopefully, they'll have gift cards as a cheaper reward option eventually.
Of course, this is going to be a small income, but it is a legitimate app. It's up to you to choose if it's worth it.
To learn more or to join, visit Sweatco.in to join!
If the Sweatcoin app isn't for you, make sure to check out the ways I make an extra income online! Extra income not for you? Check out My #1 Recommendation, it's how I make over $13,000 online each month!
Do you think the Sweatcoin app is worth using? Do you think it's a scam? I'd love to hear your thoughts in the comments section below!
Summary
Reviewer
Review Date
Reviewed Item
Author Rating