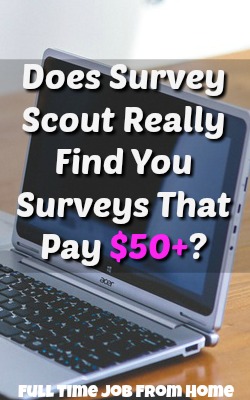 Lately I have covered a lot of survey sites out there that are frankly not worth a crap. Survey Scout is no different from any of these sites. Survey Scout is a complete scam.
One major reason why survey sites are so popular is because most beginners in the making money online world find survey sites first and give it a go.
Not all survey sites are scams, but unfortunately there are a lot that take advantage of the newbies and that's exactly what Survey Scout Research does.
In this Survey Scout Scam Review we will take a look at how it works and the things that makes this particular program a complete scam.
---
Survey Scout Scam Review
Website: SurveyScout.com
Price: $34.95
Score: 10 Out of 100
Verdict: Scam!
I gave Survey Scout a Scam Verdict because it takes advantage of all the beginners in the making money online world. As you can see you have to pay $34.95 to access the members area.
There is nothing about Survey Scout that makes it worth paying for. For 99% of people you won't even ever make your money back.
The site is actually very confusing and is actually a two-part site, but I will cover that in the next section.
---
Survey Scout Research Problems
There are a lot of problems with survey scout, but I want to break down a few of the major problems. As I mentioned above Survey Scout is pretty confusing on how it presents its self, but after so research I found that Survey Scout is a two-part site.
The first potion is surveys hosted by them or what they call Survey Scout Research the portion of the site or what they consider the part you're paying for is just a list of survey sites and some training. Let's take a look at both parts and see what problems I see.
Part 1: Survey Scout Research
Part one of Survey Scout is the surveys they actually host them self. That means when you sign up for Survey Scout you receive surveys directly from them and will get paid for those surveys from them. This is great, but to access this portion you have to pay $34.95.
I have reviewed 100s of survey sites and there isn't one that is worth paying for. There are some really good free ones, but nothing about survey sites that you have to pay for are better than free sites.
Sites like Survey Scout are going to promise higher paying surveys, but really all sites that are legit pay right around the same amount.
Part 2: Paid Survey List & Training
The next portion of Survey Scout is the Survey list and Training. You also gain access to this when paying the $34.95. Basically this portion is going to give you a list of a bunch of other surveys sites. Don't worry you can see this list for free here. 
One thing I highly recommend is never paying for a list of any work at home opportunities including survey sites. There are thousands of lists of sites all over the internet that can be found for completely free. I've done you a favor and put together a list of all the scam free survey sites here.
See there is no reason to pay for a list when you can get these resources for free.
The next section of this part is the training. Survey Scout like other sites that require you to pay makes some big claims on their sales page and one of those is training that will teach you how to make more with survey sites.
As I bet you guessed there is no secret. Survey Scout can't teach you anything and they don't have higher paying surveys than anyone else out there.
---
What's Wrong With Survey Scout
Makes You Pay To Take Their Surveys
Sells You A List of Survey Sites (See for free here)
Promises Training that will make you more with surveys
---
What Should I Do Now?
As you can see from this review I do not recommend Survey Scout to anyone looking to make money online. This site is a complete scam and will only be a waste of your money.
I am not saying that all survey sites are bad because there are actually a few that I highly recommend, but Survey Scout Research is one to stay away from.
If you would like to see the survey sites I recommend head on over to my All Scam Free Survey Sites post. On this post you can see all the sites that are scam free and that I highly recommend.
If you would like to learn how I make money online with this website and how you can do the same check out my Start Your Own Online Business page.
It's a simple process that I use to make money online and that you can duplicate with your hobby.
I hope you enjoyed this post on the Survey Scout Scam, make sure to share with your friends and use the helpful links above to start making money online today!
Don't forget to leave comments if you have questions!
Summary
Reviewer
Review Date
Reviewed Item
Author Rating