Survey Monster is one of the crappiest survey sites I have reviewed in a while. It's really not even a survey site, but actually a site that collects your email and then gives you a list of other survey sites to join.
Survey Monster is a complete scam because they are collecting your email and mislead you just giving you sites to sign up. Now Survey Monster is free, but there are many major disadvantages of joining a site like this.
In this Survey Monster Review I will go through exactly how it works and the reasons I think this site is a scam!
---
Survey Monster Review
Website: SurveyMonster.net
Price: Free
Score: 20 out of 100
Verdict: Scam!
In this review I gave Survey Monster a 20 out of 100 and marked it a scam. There really is no reason to join Survey Monster even if it's free. All they are going to do is send you a whole lot of emails and try to get you sign up for a lot of survey sites as their referral.
They give you some unrealistic average earning numbers and really don't serve any purpose to anyone trying to make money online. Their only purpose would be a list of survey sites, but most of theirs aren't even good.
If you want a list of high quality survey sites just check out my websites survey list here. They are the best survey sites out there and you don't have to pay me a thing or give me your email to access them!
---
Why Survey Monster Is A Scam
How It Works
The biggest misconception about Survey Monster is how it actually works and what they offer. Survey Monster will never send you a survey. They also will never pay you for taking surveys.
Basically Survey Monster is a site set up to gather your email, give you a list of survey sites to sign up for, earn commissions on your earnings, and email blast other products to you.
You can see from the screenshot below that Survey Monster just gives you a list of survey sites to join.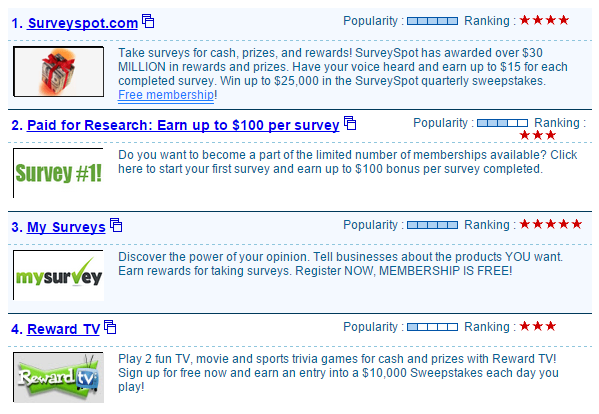 They have about 50 overall and honestly there are not even very many good sites on here. My highest ranking survey sites CashCrate, PaidViewpoint, and Swagbucks are no where to be found.
How It Works Continued: How They Make Money
This part really isn't a scam at all, but I wanted to go ahead and explain to you what's in it for Survey Monster. Survey Monster is free to join so how do they get any money out of this site.
Basically their plan is for you to join as many sites on their list as possible. As you earn money on these sites they earn commissions on all your earnings. Refer one person and it won't be much, but have 1000s of referrals and you can make a decent income.
They also collect emails. Basically what they do here is email blast products and other sites. Sign up through their email and you will earn them some money.
Misleading Earnings
The next thing that jumped out right away on Survey Monsters homepage is the phrase I've included below. 
There are two major issues with the phrase above:
No one is earning up to $150 an hour taking surveys. When you really break it down most people are earning $5 or less when taking surveys. Not to say surveys can be a source of online income with a few hours a week, but $150 an hour isn't going to happen.
They say that most surveys make you $20 and take 10-12 minutes to complete. I'd say an average for taking a survey is somewhere around a $1.50. You may see a few $20 survey here and there, but the majority are going to be around $1-$5. The $5 surveys usually take 30-60 minutes and I've never seen a $20 that didn't take over an hour to complete.
Joining Multiple Sites
One of the first things Survey Monster tells you to do is join all the sites on their list. Obviously this means they make more money from having you as a referral to more sites, but this is actually a disadvantage for you.
See all of the sites you join send surveys and pay separately. Most sites have a cash out amount of $10 or higher.
This means what will probably happen is you end up with a bunch of sites that you have earned $5 on, which might total up to $100, but you still haven't received a penny.
The truth is most people give up before reaching the cash out amount and if you are in that situation with multiple sites you're even more likely to give up!
---
Should I Join Survey Monster
I recommend not joining Survey Monster for one reason, it's a waste of your time. Yes you get a free list of surveys, but you will get annoying emails and if you actually listen to their information you will have a lot of sites that you never reach the cash out amount on and will end up failing.
My recommendation is to stay away from Survey Monster, find a free list of survey sites, join 1-2 great survey sites and work on getting to the cash out amount within these sites.
If you find you enjoy taking surveys and have got paid by the few sites you joined go ahead and expand to some other legit sites.
But if you find you hate it, you will have less work to reach the minimum cash out amount and get the money you've already earned.
---
Make Money Online Now
You came to my site because you're interested in making money online. You've learned that Survey Monster is not worth your time and I'd be a terrible person if I didn't give you what you're really looking for.
Here is a list of all the scam survey sites I've reviewed. You will also find some other great opportunities on this list that you may be interested in joining.
I also mentioned in this review that Survey Monster gave you unrealistic earnings from taking surveys. If you would like to learn how you can make more money then taking surveys take a look at Starting Your Own Online Business.
Thank you for reading this Survey Monster Review, we have learned that Survey Monster is A Scam and should be stayed away from. Hopefully you found this review before wasting your time! Check out my recommendations for making money online above.
Summary
Reviewer
Review Date
Reviewed Item
Author Rating