11
Smore LockScreen App Review: Legitimate Or Scam?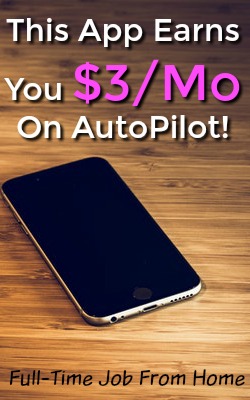 I've covered several apps that pay you to unlock your phone, but today I'd like to cover a new one called S'more. It's very similar to the other apps, but it pays you whether you interact with any ads or not.
Please know that this app won't make you much, an income of $3 a month is about the limit when it comes to this app. If you're not happy with that type of earnings I recommend checking out these extra income sites.
If you're interested in seeing ads on your Android device, S'more might be a good app for you. In this S'more app review, I'll cover how it works, how to get paid and see if this is a scam or a legitimate way to earn money unlocking your phone.
---
S'more LockScreen App Review
App: S'more LockScreen
Type: Paid To Unlock Phone
Verdict: Legitimate
In this S'more LockScreen App review, I marked them legitimate. Please understand that you'll earn around $3 a month if you keep this app installed, so it won't be a big income. With that being said the app is legitimate.
I like that you earn a flat $.10 a day and don't need to interact with ads to earn. I also like that you can cash out $1 gift cards, so it doesn't take forever to reach the cashout amount.
Overall, the app is one of the better lock screen apps, but it's up to you to decide if $3 a month is worth the annoying ads.
Last Month I Made

$13,841 Online
Make sure to learn how you can get started for free!
---
How To Earn With S'more?
Lock Screen Ads
The main way to earn with the S'more app is through lock screen ads. When you go to unlock your phone, an ad will appear you can choose to interact with the ad or ignore it and unlock your phone. Either way, you'll earn $.10 every day you have the app installed on your phone.
Surveys
Occasionally, S'more will have surveys available for you to take. This is an additional way to earn some extra points.
Offers
S'more does have free and paid offers that can help you make more. Get paid to sign up for sites, download apps, and sign up for free credit card trials.
Refer Friends
The S'more app does have a referral program that can help you earn more. Every friend you invite makes you 25 points once they keep the app installed for 10 days.
---
How Does the S'more App Pay?
You'll earn $.10 every day you have the S'more app installed on your phone. Once you earn $1, you can exchange your points for a $1 Amazon gift card. Once you cash out a reward, S'more will send you the gift card code via email within 24 hours.
Now S'more offers gift cards to Amazon, AMC Theaters, Applebees, Best Buy, CVS, Domino's Pizza, GameStop, Starbucks, and Target.
---
S'more App Complaints
Drains Battery
I didn't see a noticeable difference in battery life, but if you look through Google Play Store reviews, you'll see that the complaint of battery draining coming up quite a bit, even in the positive reviews. For the small monthly income, it might not be worth the hassle of worrying about keeping your phone charged.
Small Income
At $.10 a day, this won't make you rich. Most people won't think the small income is worth seeing annoying ads everytime you unlock your phone, even if you don't interact with them. I've tried the app and feel the same way, but if you're looking to make a small passive income, the S'more app can easily make you $3 a month.
---
Is the S'more App A Scam?
The S'more app is not a scam, but it's not going to be a big income either. Compared to other apps that pay you to unlock your phone, it seems to be pretty good, but I feel like most people won't feel like seeing ads is worth the small $3 monthly income.
With that being said, if you're interested you can learn more or join by visiting the S'more app in the Google Play Store or by downloading the app on your phone.
If you don't think the S'more app is worth it, make sure to check out these other ways you can make a larger extra income online.
Do you think the S'mores app is a scam? Know of other apps that pay you to unlock your phone? I'd love to hear your thoughts on this review in the comments section below!
Summary
Reviewer
Review Date
Reviewed Item
Author Rating