5
Skylom Review: Legitimate or Another Lotto Scam?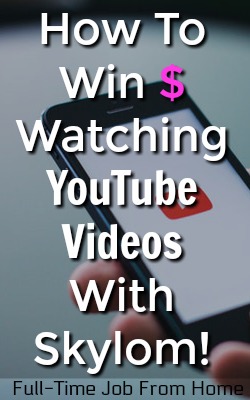 Skylom is a new lotto site similar to Baymack and Snuckls, which I've reviewed in the past. Today I'd like to take some time to review Skylom and see if it's a legitimate way to make money online.
Let me first say; this is just an extra income site where your income is left up to chance. You'll need to draw winning numbers to earn any money. Although Skylom is legitimate and does pay, there're much better ways to make money online in my opinion.
Please understand that Skylom and other lotto sites will never make you a ton of money, if you're looking for a full-time income, check out My #1 Recommendation, it's how I made over $13,000 online last month!
In this Skylom review, I'll cover how it works, how to get paid, how to earn more, and the complaints I have with this site.
---
Skylom Review

Site: Skylom
Type: Lotto
Verdict: Legitimate, but better ways to earn
In this Skylom review, I marked them legitimate. I've used the site for a bit, and they do pay, I'll show proof later on. With that being said, I'm not a huge fan of the lotto style, I prefer guaranteed rewards, but the lotto does allow for more substantial earning if you do win.
Overall, Skylom is legitimate, but it's not a site to get crazy about. To earn a considerable income from this site you'd need hundreds of referrals earning you money, so it's not a site I highly recommend.
Feel free to check out the sites I recommend over Skylom here.
Last Month I Made

$13,841 Online
I Bet You're Tired Of Making Pennies Online. No More BS. If You're Serious About Making A Full-Time Income Online You Need To See The TRUTH. Stop Wasting Your Time With The Next Big Thing When There's Already A Proven Method That Works!
---
How Does Skylom Work?
1) Sign Up For Free
Skylom is completely free to join; you can do so by visiting Skylom.com
2) Watch Videos
To enter the lotto, you'll need coins. You earn coins by watching Youtube Videos and then categorizing them from a list of four options. For every video you correctly categorize, you'll earn 1 coin.
Most of the videos require you to watch 50-90 seconds before you can categorize the video.
3) Categorize The Video
Once you watch the video for the required time, it's time to choose the category. You'll have four options and it's usually pretty easy even if only watched a few seconds of the video. If you answer correctly you'll earn 1 coin; if you're wrong, you'll have to watch another video and try guessing again to earn.

4) Choose Lotto Number
Every few minutes Skylom holds a lotto for $10, $50, or $100. Depending on the amount you'll need to pick your lotto numbers. Depending on how many numbers you get right you'll earn a percentage of the total prize.
Keep in mind just because you guess all the numbers right, you could earn less than the total prize if someone else gets them right too!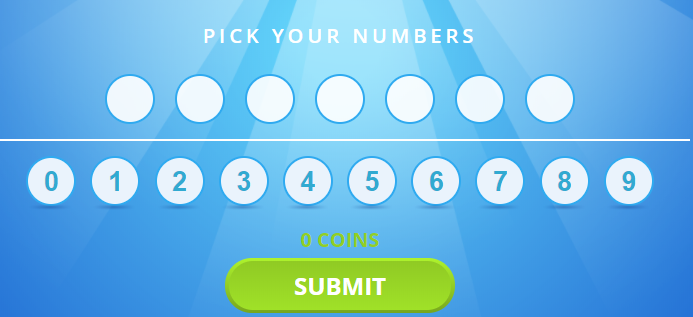 5) Win Cash!
If you guess numbers right, you'll earn a percentage of the total lotto.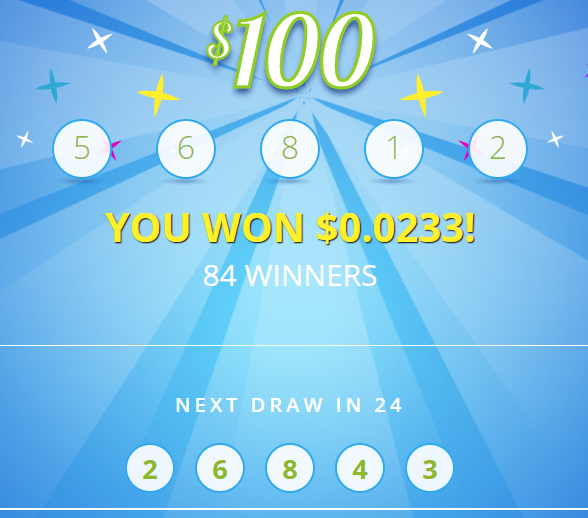 ---
How Does Skylom Pay?
Skylom offers payments via PayPal and Direct Deposit. The minimum cash out amount for PayPal is $.02 while the minimum cash out amount for Direct Deposit is $100. Obviously, most people are going to choose PayPal.
In some countries, Amazon gift cards starting around $5 are available. This is your only alternative if you don't have a PayPal account.
---
Proof Skylom Pays!
Skylom is not going to be a huge income, but luckily they do pay and have a minimum cash out amount of just $.02. In my first lotto, I earned just over $.02 and was able to cash out via PayPal.
---
How To Earn More At Skylom
The easiest way to earn more with Sklom is to take advantage of the referral program. When you refer a friend to Skylom, you'll earn 5% of their total earnings for life.
This is by far the best way to earn more with Skylom, and others earn more for you!
---
Skylom Complaints & Concerns
Just An Extra Income
Obviously, Skylom isn't going to make you rich; it's just an extra income site. One big concern I have is even if you categorize YouTube videos, there's no guarantee that you'll earn any money.
You still need to win a lotto to earn any cash. That does give you an opportunity to earn more than you normally would, but there's a good chance you'll walk away with $0.
Some might enjoy the chance of winning big, but I prefer guaranteed rewards where I know I'll get cash for watching the videos.
Only 5% Referral Earnings
Most extra income sites have referral programs, which is a great way to earn more. But Skylom only pays 5% of your referrals earnings. If you compare that to a similar site called Baymack, you could be earning 50% of your referrals earnings.
I'm glad to see that Skylom has a referral program, but it's unfortunate to see they pay such a small percentage when similar sites pay much more!
---
Is Skylom A Scam?
Honestly, out of the other sites I've reviewed, Skylom is okay, but I prefer Baymack over this site. With that being said, taking a chance with your earnings on lotto sites isn't the best way to make money online by any means.
If you're interested in joining, you can do so by visiting Skylom.com, but I'd also check out Baymack or Snuckls.
Although these sites are legitimate I must recommend sites that have guaranteed earnings, here're the extra income sites I recommend over Skylom!
Again, please understand that sites like Skylom are going to earn you pennies for a lot of work, if you're interested in making a full-time income online,  check out My #1 Recommendation, it's how I made over $13,000 online last month!
If you're not interested in a small extra income, make sure to check out these helpful links:
How I Made Over $13,000 Online Last Month
Work From Home Companies Hiring Now
Do you think Skylom is a scam? I'd love to hear your thoughts on this review in the comments below!
Summary
Reviewer
Review Date
Reviewed Item
Author Rating