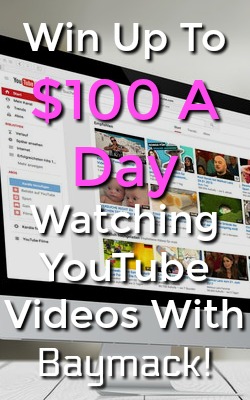 No Longer Available, Check out these Extra Income Sites That Pay Me Each Month
Baymack is a site that's available worldwide that lets you earn lotto tickets for watching and categorizing YouTube Videos.
For every five videos you watch, you'll earn an entry into the daily lotto with one grand prize winner and thousands of other winners.
When you win, you can cash out via PayPal or a few other gift cards.
Please understand that this is going to be a tiny online income, even though they are legitimate you're leaving your income up to chance. If you're interested in making a large online income, check out My #1 Recommendation, it's how I made over $13,000 online last month!
In this Baymack review, I'll cover how it works, how you can get paid, and if it's a scam.
---
Baymack Review
Site: Baymack
Type: Watch Videos/Lotto
Verdict: Legitimate
In this Baymack review, I marked them legitimate. The only real concern I have with this site is there's no guarantee you'll win. That means you spend time watching videos and then have nothing to show for it if you don't win the lotto.
I do like that they make PayPal payments starting at $.02. That means you can cash out after your first lotto win.
Overall, it's a legitimate site that's just extra income, I don't highly recommend this way of earning, but if you win you will get paid!
---
How Does Baymack Work?
1) Join Baymack For Free
The first step is to join Baymack for free. You can do so by visiting Baymack.com. You can sign up with a College .edu email or via Facebook. Once you earn ten lotto entries, you'll earn a $.01 sign-up bonus.
2) Start Watching Videos
Once you join, you can start watching YouTube videos for cash. Every five videos that you watch and categorize earns you a lotto entry. Here's an example of a video. You usually need to watch the video for 60-90 seconds before you can categorize it.
3) Choose the Correct Category
Once you watched the video for the required time, four category options will appear. It's your job to choose the category the video fits in. Here's an example of some categories for the above video and a notification after I chose the correct category "pop."

Continue this process through 5 videos to earn a lotto entry.
4) Earn Lotto Entries
Once you watch and categorize five videos, you'll earn an entry into the daily lotto. You can earn up to 10 entries per day.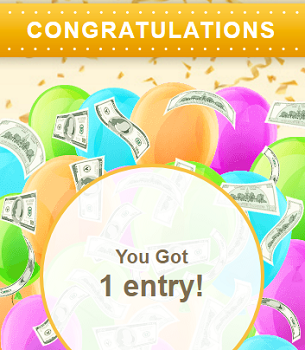 5) Win Daily Lottos!
Each day Baymack has a lotto with a grand prize, mid level prize, and small prize. Each day the amounts and how many winners change. Most of the time the grand prize ranges from $20-$100, the mid-level prize ranges from $1-$25, and the small prize is $.01-$.05. Here's an example of one of the daily lottos. Keep in mind the amounts and number of winners change every day.

As mentioned, you can earn up to 10 entries per day to maximize your chance of winning.
6) Get Paid!
Once you win a lotto, you can get paid via PayPal, Bank Wire, and gift cards depending on your location. The minimum payout for PayPal is $.02, so you should be able to cash out once you win your first lotto!
---
How Does Baymack Pay?
Depending on your location, Baymack's rewards are different. If you're in the US or most other countries, you can get paid via PayPal, Amazon gift card, and Bank Wire.
For some countries, only PayPal or Bank Wire will be available.
As you can see from the screenshot below, they start paying via PayPal at just $.02, so I recommend using PayPal to cash out.
In their FAQs, you should receive your payment within 24 hours of cashing out.
---
Proof Baymack Pays
With lotto sites everyone is skeptical that they actually pay so I thought I'd include payment proof. Baymack is actually owned by Snuckls so the payment came from them, but they are basically the same site. Here's proof I was paid $.06 after winning a daily drawing!
---
How To Earn More At Baymack?
The only way to earn more at Baymack is through the referral program. If you really want to make this a decent income, you'll need to refer friends so they earn for you. Below is the refer a friend program details.

As you can see, the referral program is multi-tiered, and you'll earn 50% of your referral's winnings. You'll also earn $.01 for every friend you invite once they earn ten lotto entries.
---
Baymack Complaints
No Guaranteed Income
I'm a huge of making an extra income any way that I can, but most of the sites I recommend have what I call guaranteed rewards. That means if you earn 500 points you get a $5 payment or gift card.
With Baymack your earnings are left up to chance with the lotto.
Although winning isn't guaranteed the lotto does offer a higher income potential if you're lucky enough to win.
---
Is Baymack Legitimate or A Scam?
Baymack is not a scam; it's a legitimate way to get paid to watch YouTube videos. The key is that the rewards aren't guaranteed, but that does mean there's a chance for a more significant income than usual sites that pay you to watch videos.
Again, I'm not going to highly recommend Baymack, but it's a legitimate site that does pay. If you're okay with leaving your earnings to chance, then Baymack is probably a good site for you to try out.
To learn more or to join, visit Baymack.com and join for free!
If leaving your income up to chance isn't for you, make sure to check out all of these Extra Income Sites I Use.
If you're looking for a bigger online income, check out My #1 Recommendation, it's how I made over $13,000 online last month!
Do you think Baymack is a scam? Have proof it's legitimate? I'd love to hear your thoughts on this review in the comments section below!
Summary
Reviewer
Review Date
Reviewed Item
Author Rating