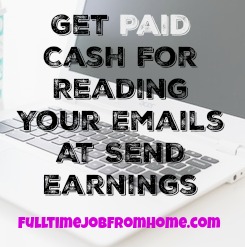 No longer available. Check out these Extra Income Sites that pay me each month!
Have you ever wanted to get paid to take surveys, read emails, complete offers, and refer others. With Sendearnings you can all in one place! In this review we will be answering the important question of is sendearnings a scam. I will be telling you a bit about the company, going over how to earn, how to redeem, and my thoughts on the Send Earnings.
Before we get started one thing I noticed from the beginning of reviewing Send Earnings is the platform looks identical to inbox dollars. With a little further investigation I found out that SendEarnings is actually ran and owned by Inbox Dollars. Why they have created two sites that are exactly the same I am not sure, but I have used Inbox Dollars and been paid by them. I would recommend Inbox dollars over Send Earnings just because I know that you actually get paid.
Due to the fact that Send Earnings is owned by them I am sure you will not have problems, but if you would like to read my Inbox Dollar review click here.
Now that we have that out-of-the-way let's get started with the Send Earnings Review!
No longer available. Check out these Extra Income Sites that pay me each month!
---
Send Earnings Review
How To Make Money With Send Earnings
Send Earnings offers a variety of ways to make money. I have listed all the ways below with some description and common earnings for that task. Once again if your familiar with Inbox Dollars nothing new here!
Paid For Reading Emails: With SendEarnings you will get paid $.02 for every paid email you open. From my experiences you will receive 4-8 every day. By no means will this be your biggest earnings category, but it only takes a few seconds for each email.
Get Paid To Complete Offers: Offers from Send Earnings are a lot like any other survey sites offers. The free offers range from $.50 to $3, the trial offers that require a credit card can range anywhere from $3 to $10. Just like any other site most of the offers require you to fill out forms.
Get Paid To Complete Surveys: Surveys from send earnings usually pay $.50 to $3 and seem to range from 10-30 minutes. From my experiences you will receive 2-3 surveys a day, but they do expire after a few days. There is also surveys that are available all the time.
Get Paid To Play Games: You can earn cash by playing games with Send Earnings, but it requires you to pay money to a company called world winner. If you do play games through send earnings and add money to your account you will get money added to your Send Earnings Account.
Get Paid To Watch Videos: When watching videos with send earnings you will receive credit a few minutes after completing the task. There is usually only a few different videos available each day that pay a few cents each.
Get Paid To Clip Coupons: When you clip coupons with send earnings you must first download the coupon printer. You then select from about 300 coupons each day. Every time you redeem a coupon in store you receive $.10 for every coupon.
Get Paid To Search: For each 2 searches using the send earnings search bar your rewarded 1 cent. Search 4 out of  7 days of a week and receive a 5 cent bonus. Search earnings are rewarded the following day!
Get Paid To Refer: With Send Earnings you will receive 10% of all your referrals qualified earnings. Check below to learn more about referrals!
---
A Bit About Referrals
If your familiar with paid surveys sites like this you know that a key to making a good amount of money is referrals. SendEarnings is no different. Although it offers many ways to earn cash, the key to making more is having others earn for you.
SendEarnings does give you your own referral URL. Along with your referral link, you will also receive access to banners to place on your blog or website. Another way to refer people is through the built-in email system. Send custom referral emails to anyone of your friends and family.
With Send Earnings referral program you will receive 10% of all your referrals qualified earnings. The qualified earnings are in the picture below.
---
Spam Emails To My Inbox
When signing up for sites like Send Earnings people are usually concerned using their primary email address, due to spam emails. I set up my account with a Gmail email which worked great. All the emails go straight to promotions, meaning it does not show up in my primary email list just under promotions. This is perfect because I still get notifications from Send Earnings, but don't have to deal with them in the important part of my email. You can see what I mean by the picture below!
Send Earnings will not send you spam emails, but they will notify you every time you have a new paid email or survey available.
---
How To Get Paid By Send Earnings
Send Earnings pays by Check Only. Checks will be mailed every week on Wednesday. After putting in a payment request a 10-16 day processing period is in place and checks will be mailed the Wednesday after the period.
The minimum cash out amount for Send Earnings is $30. I know a little high, but once you reach the minimum payment once you become a Gold Member.
---
Becoming A Gold Member
One huge key to making more money with Send Earnings is becoming a Gold Member. You become a gold member once you receive your first $30 payout from Send Earnings. Once you become gold you will receive some great benefits found below!
More Referrals: Whenever people sign up for Send Earnings that were not referred by other members, they get put into a pool and distributed throughout the Gold members. This is a huge benefit and will lead to much more earnings!
Faster Payments: As a gold member the processing period is no longer 10-16 days. Gold members will always get paid on the following Wednesday.
Exclusive Offers: Along with all the offers available on Send Earnings. Gold members will have access to exclusive offers only available to Gold members!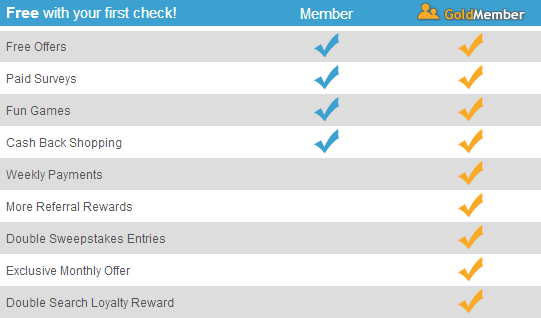 ---
My Thoughts On Send Earnings
Website: Send Earnings
Rating: 85 out of 100
Verdict: Legit
No longer available. Check out these Extra Income Sites that pay me each month!
I gave this website an 85 out of 100 because from my experiences there are tons of way to earn cash. It seems if you can reach the gold membership your earnings can increase greatly. Getting referrals and becoming gold will be the key to long-term earnings with Send Earnings, but I think it is very doable.
Once again I have not been paid by Send Earnings yet so I have no way to verify that you will get paid other than claims from others saying they got paid. I have been paid by Inbox Dollars the parent company to Send Earnings so I believe you will have no problems.
---
Send Earnings Payment Proof
Recently I was paid by Send Earnings and became a Gold Member. Check was processed at the beginning of the month. The 3rd I believe and I received it on 6th. Check was for the full amount!

---
Final Thoughts
I gave send earnings a good review and do believe this website will allow you to make money. One thing you must realize with survey sites is you will not make tons of money without a lot of referrals. In no way am I putting down sites like Send Earnings, but if you're looking for a larger online residual income you will want to start learning about affiliate marketing. You can start learning about affiliate marketing by clicking here!
Hopefully you enjoyed this Send Earnings Review. You may click the link below to join Send Earnings and get a $5 sign-up bonus!
Join Send Earnings Here & Get a $5 Sign Up Bonus!
No longer available. Check out these Extra Income Sites that pay me each month!
Summary
Reviewer
Review Date
Reviewed Item
Author Rating