What in the heck is Profit Bank? Boy did it take me awhile to figure it out.  But before we get into that let me tell you that Profit Bank is a SCAM. Usually by the products sales page or after a few seconds of being within the members area I know exactly what is going on, but with the Profit Bank Scam it took me awhile.
But why is Profit Bank a Scam? I will go into exactly why in this detailed Profit Bank Review, but for now just know that the system that they have set up does not generate traffic, does not generate sales, and will be a waste of your money.
---
What Is Profit Bank?
Profit Bank is a system owned by Millionaires Society. Basically a company that has a great reputation for creating products that are scams and don't work. This system gives you your own website that is pre-made and is supposed to generate you traffic and sales.
---
How Does Profit Bank Work?
Once you are inside the Profit Bank Scam members area the process works like this.
1) Enter Your ClickBank ID
It's required to have a ClickBank account because the pre-made website that you receive will promote ClickBank Products.
2) Website Is Generated For You
You receive a one page website that has the list of other millionaire Society's Products.
3) You Promote Your Pre-made Website
You start driving traffic to your site.
4) People Buy Products From Your Page
Visitors purchase the products listed on your website
5) You Get Commissions in Your ClickBank Account.
So just to reiterate, you get a pre-made website that is going to have three products on it. Your job is to drive traffic to this site. Once visitors are on your site you hope they buy the products you have listed, and you will earn a commission.
---
Profit Bank Review
Website: ProfitBank.com
Owners: Millionaire Society
Price: $26.51 Monthly
Score: 5 out of 100
Verdict: SCAM!
I gave Profit Bank a 5 out of 100 because the system just does not work. They say that the website you create will get ranked in Google and drive traffic to itself, but it won't. They say that you will have so much traffic that will be making tons of sales, but that's not going to happen. This program is a complete Scam. Find out why it won't work below!
---
Profit Bank Concerns
The Whole Idea
So I have said this company is a scam, and why you ask? The whole process does not work. They are taking the complete opposite approach of what works. Websites that are one page do not get ranked by Google. If you are not ranked high in Google you have no traffic. If you have no traffic that means you have no sales.
Self Made Website:
You are given a self-made website that has 3 products promoted on it. This website is 1 page and links to affiliate websites. Here is an example of what the site will look like: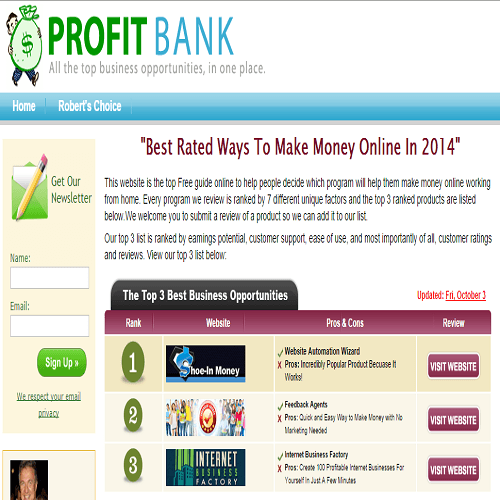 So you are probably thinking, Brok what's is the problem the website looks great.
1) This website is the exact website that every single person who purchases Profit Bank has. Which means there could be 1000 sites out there exactly like your's
2) You can't edit this site. Yeah if you started adding content to a site it would probably start to work, but you can not change anything on this page.
3) The website is one page and if you don't have content you will not get ranked by Google.
Generate Search Traffic
On the Profit Bank Sales page they tell you this site is going to generate organic search traffic, but that is not true. Google wants to rank great websites with great content. All this site is a one page sales page. Those no longer rank within Google.
This means if you want traffic to your site you will have to get it through social media, email, or other ways which defeats the purpose of this system. You might as well create your own website. Which you can learn how at Wealthy Affiliate
No Traffic Equals No Money
So you know that this website is not going to get you any organic search traffic so if you can't get traffic, I am talking 250+ a day you will make no sells and no money using this system. Honestly if you do have a way of driving 250 visitors a day or more to a website you should have your own website and be promoting it! lol
---
Is Profit Bank A Scam?
I 100% DO NOT recommend Profit Bank. It's a complete Scam that will be a waste of your money. One thing to keep in mind is systems like this don't work so if you see other sites trying to sell you a pre-made website just leave because it will not work.
Please note that in no way is having your own website a bad thing. That is how I make money online every single day. But I don't have a pre-made website and I apply techniques I learned at Wealthy Affiliate to drive traffic to my site and make sales!
---
What To Do Now?
Thank you for reading my Profit Bank Review. Please do not purchase this product you will be wasting your money because it's a complete scam.
Since you're already on my site you might as well check out some of the products I do recommend for making money online you can see these jobs on my Scam Free Jobs Page.
If you would like to learn how I make 95% of my income online visit the Start My Own Online Business.
Thanks again for reading my Profit Bank Review. If you have dealt with this product I'd love to hear your experiences in the comments section below. Also don't forget to share this with your friends!
Summary
Reviewer
Review Date
Reviewed Item
Author Rating