2
Pocket Flip App Review: Is PocketFlip A Scam?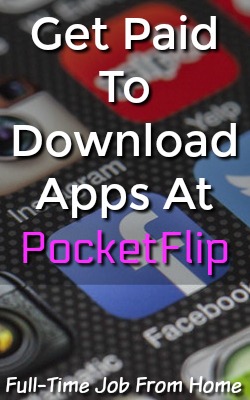 Today I'd like to review a new app called Pocket Flip. It's a legitimate scam free way to get paid to download apps on your phone, but is it really the best option?
Pocket Flip is available in the US, UK, AU, IT, GER, FR, CA, and Sp. Luckily they adjust the apps and rewards available depending on your country.
If you're looking to make an extra income in your spare time, this might be a good app for you, but keep in mind that this app will never make you rich!
If you're not interested in a small extra income, check out My #1 Recommendation, it's how I made over $13,000 online last month!
In the Pocket Flip review, I'll cover how it works, the rewards available, and if it's a scam!
---
Pocket Flip App Review
App: Pocket Flip
Type: Paid To Download Apps
Verdict: Legitimate
In this Pocket Flip review, I marked them legitimate. PocketFlip seems to be a completely legitimate app that will help you earn some extra cash in your spare time. But keep in mind you won't earn much.
I like that they have several apps to choose from and that the rewards are decent and start out at $5. I really wish they had a cash option, but since the rewards start at $5 it's still decent.
Last Month I Made

$13,841 Online
I Bet You're Tired Of Making Pennies Online. No More BS. If You're Serious About Making A Full-Time Income Online You Need To See The TRUTH. Stop Wasting Your Time With The Next Big Thing When There's Already A Proven Method That Works!
I have to say that I prefer FeaturePoints over PocketFlip because they pay via PayPal starting at just $3.
If you decide to join Pocket Flip, you'll join a legitimate app, but in my opinion, FeaturePoints is better.
---
How Does Pocket Flip Work?
1) Join For Free and Earn 100 Coins
The first step is to download the Pocket Flip app for free. You can do so in your device's app store or by visiting PocketFlip.net. If you enter the referral code: mzckwn247 you'll earn 100 free coins when you join.
2) Download Apps & Meet Requirements
Once you're inside the app, you'll see a long list of sites they'll pay you to download. Most of the apps pay you 150-300 points to download. Most apps require you to download and open the app for 30 seconds, but some require you to reach a certain level of the game or complete a task.
Once you complete the required task, you should see points show up in your balance within a few minutes if not instantly.
3) Exchange Coins For Rewards!
Once you earn 4,500 coins, you can exchange them for $5 gift cards to sites like Amazon, iTunes, Steam, XBOX, and PlayStation.
---
Pocket Flip Rewards

Pocket Flip has a few reward options including Amazon, iTunes, Steam, XBOX, and PlayStation. Amazon, iTunes, and Steam start at $5, XBOX starts at $15, and PlayStation starts at $10.
When you earn enough points, you can exchange for these gift cards inside the app. There FAQ's state that rewards are delivered via email and inside the app within 24-48 hours.
---
Pocket Flip Complaints
No Cash
I prefer sites that have a cash rewards option. The Pocket Flip app only has gift cards. If you want to get paid cash for downloading apps, make sure to check out FeaturePoints. They pay via PayPal starting at just $3!
Small Income
If you think downloading apps is going to make you rich, you're wrong. This is a very small income and should be used only to make a few extra bucks in your spare time. The only way to make more is through the referral program, but you'll need to refer a lot of people to make it worthwhile. If you'd like to learn how to get referrals, visit how to make money with affiliate marketing.
---
Pocket Flip Invite Code & Referral Program
Pocket Flip does offer a referral program that can help you earn more. For every friend you refer, you'll earn 1,000 coins, and they'll earn 100 coins when joining.
If you'd like to support this blog you can enter the invite code: mzckwn247 and earn an extra 100 coins!
---
Is Pocket Flip a Scam?
Pocket Flip is not a scam, and it has some very positive reviews in the app store. It's not my favorite way to get paid to download apps, but overall it's pretty good. As long as you know this is a small income and that you won't get paid cash, just gift cards, you should be happy with this app.
To learn more or to join, visit PocketFlip.net or download the app and enter the code: mzckwn247 to earn 100 coins when joining!
I prefer to get paid cash, so I highly recommend checking out a similar app called FeaturePoints.
Getting paid to download apps is great, but it won't make you much. To learn how to make a full-time income online, check out My #1 Recommendation, it's how I made over $13,000 last month.
Getting paid to download apps, not for you? Here're some helpful links to check out:
How I Made Over $13,000 Online
Thank you for taking the time to read my Pocket Flip app review. Have you used the app before? Think the app is a scam? I'd love to hear your thoughts in the comments below!
Summary
Reviewer
Review Date
Reviewed Item
Author Rating