PK Fish, also known as WuHao Education Technology, is a new online teaching platform that started in 2017. Their goal is to provide the same quality learning experience that we have in North America, for elementary-age children in China. Enjoy stress-free work from home tutoring, using toys, pictures, and funny faces to teach Chinese children to speak English.
In this review, I will unfold the opportunity to teach for PK Fish and determine if it's a legitimate work from home opportunity.
Education First, another ESL company is actively hiring, and paying up to $20/HR!
Earning money from home teaching English is extremely popular right now but I prefer a much more passive way to make money from home. If you're serious about making a full-time income online, check out My #1 Recommendation, it's how I made over $13,000 online last month!
---
PK Fish Requirements
The PK Fish system currently allows for teachers from the United States, Canada, and Mainland China. Here's what you'll need to teach from home for PK Fish:
A computer or laptop with a webcam
You'll need a reliable internet connection
Your internet upload speed should be at least 4 Mbps
Internet download speed should be at least 10 Mbps
---
What is Teaching like with PK Fish?
You'll familiarize yourself with the teaching materials before a lesson. Your lessons involve props (toys) and visual aids you might use to help you. Lessons are 40 minutes long, and you'll teach up to 4 kids at one time.
You'll teach the same kids on a fixed schedule for three months. Once time slots are assigned, you'll keep the same schedule for three months. Students will attend the same online classroom for almost a year – equivalent to one grade level.
You can teach from your kitchen table while your own kiddos are sleeping in the next room. You can teach basically whenever it is most convenient for you and your family's schedule.
---
PK Fish Application Process
You have two options for applying:
You can go here and give them your email address to get started.
Send them an email at recruitment@wuhaotech.com. Include your email address, application date, and your resume.
Here's what the application process looks like:
Start with an application
Have a Skype Interview (15-20 minutes) and Demo class (10 minutes) – you'll receive instructions to prepare before the demo
At this point, you'll find out if you will proceed to the next step or if they don't feel you're a good fit. You should find out within three days of your Skype interview and demo class. If you will proceed to the next step, here's what's next:
You'll take a teacher prep class (I think this is the 3-hour training, explained below)
You'll do the mock class
If you receive a satisfactory score for the mock class, next:
You sign the contract
Upload your teacher profile and information
Select your time slots for teaching
And start teaching!
If you submit your application and don't hear back within three days, it is most likely that you have not been selected to move forward. But you can follow up to make sure they received your application. Please give them an extra day to account for time zone differences. Send follow up emails to recruitment@wuhaotech.com. Remember to include your return email address, application date, and a copy of your resume or CV.
---
How Much Does PK Fish Pay?
PK Fish offers a highly competitive hourly pay rate. You will have the potential to earn a raise every six months.
They have a fun calculator on their website to show you how much you can make in 1 month of teaching for PK Fish. Go here, and scroll down a little until you see the heading, "See how much you can make." You will enter the number of hours you want to work per week from a drop-down menu.
For fun, I selected 6 hours. Click Calculate. It says if I teach for 6 hours per week, in 1 month, I can make $540 to $756. That's amazing! Even 2 hours per week gets me $180 to $396. The calculator goes up to 24 hours. If you teach 24 hours per week, you can earn $2160 to $2376 per month. That's not too shabby for part-time hours!
Your actual base pay rate is determined based (1) on your education-related experience and (2) on your performance in the demo and mock lessons.
Here's what the pay rates and bonuses look like:
Basic pay is $15-18 for a 40-minute class
Receive a Participation Incentive of up to $1 for beginning every class on time and teaching according to the schedule
Receive a Performance Incentive of up to $1, based on your quarterly assessment from the teacher management team
Receive a Performance Bonus of $3 per class when you complete 18 classes in a row without being late, absent, receiving complaints from parents, and meet all teaching standards; this is calculated and awarded at the end of each pay period, and then starts over for the next pay period
Receive a Busy Bee bonus of $50 for completing both of the following:

complete at least 60 classes every month
complete at least 24 classes during "time slot B" which is 7:40 to 8:20 pm Beijing time (Beijing is 12 hours ahead of Eastern Time zone in the United States, so this would be 7:40 – 8:20 AM Eastern Time

Receive an Active Teacher Bonus of $100 for teaching over 126 classes every three months
---
PK Fish Training
Training for PK Fish teachers is part of the application process. You'll train for 3 hours over the course of 1 day. You'll walk through policies and procedures, learn about Chinese education expectations, how to work through and deliver the curriculum, teaching techniques, and how to use the online platform.
After this training, you will schedule and complete a mock lesson. The mock lesson is taught to one or two PK Fish staff members. After the mock lesson, they will give you feedback and tips to help you improve. Also after the mock lesson, they will decide if you are ready to be hired to teach a real class.
If you complete the training process, mock lesson, and ultimately end up signing a contract with PK Fish, you'll receive an extra $30 in your first paycheck.
---
When Does PK Fish Pay?
PK Fish pays monthly via direct deposit. You'll need to check with your bank for what information is required to receive an overseas transfer deposit. PK Fish teachers are independent contractors, so you'll be responsible for reporting and paying taxes according to the tax laws where you live.
---
PK Fish Schedule
They claim to have a surplus of students who are waiting for teachers. You can change your schedule every three months to adjust to what works best for you. You are required to commit to at least 8 lessons per week (6 hours).
The time slots you can choose from are (in Eastern Time) 5:00 am to 8:20 AM during standard time, and 6:00 AM to 9:10 AM during Daylight Savings Time. Remember, you can change your schedule every three months, but once your schedule is set, it stays like that until the next three-month mark.
---
PK Fish Feedback
Surprisingly for PK Fish only being one year old, I found 16 reviews on Glassdoor! They have 4.4 stars out of 5, and 89% would recommend to a friend.
Most of the reviews state either no cons or the cons they listed had to do with it being a new company and they're still working out the kinks and finding the best way to do things.
There are many very positive reviews about the family feeling within the company. Here are the other nice things employees are saying:
Management and support get on top of issues immediately to help support the teachers
A small company you can grow with
They give promotions which include more money
They give you a mentor to help you
Early morning hours which make it easy to combine with your regular day job
So many different reviews comment about how awesome the support team is
They even have weekly paid workshops to help sharpen your skills
---
Is Teaching for PK Fish a Scam?
Based on my research, PK Fish is not a scam! In fact, it sounds like a wonderful company to work with! If you want to teach ESL from home, you should definitely check out the opportunity with PK Fish. Here's where you go to get started.
If teaching English isn't for you, check out these helpful links for some other ideas:
How I Made Over $13,000 Online Last Month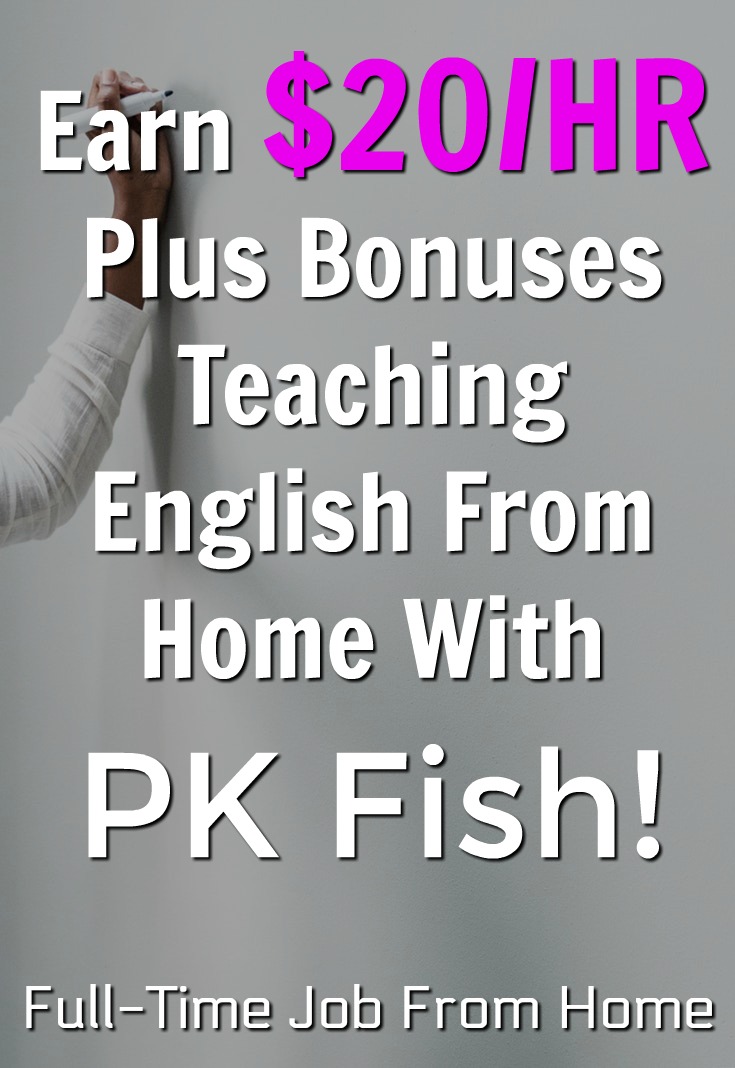 Summary
Reviewer
Review Date
Reviewed Item
Author Rating