1
Niche Profit Course Review: Chris Guthrie's Latest Product

If you have followed my website for long you know that I'm a big fan of making money online through building niche websites and it's actually my #1 recommendation for making money online.
With that being said not all niche site training programs are equal. Niche Profit Course to my surprise is pretty damn good compared to a lot of other affiliate marketing training courses and Chris Guthrie does a pretty good job of letting you inside his brain into his expertise.
Although this isn't my highest rated Affiliate Marketing Training, it's a course that can give you a good jumpstart in making money online with niche website.
In this Niche Profit Course Review by Chris Guthrie I will be showing you exactly what this product is, what you get, and how it stands up against other niche website training products.
---
What Is Niche Profit Course
Niche Profit Course is a 10 module training course on building niche websites and making money through the Amazon Associates Program, their affiliate program.
This course walks you through how to choose a niche, the basics of setting up your site, how to create content to bring in visitors, how to make money with affiliate sales, and things you need to do to grow your site.
Overall a pretty good product that covers the basics of everything you need to know to get started in Niche Website Marketing.
---
Who Is Chris Guthrie
I wanted to cover this because it's very important to know the man behind the camera teaching you his ways. Chris Guthrie is an affiliate marketer although he has created some products to sell of his own he got started selling other people's products.
He runs a few different blogs that have to do with internet marketing and seems to have proof that he is the real deal.
From what I've seen from this product he is the real deal and teaches the right concepts!
Last Month I Made

$13,841 Online
I Bet You're Tired Of Making Pennies Online. No More BS. If You're Serious About Making A Full-Time Income Online You Need To See The TRUTH. Stop Wasting Your Time With The Next Big Thing When There's Already A Proven Method That Works!
---
Niche Profit Course Review
Website: NicheProfitCourse.com
Price: Free or $10
Owner: Chris Guthrie
Score: 85 Out Of 100
Verdict: Legit
In this Niche Profit Course Review I marked this product legit and gave it a pretty good score. Overall it's a great course that touches the basics of most of what you need to know to get started with niche marketing.
Compared to my #1 recommendation this product falls short, but for a one time payment of $10 this product is well worth the money.
Chris does a good job of explaining his techniques. The videos are short and easy to understand and the training flows nicely in a logical order.
There are some things I don't like about this product, one being that it's not an all in one standalone product you're going to need more information to be successful if you're a complete beginner, but with that being said he does teach the right concept to making money online with niche websites.
I do recommend this product to anyone trying to get into niche website marketing.
---
What You Get Inside Niche Profit Course
Niche Profit Course is a 10 module training course on niche marketing here is all you will receive inside the course, plus a few extra bonuses.
The Niche Profit Course Training
Module 1: The Basics
Chris covers "the basics" in this module, shows you exactly what you will learn in this course and how to apply it to a website..
Module 2: Finding A Niche
Gives you some great techniques for finding a niche to get into.
Module 3: Setting Up Your Blog
Shows you how to purchase a domain name, get hosting, and set up your WordPress site with the free bonus theme.
Module 4: Writing Blog Content
Learn about keyword research, find blog content ideas, and how to write blog posts.
Module 5: How To Make Money
Shows you how to monetize your blog with Amazon Associate Links
Module 6: How To Build Links
This module contains nothing after an update. The techniques taught here were  Black Hat SEO and were removed from the program.
Module 7: Case Study
This gives you a live walk through of a small niche website.
Module 8: Case Study 
This gives you a live walk through of a larger authority niche site.
Module 9: Case Study
Gives you a few more live walk through of random niche site.
Module 10: Wrap Up
A walk through of everything you have learned and how to continue your learning and expanding your new niche site.
Niche Profit Course Bonuses
Azon Theme
This is a WordPress Theme that you will get for free. This theme is pretty good, and is capable of doing anything that a beginner needs to do within their own WordPress site.
Buying Domain Names
This training covers strategies of buying expiring domain games. It's a lot like buying a used car that you know will be popular again someday. It's not something I'm into at this point in time, but can be a good strategy for making money in the future.
OutSourcing 
This bonus gives you some ideas on what portions of this process you can outsource. Basically he just gives you some places you can get work done.
To me this portion is not needed, because most beginners are looking to spend as little as possible and don't won't to hire someone.
My advice is to learn how to do every part of the process and if you find that you struggle with a portion, once you have money coming in outsource it. With my blogs I do no outsourcing because at this point in time I have the motivation and skill to do it all myself!
Amazon Case Study
This a bonus case study that covers one of Chris's sites where he made six figures selling his website. It will take most people years to get to this point, but you do have a good reference if you ever get to it.
---
Niche Profit Course Positives
Right Niche Mindset
Niche Profit Course basically teaches the exact same process that I teach my students and my #1 recommendation teaches. Building Niche Websites, driving traffic to your site, and making money with affiliate marketing.
One thing that I use heavily and is stressed in most products I recommend is content marketing. Basically this is writing posts just like the one your reading here to bring in traffic to your website.
I really like this system of generating traffic because first off it's completely free to get ranked within Google and have them send you traffic.
Also it seems to be much more effective than just sending out social media posts to bring in traffic. Not to say I don't do that as well, but content marketing brings in much more traffic and is automatic once you write a post.
Sorry for the tangent on content marketing, but Niche Profit Course teaches this exact concept, so Chris knows exactly what he is doing with this product!
Set Up Well & Easy To Navigate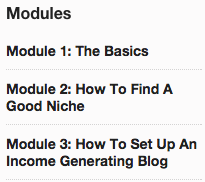 The next thing I liked about Niche Profit Course is how easily it's set up. There is 10 modules to the training plus some bonuses that can all be found easily on one sidebar.
On this sidebar all the modules are laid out in order, with that they are all in a logical order that makes sense in the way they should be taught and applied.
You can see an example of what I mean to the right.
Covers Setting Up A Website
One thing that most affiliate marketing courses miss is showing you how to actually create your website, even though it's a required step to build a niche website.
Niche Profit Course does cover this and does show you how to buy a domain name and get hosting. These of course are extra costs on top of purchasing this program.
If you have never dabbled in WordPress site building your going to need a lot more training then what's provided, but I'm glad that it was included in the training.
My #1 Recommendation gives you free hosting with a membership. Learn more about Wealthy Affiliate. 
Module 6 Link Building
One of the things I REALLY LIKED about Niche Profit Course is the link building section. Basically he comes out and says that the link building techniques he used to teach are now BlackHat SEO (not allowed by Google).
I really liked the honesty of this section. You're probably saying he doesn't teach anything in this module that BS, but when you review tons of products like this most of them still teach these terrible link building tactics.
I think of it as a positive and makes this product even better because he cared enough to update this section and let you know this information won't work anymore and to stay away.
---
Niche Profit Course Concerns
Promoting Other Products
One thing I'm not a huge fan of is it seems that Chris is promoting other products within his course here. A lot of are his own products which I guess is understandable, but to me this seems like a lot of Up Sells inside the existing $10 product you just purchased.
Whatever you want to consider these sales pitches, they do add value to the training because they are optional tools that can help you along your niche site journey, but none are products I actually recommend.
Not A Stand Alone Product
One of the biggest concerns with Niche Profit Course for me is that I don't think this course is a stand alone all in one product. Yes there is a lot of great information that can get you going, but the course is only 10 videos long.
Rome was not built-in a day and neither will your niche website. There is a lot more information to learn to be successful and I don't think Niche Profit Classroom can provide you everything.
But the product is only $10 so I guess you get what you pay for. If you look at it from the perspective of only paying $10 you're getting more than your moneys worth!
No Support
The biggest concern for me with this product is there's no support. Yes you have the ClickBank support if you have issues accessing the product, but no real support when it comes to questions with the product.
I've been through the process of learning how to create niche website and believe me when I say you're going to have a ton of questions about the information taught in this course. Not to mention all the minor details of setting up your WordPress site.
Niche Profit Course doesn't have enough content in it to cover everything and when there is no support or community you're going to have to go somewhere else to find what you're looking for!
---
Is Niche Profit Course Legit or Scam?
Niche Profit Course is a completely legit product. This course teaches a completely legit way to make money online using niche sites and the amazon affiliate program, otherwise known as Amazon Associates.
This product can help you make money online and for the price of $10 it's worth taking a look at especially if you're still looking for basic information about building small niche websites.
There were a few things in the training that I was not fond of and don't put into my website building practices, but that's just a difference of opinion between marketers.
The owner has proven himself as a successful affiliate marketer so there is no doubt he knows his stuff, but this product not being his main focus you can see that it's not as complete as possible.
I do Recommend Niche Profit Course to anyone looking to make money online with affiliate marketing and niche websites. This course can give you some of the tools you need to be successful.
Purchase Niche Profit Course Here
With that being said I don't think it will give you all the information you will need and this product lacks a community and support that I know I needed when getting started making money online. That is why I still recommend Wealthy Affiliate as my #1 Recommendation.
I feel like their training is much better and more complete the NPC and you get some added bonuses of great support and a helpful community. To learn more about my story and Wealthy Affiliate visit Start Your Own Online Business.
Thank you for reading this Niche Profit Course Review. I covered a lot of information about this product within this review. Niche Profit Course is not a scam, it's completely legit, but I still feel like there is a better product out there. As always leave comments if you have questions and don't forget to share with your friends!
Summary
Reviewer
Review Date
Reviewed Item
Author Rating