1
MooCash (MooLocker) App Review: Is It A Scam?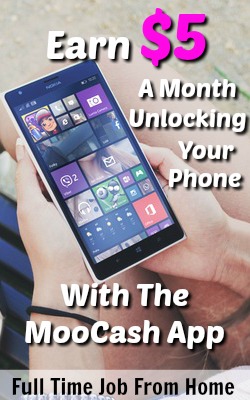 The Moocash App, formerly known as Moo Locker, pays you to unlock your smartphone. MooCash is available on Android devices in the Google Play Store; it's not available for Apple mobile devices.
MooCash is not the first app of it's kind, but there seems to be decent reviews of the app so far. The payment system is straightforward, and the app is extremely easy to use.
In this MooCash App review, I'll cover how the app works, how to get paid, and see if this app is a scam!
---
MooCash App Review
App: MooCash 
Type: Paid To Unlock Your Phone
Score: 70 out of 100
Verdict: Legitimate
Last Month I Made

$13,841 Online
Make sure to learn how you can get started for free!
In this MooCash App Review, I gave them a decent score and marked it legitimate. The first thing I must say is this app won't make you rich. A $2-$five income per month is what you can expect. If you feel like that's worth seeing ads, then you'll probably enjoy this app.
If you find the ads annoying and not worth the little income, you'll probably hate the app. It's really as simple as that.
Overall the app is a decent way to get paid to unlock your phone. It's still relatively new, so hopefully they continue to improve the app over time. I personally don't use this app, I find the income to small to be worth it, but check out the Extra Income Sites I Do Recommend.
---
How Does The MooCash App Work?
1) Download the App
The MooCash app is only available in the Google Play Store. To get started visit the store on your device and download the MooCash app.
Signing up is completely free, but you'll need to link your Facebook account to get started.
2) Start Earning Coins
Once you're signed up, ads are shown every time you unlock your phone. You have two options, swipe right to bring up the home screen, or swipe left to explore the ad.
When you swipe left, you'll earn five coins.
You can also complete offers to earn extra coins, such as watching videos, visiting websites, and downloading other apps.
3) Exchange Coins For Rewards
Once you earn some coins, you can exchange them for rewards including PayPal payments, gift cards, mobile recharge, and a few other options.
*Rewards vary based on location.
---
How Does MooCash Pay?
As mentioned you'll earn five coins per left swipe, and you can earn additional coins by downloading apps, watching videos, or visiting websites.
1,000 coins are equivalent to $1. The minimum cash out amount is $2 or 2,000 coins.
You can exchange your coins for PayPal payments, gift cards, mobile recharge, and a few other options. In some countries rewards are limited. PayPal payments do have a small fee taken out of your payment.
Once you reach 2,000 coins you can cash out, it takes 3-5 business days to receive your reward.
---
Earn More With The MooCash App
The only way to legitimately earn more coins is through the refer a friend program. You're given a unique link and code to share with your friends.
If your friend downloads the app with your referral link, you'll both earn a 30 coin bonus.
This is the easiest way to earn a little bit more cash with the MooCash app.
---
MooCash App Complaints
Small Income
This isn't a complaint because it's designed to be a small extra income, but please understand that this app won't make you much. If you swipe left and explore the offers you can expect to make $2-$five a month.
If you think this app is going to pay your bills you might as well skip it, it won't!
App Issues
This is a pretty common complaint in the Google Play Store, but it seems that they're working to fix all issues. There have been some members that struggle to sign up and get ads to display on their phone.
It also looks like there was an issue with sharing your referral link through the app. From what I've seen it has been fixed.
If you do run into issues, contact support, they seem to be extremely quick replying to emails and reviews in the Google Play Store.
---
Is the MooCash App A Scam?
The MooCash App is not a scam, I've seen proof of payment and the support seems to be very responsive if you do run into issues.
As long as you know this is just extra income; you'll probably enjoy the app. 2-5 bucks a month is what you can expect, so don't download the app with the expectations of paying your bills.
One thing that I do like about the app is it's available in pretty much in any country, some of the reward options change, and there're fewer ads in some locations, but you can still join and try it out.
I would never use this app. I don't think $2 a month is worth being bothered by ads every time I unlock my phone, but if you think it is, you can download the app in the Google Play Store or visit GetMooCash.com to learn more
I love making extra income online, but I won't be using this app. You can see sites I use and recommend on this list of Extra Income Sites.
If extra income isn't enough, learn how you can make a much larger income by starting your own profitable blog! My #1 Recommendation will show you how for completely free!
Thank you for reading this MooCash Review? Do you think it's a scam? Already received payment? I'd love to hear your thoughts in the comments below! 🙂
Summary
Reviewer
Review Date
Reviewed Item
Author Rating