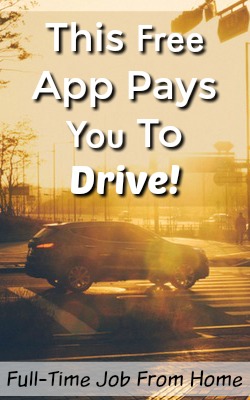 Did you know you could be earning money just for driving your car? Well with the MileUp app you can, kind of. MileUp is an app that tracks your driving and gives you points for every mile that you drive.
You can exchange points for sweepstake entries for prizes and large sums of cash. Unfortunately, MileUp used to let you exchange points for gift cards, but they only offer sweepstakes as of now.
In this MileUp app review, I'll cover how it works, what sweepstakes are available, and see if it's a scam or worth your time.
If you have any questions or have experience with the app, please leave comments below this review!
---
How Does MileUp Work?
Join For Free
To get started you can join MileUP for free by downloading the app on your mobile devices app store or by visiting MileUp.ai. The sign-up process is quick and easy.
Earn Points As You Drive
Once you've signed up you'll need to give the app access to your location, so they can track your driving and you earn points. They pay you 2 points per every mile you drive. You can exchange points for sweepstakes entries, which I'll cover later.
Earn More With Challenges
Challenges are special requirements that help you earn more points. You'll still earn 2 points per mile, but you'll be rewarded bonus points for completing challenges. They usually have 2-3 challenges available at a time. You must claim the challenge before any miles are rewarded towards the goal.
An example challenge might require you to drive 50 miles within a week period. Most challenges reward you 100-500 bonus points.
Redeem Points For Sweepstake Entries
Each month MileUp has three sweepstakes you can use points to buy entries. Usually one is for $100-$250 cash, another is a $1,000-$5,000 shopping spree, and the other is for a new vehicle. Entries usually cost from 75-1000 points per entry depending on the prize.
You can clearly see how many points it costs, the maximum amount of entries, how many winners there will be, and when the drawing takes place.
If you win a sweepstakes, you'll be notified via email. You must claim your prize within three days of receiving the email.
Report Your Accident To Earn More
If you're accident prone, you may want to get this app just for this feature. If you get in a car accident while you have MileUp on your phone, you can report the accident and earn a $250 Visa gift card for sharing information about your accident.
Their FAQs say you'll receive the gift card within two weeks, but I've seen complaints that it takes longer.
---
MileUp App Referral Program
MileUp does have a referral program that earns you 500 points for every referral that signs up. Just like the points you make from driving, you can exchange these points for sweepstake entries.
I wish they paid you cash for referring friends, but at least at this time, you can only spend the points for sweepstakes.
---
MileUp App Complaints
Rewards Left Up To Chance
As most of you know, I hate sites that only offer sweepstake rewards, mainly because I never win. I wish MileUp still offered guaranteed gift card rewards, even if it costs a ton of points. I guess the only positive to the sweepstakes is the rewards are high dollar. Usually $250-$500 worth of cash or gift cards, a $1,000-$5,000 shopping spree, and a vehicle. Of course, you have to be pretty lucky to win.
Drains Your Battery
I've seen several complaints of people saying that this app drains there battery. I've used the app for a month before writing this review and did not have that issue. I noticed in the settings there's an option to use cellular data. I'm assuming the people experiencing the drained battery have this on, so the app is always communicating.
If you turn that off, the app will only submit your driving when you're connected to wifi.
Issues With Accident Report
I've seen a few posts about not getting the $250 gift card, but unfortunately, no one has followed up to say they ever did receive it. From what I can tell MileUp has made it clear that it won't be within two weeks as they originally stated. Again, I'm not sure if they ever received the gift card, or how long it took, but it's something to think about before joining.
---
Is the MileUp App A Scam?
In my opinion, the MileUp app is not a scam, but it's not very likely that you'll ever win sweepstakes. I guess if you do a lot of driving it may be worth it, but again, there's no guarantee you'll ever see any kickback for the information you're sharing.
I don't drive very much, so this is not going to be an app that I use, but if you drive a lot and have the ability to refer a lot of friends it could be worth it since the sweepstakes payouts are high.
It's up to you, the app is legitimate, but you need to decide if it's worth the chance of winning. If you'd like to learn more or to join, visit MileUp.ai to join for free!
If you don't want to leave an income up to chance, make sure to check out the other Extra Income Sites I recommend. If you're looking for a larger income, learn how you can start a profitable blog for free!
Do you have experience with the MileUp app? I'd love to hear your thoughts in the comments below!
Summary
Reviewer
Review Date
Reviewed Item
Author Rating