Product: Killer Content System
Owner: Socrates
Price: $37
Up Sell: $297
Score: 25 Out Of 100
Verdict: Scam
One thing that Google and other search engines hates is duplicate content. Article spinning falls right into duplicate content and all that Killer Content by Socrates gives you is a bunch of articles that will actually hurt your site.
In this Killer Content Socrates Review we will take a look at why this product is a scam, what I do and don't like about the program, and why using this content will actually hurt your website.
---
Killer Content Socrates Review
I gave this product a 25 out of 100 because there is a lot of hype about this product on the sales page and turns out that it's not anything you want to spend your money on. It uses article spinning to give you articles that can be used on your website. Fact is that Google and other search engines hate duplicate content and your website will actually get penalized for having posts like this.
---
Sales Page
I am not a huge fan of sites that show ClickBank Accounts with a ton of money in them because it is easy to fake and of course the person creating a product needs to show some type of income online to make you believe in their system.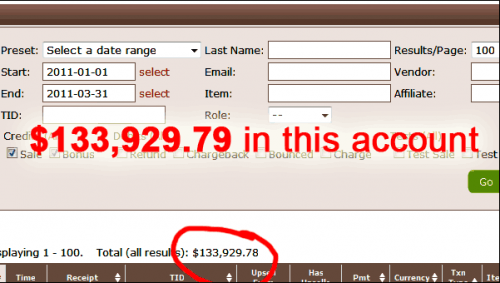 The sales page features a video of Socrates going through a slide, which he shows you that he is making money and really never even talks about what the product actually is. I see this a lot with the crappy products out there. All they are considered about is Wowing you with large income proof and won't even cover how this product is going to help you.
The video is pretty long and you actually can't sign up until you have watched the first 5 minutes. There is no text on the sales page other than the opt in that appears a few minutes into the video.
---
Up Sells
I really don't like products that have up sells because most of the time they are complete scams and just play with your emotions even more to get you to buy a more expensive product. Killer Content's up sell is no different. You're taken to a sells page with a video.
The video, once again doesn't even tell you what the up sell includes. Just says that this is the information you really need to know to be as successful as Socrates is with this system.
That raises another question of why is it not included in the original product if I need it to be successful?
---
What I Liked
Even though this product is a scam and I don't recommend it, there are a few things that I liked about it. First off this is a great way to come up with new article writing ideas. No don't use the articles that are spun because they will hurt your site, but you can search by keyword and find article ideas that have to do with your niche.
The site also does give some great getting started videos that walks you through how to use the site and some techniques you can use to get the most advantages out of Killer Content.
Still even though I like a few things about the product the negatives are just too much to make it worth buying.
---
What I Didn't Like
The biggest concern about Killer Content is the fact that you will be using pre written content that's been created using content spinning.
The whole point of Killer Content is to give you content to publish on your website. Problem is Google and other search engines don't like content spinning and duplicated content. Not only will your post not rank, but if you continually publish duplicate content to other articles on the internet none of your website will rank for anything.
Google is looking for sites that have original great content that helps other people. You will find that if you put out great content that isn't copied your post and site will begin to rank. That is just how it works.
Since Killer Content is all about using article spinning to give you content to publish on your site, it's completely worthless. All the content you get from killer content is not going to rank well and most likely will hurt the rest of the content on your site.
---
Final Verdict
You have figured out that I don't Recommend Killer Content by Socrates. But it does have a bit of similarity to my #1 recommendation for making money online. The correct way to make money online is to create your very own website and put out a bunch of great content. Difference is the content needs to be original. That doesn't mean you have to write it all, but it can't be content that is already published on the internet.
To learn more about my #1 Recommendation and how I make money online using this theory visit Start Your Own Online Business. It really is the best way to make money online and can make you a great deal of money!
Thank you for reading my Killer Content Socrates Review. I hope you enjoyed the read and let me help you make money online by visiting the links above.
Summary
Reviewer
Review Date
Reviewed Item
Author Rating