4
iSurveyWorld Review: Is iSurveyWorld A Scam?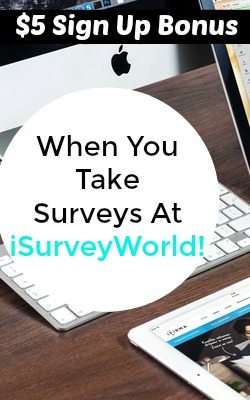 iSurveyWorld is a new survey site that offers a $5 signup bonus. I decided to write a review because there's a lot of hype about this new survey site.
Overall, iSurveyWorld is not a place that I recommend, but it seems to be legitimate. They have a limited number of surveys but appear to pay their members if you reach the cashout amount. It seems that the site is set up to collect your email and get you to join other sites.
It seems that the site is set up to collect your email and get you to join other sites.
That's why I highly recommend these other Extra Income Sites over iSurveyWorld, but read on to learn more.
Even if you decide iSurveyWorld is right for you, it won't make you rich and will be a tiny monthly income. If you're interested in making a large online income, check out My #1 Recommendation, it's how I made over $13,000 online last month.
In this iSurveyWorld Review I'll cover how to earn, how to get paid, the complaints I have, and if it's a scam.
---
iSurveyWorld Review

Site: iSurveyWorld
Type: Survey Site
Verdict: Legit, But Not Recommended
In this iSurveyWorld Review, I marked them legitimate, but it's not a site I recommend. They do have their own surveys, but the primary focus seems to be getting you to sign up for other offers and surveys sites.
Last Month I Made

$13,841 Online
I Bet You're Tired Of Making Pennies Online. No More BS. If You're Serious About Making A Full-Time Income Online You Need To See The TRUTH. Stop Wasting Your Time With The Next Big Thing When There's Already A Proven Method That Works!
I've seen this quite a few other "survey sites" similar to this, and it's usually not a recipe for happy members. I highly recommend staying away from iSurveyWorld and joining some of the Extra Income Sites I Use!
---
iSurveyWorld Surveys
The only way to earn money at iSurveyWorld is by taking surveys. They have their own surveys, but also link to other sites that you can take surveys. You only get paid to take the surveys they provide themselves.
Most of their surveys take 10-30 minutes and pay $.25-$1.50. At first, you'll only have profile surveys to take. Once you complete your profile surveys, new surveys become available. Just because surveys become available does not mean you can complete them and get paid. You'll have to qualify for the survey and then complete it to get paid.
---
How Does iSurveyWorld Pay?
iSurveyWorld pays via PayPal once you earn $25 taking surveys. Keep in mind that there's a limited number of surveys, so you won't reach the cashout amount quickly. Once you earn $25, you can cash out, at this time it can take 3-4 weeks to receive your money!
---
iSurveyWorld Complaints
Signup Process
Most survey sites are incredibly easy to join. Enter your name, email, and some basic information and you're all set. With iSurveyWorld, you have to go through pages of offers before you reach the member's area.
A few of the pages say you need to complete at least three offers on the list to receive your signup bonus, but that's not even true. You can see an example below:
Unfortunately, you won't earn any money signing up for these sites, but iSurveyWorld will!
Limited Surveys
Again, it seems that this site is mostly set up to collect emails and get you to sign up for other sites. They do have their own surveys available, but it's a very limited amount. With the cashout amount being $25 it's going to take a while for you to get paid.
Just like most survey sites, even if you get invited to take a survey, you have to answer a few questions to make sure you're eligible for the survey. After the limited number of surveys and having to qualify, there's very few surveys for you to take.
No Referral Program
I'm completely honest on this blog when I say most of my Extra Income Site income comes from referring members. iSurveyWorld does not have a referral program so most of you will not be able to make money referring your friends.
With that being said they do have CPA offers that you can promote if you have a blog or other means of getting traffic. Since iSurveyWorld seems to be set up to collect emails and get you to join other sites, it's a concern. You'll probably see a lot of positive reviews from other bloggers because they do earn over $1 for everyone that signs up through their link.
---
Is iSurveyWorld a Scam?
I honestly can't call iSurveyWorld a complete scam, but it's not a site I would ever recommend to my readers. They have limited surveys, send you through tons of unpaid offers, doesn't have a referral program, and payments take 3-4 weeks.
Even if iSurveyWorld does pay it's not as good as most of the survey sites I recommend. If you're interested in taking, surveys visit the Extra Income Sites I recommend.
Please keep in mind that all survey sites are just extra income.
That's why I stopped taking surveys and started blogging. There's a much larger income potential, and you can set your own hours. You can learn more by visiting How To Start A Profitable Blog!
Do you think iSurveyWorld is a scam? I'd love to hear your thoughts on this review in the comments below! 🙂
Summary
Reviewer
Review Date
Reviewed Item
Author Rating