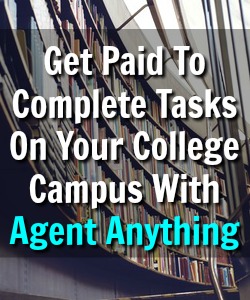 Agent Anything is a small task site designed to give College Students a way to earn some extra income in their free time. The site is based on the idea that people have small tasks that they might not have time to do and college students could always use some extra money. That's why Agent Anything brings both parties together so they can both benefit!
Please understand that working for Agent Anything or other tasks sites won't make you rich, if you're looking for a large online income, check out My #1 Recommendation, it's how I made over $13,000 online last month!
In this Agent Anything Review I'll cover the requirements, how it works, how much you can earn, and see if this is a scam or a legit money making opportunity for college students!
---
Agent Anything Requirements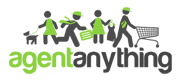 As you already know you'll need to be a college student to sign up. To confirm that you're a college student you'll need to sign up with your university email.
Really the only other requirement is access to a computer so you can find missions and complete them.
Right now, Agent Anything is available in the US and South Australia. Luckily they do have missions that are virtual so your location doesn't matter on some.
As long as your a college student you can sign up at anytime in just a few minutes by entering your name and university email!
---
How Does Agent Anything Work?
1) Find Missions
Once your accepted you can see all the missions available on Agent Anything. It shows you what you'll need to do and how much it pays. Missions seem to vary quite a bit. Just from looking at it now I can see missions that require you to go move some things around an apartment, proofreading a manual, and collecting some related articles on the internet. As you can see people can create missions for anything!
2) Complete Mission
Once you find a mission you'd like to complete you can accept it. One thing to keep in mind is most have some sort of deadline. Just complete the work and once your done submit your work or mark the mission complete.
3) Get Paid
Once you've marked the mission complete and the client has approved your work you'll be paid the agreed upon price for the mission!
---
How Much Does Agent Anything Pay?
There's no set amount you're paid per mission. Missions will say how much they pay before you accept them. From what I can see most range from $10-$100+. Really it all depends on what's required. From what I can see they seem to pay a reasonable if not a premium rate for missions.
One thing to note is some missions don't have a set price. When this happens you can review the mission and put in a bid, if the client accepts you'll get the mission.
Payments are made via PayPal. It looks like payments are sent out once a client confirms your mission is complete, so probably within a few days.
---
Is Agent Anything Legit Or A Scam?
Agent Anything is a scam free site where college students can get paid to complete small missions. To me it looks like Agent Anything is not that popular, so hopefully it begins to grow. There are missions to complete, but it seems to be very limited work.
Of course Agent Anything is suppose to be extra income for college students, so it's not a huge deal, but don't expect many missions to be available when you join.
Overall I'd say it's a good way for college students to make some extra cash if you can pick up a few missions. To learn more or to join visit Agent Anything.
If you're not a college student or don't want to wait for missions to come available, check out some other great ways to earn an extra income online.
To learn more about making a large income online, check out My #1 Recommendation, it's how I made over $13,000 online last month!
Already an Agent Anything Member? Think Agent Anything's a Scam? Let me hear your thoughts on this review in the comments below!
If Agent Anything isn't for you, check out these other ways to make money online:
Work From Home Companies Hiring Now
All The Extra Income Sites That Pay Me
How I Made Over $13,000 Last Month
Summary
Reviewer
Review Date
Reviewed Item
Author Rating