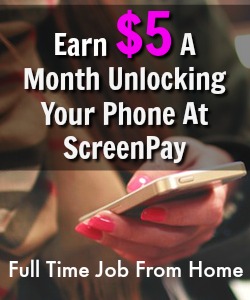 Some of you may have seen the apps that actually pay you to unlock your smartphone. I've seen a few and they have either closed completely or stopped actually paying and just doing sweepstakes. I came across an app recently called Screen Pay.
Basically this app shows you ads when you go to unlock your phone, so in theory you get paid when you unlock your phone! But some people think this app is a scam.
In this Screen Pay App Review I'll cover how it works, how much it pays, and is it legit or another scam!
---
How Does The Screen Pay App Work?

1) Download The App

The Screen Pay App is only available on Android Phones. You can simply visit the app store on your phone or visit their website to join!
2) Set Your Interests
Screen Pay would like to show you targeted ads. To do this they have some information that you can fill out, all this does is give you ads you'll be interested in and can also get you paid more!
3) Unlock Your Phone
The process is very similar to what you already do to unlock your phone, but now you'll see a picture ad when you go to unlock your phone. You can click on it to learn more or just ignore it and enter your unlock code after, if you have one!
4) Get Paid
Screen Pay App will pay you $1 just for signing up. For every 30 days that you use Screen Pay on your phone you'll earn at least $3.
---
How Much Does Screen Pay App Pay?
Screen Pay pays you $1 to join. For every 30 days that you use the app you'll earn at least $3. You can earn more if you set your interests, but earning more is not guaranteed.
Payments are made via PayPal and you can cash out once you earn $7. Payments will be in your account within 72 hours after cashing out.
So you should be able to reach the cash out amount after 2 months, but you can reach it faster if you refer your friends!
---
Earn More With Screen Pay: Referral Program
The only way to really earn more with Screen Pay is through the referral program. Screen Pay lets you easily invite your friends through text, share on social media, and gives you a URL to post on your website if you have one.
Here's how it works, you earn $3 for every 5 friends you invite that uses the app for more than 30 days.
If you want to earn more then $3 a month this is really the only way to earn more, so start inviting your friends!
---
Screen Pay App Review
App: Screen Pay
Price: Free
Score: 70 out of 100
Verdict: Legit, but some concerns
In this Screen Pay App review I gave them an okay score and marked it legit, but there's some major concerns that I cover next.
Overall this app is a pretty cool and unique way to make a few extra bucks each month with your smartphone, but it seems that every company/app like this ends up going out of business/not paying eventually.
There's been a few complaints of this so far with Screen Pay so I have to say this isn't an app that I highly recommend, but you can take your chances if it's something you'd like to try.
---
Screen Pay App Complaints and Concerns
After using this app a bit, and doing some research I found a few issues that other members have experienced. I've covered the major complaints below.
Can't Login
Now I haven't used the app enough to experience this problem, but a few people have left reviews saying that once they build up their earnings, close to the cash out amount, they won't be able to login.
They don't receive an email saying they've been kicked out and when they contact support they don't get much help. Now there's a lot of members who haven't experienced this problem and have been paid all their earnings, but a few have had problems.
Stuck Earnings
This is something that started to come up over the last few months. People are still able to login, but there account balance is not updated. Let's say they had $4 in their account, well it's been stuck at that amount for a few months now and they're still using the app.
It seems that a few people have contacted support, but haven't found much help yet. I can't find anyone saying that the issue has been fixed yet.
Of course not everyone is experiencing this, but it's something that has came up with some people!
---
Is Screen Pay A Scam?
In this review I've covered all the important information about the Screen Pay App, including some concerns and complaints that I came across. I can't say that Screen Pay app is a scam, but there's obviously some people who are having issues.
With that being said there's a lot of positive feedback, of people getting paid to unlock their phone. I'd say if you have an Android phone and want to get paid to unlock your phone you can give Screen Pay a shot, but just know that there's been a few people that have experienced problems, to my knowledge support hasn't helped out much, and other similar apps have all closed down.
If you'd like to use Screen Pay you can download the app on your phone or visit their website.
Personally I wouldn't waste my time on a site that could potentially cause you problems. Check out some of the other ways to earn an extra income on your smartphone and online. All these sites are scam free and have actually paid me in the past!
If extra income isn't your thing, you can see how I make a full time income online and always get paid with My #1 Recommendation!
Have you used the Screen Pay App? Think it's a scam? Let me hear your thoughts on this Screen Pay App Review in the comments below!
Summary
Reviewer
Review Date
Reviewed Item
Author Rating