Have you ever wanted to get paid for reading emails? Now you can with Inbox Dollars. Inbox Dollars is not a scam, and I will be showing you exactly why in this Inbox Dollars Scam Review.
Inbox Dollars does not just pay you for reading emails; they also offer many other ways to earn cash. They are one of the only sites that pays you to read emails other than it's sister company Send Earnings.
I highly recommend Inbox Dollars over Send Earnings, because they offer more ways to earn and an awesome Gold membership.
Please understand that Inbox Dollars and other legitimate reward sites are going to be a very small online income, and usually work out to a terrible hourly rate. If you're serious about making a full-time income online, check out My #1 Recommendation to learn how I made over $13,000 last month online!
Read the rest of this Inbox Dollars Review to learn exactly why you should start making money by reading emails, how much they pay, the complaints I have with Inbox Dollars, and proof that they pay!
---
How To Earn With Inbox Dollars!
Get Paid For Reading Emails: You get paid just to look at an email. Each email has a link to an offer. If you view and click, you receive $.02 per email. In my experience, you'll receive at least 3-4 emails each day! Each email also has an offer that you can complete to earn more.
Get Paid For Completed Offers: Inbox Dollar usually has about 150 different offers available. Some require you to buy something, but most of the offers are free. These pay anywhere from $.20 to $10 depending on the offer.
Get Paid to Complete Surveys: Inbox Dollar also pays you for taking surveys. Five survey providers are available. There are also extra surveys that help you complete your account. These surveys usually pay $.50 to $1.00
Get Paid To Play Games: Inbox Dollar lets you play games and earn money for it. You can enter tournaments or play against others online. Most tournaments cost a few cents to enter and have huge payouts if you win!
Get Paid to Watch Videos: Inbox Dollar will also pay you to watch videos. Each Video usually pays a few cents and is just about a minute long!
Get Paid To Search: You can make money by searching the Internet just like you normally would. This works a lot like Swagbucks Search. Where you don't get rewarded cash on every search, it just happens randomly.
Get Paid To Refer: Inbox Dollar will also pay you money for referring others to their website. It's incredibly easy. Inbox Dollar gives you a custom link to send out via social networks or emails. You also get access to over 25 banner ads you can add to your website. You will receive 10% of your referrals earning! The 10% is just the start once you reach the minimum payment amount one time it goes up!
---
 Inbox Dollars Referral Program
One way to earn more with Inbox Dollars is by taking advantage of their referral program. If you are familiar with paid survey sites, if you want to make good money you will need to start building up your referrals. There is no better way of making money than letting others make it for you.
The referral program is pretty standard. For every referral, you get 10% of their earnings for life. There is no limit to how much a referral can make you or how many referrals you can have.
Inbox Dollars provides you with your own referral link that you can post on social media or your website. They also give you banners to add to your website.
---
How To Get Paid By Inbox Dollars!
Inbox Dollar pays by check only, but they do pay every single month! With inbox dollars, the monthly minimum cash out is $30.00. But don't worry if you don't reach $30 in a month it carries over to the next. With the endless ways to earn through Inbox Dollar, reaching the minimum payout amount should be no problem each month!
---
Inbox Dollar Payment Proof
Recently I was paid by Inbox Dollar and became a Gold Member. You can see proof of this payment below.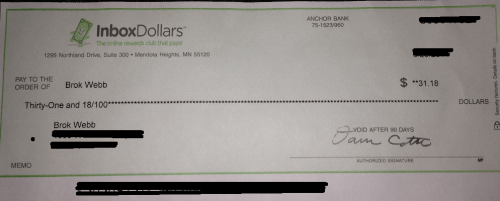 ---
Becoming A Gold Inbox Dollar Member
Becoming An Inbox Dollar Gold Member will help you earn even more. You become a gold member after getting paid for your first time. There are a lot of advantages to becoming a Gold member, and you can see them below.
More Referrals
Once you become a Gold Member, you can start receiving referrals from Inbox Dollars. When people join Inbox Dollars without a referer, those people get spread among the Gold Members. All this means is more referrals and more earnings.
Faster Payments
Once you become Gold, you will get paid faster. Instead of a 16 day waiting period for payments. The Gold Membership waiting period is only nine days!
Double Sweepstakes Entries
Each month Inbox Dollars holds a Sweepstakes that gives you even more rewards. Instead of getting one entry all gold members get 2. Doubling your chances of winning!
---
My Inbox Dollars Review
Website: Inboxdollars.com
Price: $0 Completely Free
Verdict: Legit, Not Highly Recommended
In this Inbox Dollars Review, I marked them legitimate but please understand this is going to be a tiny income.
---
How To Get Started With Inbox Dollar!
You can get started with Inbox Dollar now for totally free. Plus when you sign up through the link below you get a $5 bonus just for signing up! Click the link below to get started! If you would like to see sites that are similar to Inbox Dollars check out All Scam Free Jobs.
Again, please understand that Inbox Dollars and other reward sites are going to be a tiny income. Even though they pay it's usually a terrible hourly rate. If you're serious about making a large income online, check out My #1 Recommendation to learn how I made over $13,000 last month online!
Thank you for reading my post on the Inbox Dollars Scam. As you can see, Inbox Dollars isn't a scam, and you can get paid for reading emails from this company. If you have used this company, I'd love to hear your experiences in the comments below.
Summary
Reviewer
Review Date
Reviewed Item
Author Rating