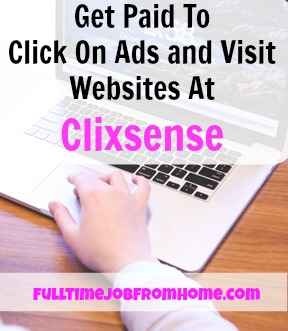 Please note that Clixsense is now called ySense. If I refer to Clixsense on this page I'm now referring to ySense!
Almost everyone visits websites online, heck if you're reading this your visiting my website right now! I'm a big fan of getting paid for things I already do, so why are you not getting paid to visit websites yet?
Today I'll cover a website called Clixsense, that will pay you to visit websites. Now this isn't a big money maker, but it can add up quickly if you spend a few minutes visiting sites each day.
I'm going to show you exactly how you can get paid to visit websites, proof that Clixsense pays, and some ways to earn more with Clixsense!
---
How To Get Paid To Visit Websites
Get Paid To Visit Websites Here
1) Sign Up For A Free Clixsense Account
Signing up is super easy. Just enter and confirm your email to start getting paid to visit websites.
2) Visit the View Ads Tab
Once you join, visit the "View Ads" tab. This is where you'll find all the sites they'll pay you to visit.
3) Click the Site You'd Like To Visit
You'll see the sites you can visit, it will show how much it pays and how long you'll need to stay on the website. Just click on the site to view it.
4) Prove You're A Real Person
The site will open in a new tab, but before the timer starts verify you're a person by clicking on the picture of the cat!
5) Get Paid For Visiting The Site
Wait for the timer to get to zero. The page will update saying you've been credited for visiting the site! You can now close the tab and visit another site.
---
Does Clixsense Pay? Payment Proof
Well I can show you how to get paid to visit websites with Clixsense, but none of that really matters unless you know that you'll actually get paid. Lucky for you I've used this site for a while now and have been paid multiple times. I've included a screenshot below of one of my payments!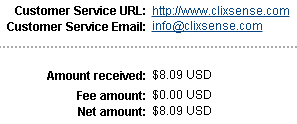 As you can see I was paid $8.09 directly to my PayPal account just for visiting websites!
Start Earning Cash With Clixsense
---
How To Earn More With Clixsense
Clixsense doesn't just pay you to visit websites. They're actually what I like to call a paid to do site. This means that they offer many ways to earn cash. I've listed some ways to earn extra cash with Clixsense below!
Surveys
Clixsense has a long list of surveys that they provide. They also have surveys from other companies you can complete for cash!
Offers
Get paid to sign up for free sites along with free trials to services.
Tasks
Short easy tasks, like filling out forms, that can earn you a few cents and take just a few seconds to complete.
Refer Your Friends
Earn 5% of all your referrals earnings for life.
Odd Ways To Earn
There's a few other ways to earn that don't fit the normal paid to do site methods. This includes daily task bonuses, a browser extension bonus, and a fun game called clixsgrid that can earn you up to $10 a day!
---
Clixsense Is Scam Free! How Do I Join?
I've already shown you how you can get paid to visit websites. I also proved that Clixsense is legit and actually pays. If you're not already getting paid to visit websites you might as well start!
To start getting paid to visit websites you can sign up for a free Clixsense account. They do offer paid memberships as well with additional bonuses, but I only have a free account and still can earn plenty of money!
[thrive_link color='green' link='https://fulltimejobfromhome.com/clix' target='_blank' size='big' align='aligncenter']Get Paid To Visit Websites At Clixsense[/thrive_link]
Have you used Clixsense? Already Getting Paid To Visit Websites? Let me hear your thoughts on getting paid to visit websites below!